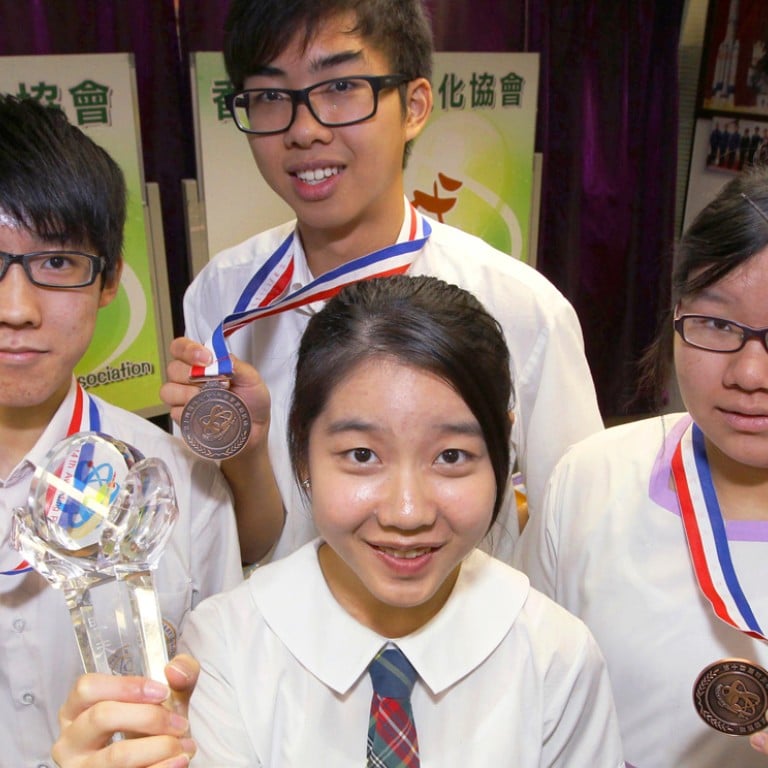 Young innovators scoop awards in national contest
Two local high school pupils rewarded for inventions that could make a big difference
Simple inventions that can reduce the use of formaldehyde in wood products or help anyone test drinking water for pollutants have helped four high school scientists claim top prizes at a national competition.
Projects by Form Six pupils from two local schools won places in the top 12 at the 14th Awarding Programme for Future Scientists, beating more than 1,000 shortlisted entries from across China.
Seraph Wu Shi-kei and Roland Szeto Ho-lun each spent six months working on their projects with teachers.
Wu's innovation - a simple kit to test for five harmful metal ions in water - was one of three projects nationwide to earn the top "future scientist" award, the first time a Hong Kong girl had received the honour.
"Water and air pollution are the most serious today," said Wu, 17, a pupil of St Paul's Convent School in Causeway Bay. "It's tough to measure air pollution, so I chose water pollution. This is a global problem...many people have trouble getting access to clean water."
She discovered that by mixing MSG with water, then dropping the solution onto a dish, the chemical reaction would cause a certain pigmented colour to appear if the water was contaminated by one of the five most common pollutants.
Szeto, of Carmel Pak U Secondary School in Tai Po, was also in the top 12, while two classmates won other prizes.
Szeto's discovery was a compost mixture that produced a type of hydro gel that could be substituted for formaldehyde in pressed wood products. His innovation was more environmentally friendly and less harmful to human health.
Classmate Yip Kin-kwan was rewarded for a timely invention: a simple procedure to measure peroxide and aldehyde levels in heated oil to see if it is inedible so-called "gutter oil" - like that which led to a scandal in Taiwan.
"I love eating fried foods, which my mother says are unhealthy. So I came up with the idea of finding out which type of oil is best, and what temperature it should be heated to," he said. "Then I read about … gutter oil and unsafe oil, and thought it would be meaningful to look for ways of detecting that."
The third student from Carmel, Chiu Man-ying, discovered that ginger and pieces of tiles with a layer of activated carbon can force out over-oxygenated water.
This article appeared in the South China Morning Post print edition as: Young innovators scoop awards in national contest