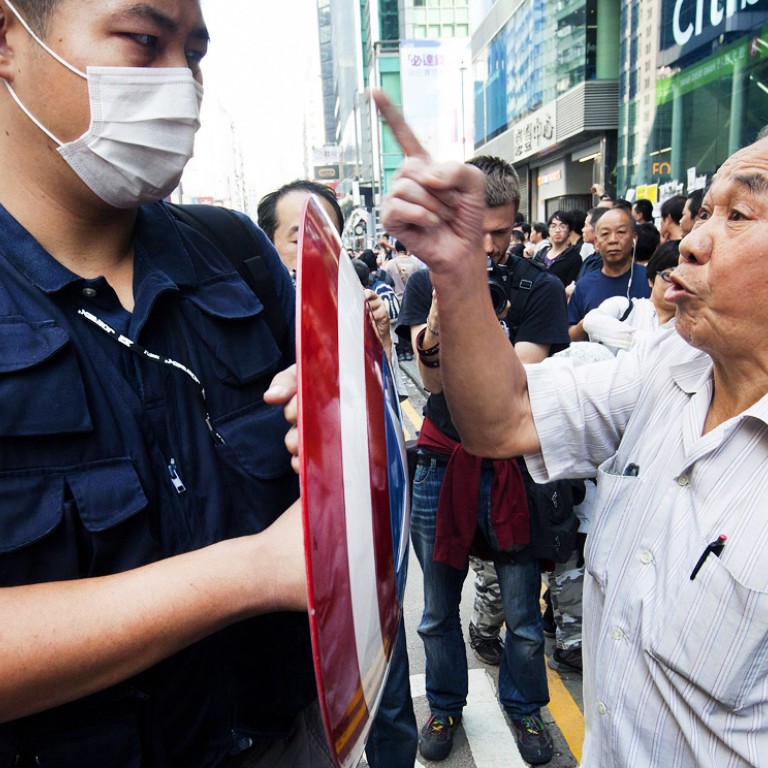 Analysis
Generation gap hampers efforts to direct Occupy protests in Hong Kong
Occupy Central organisers favour a pragmatic approach but students unwilling to compromise
A generation gap and different expectations about how the occupation campaign should evolve have pulled student leaders and Occupy Central organisers apart. It has left students - the only group now leading the civil disobedience movement - unwilling to compromise.
Occupy Central co-founder Dr Chan Kin-man, who returned to his job at Chinese University last week, said he and fellow organisers considered an incremental and pragmatic approach in the fight for "genuine universal suffrage" acceptable as they were aware of political constraints.
"We believe the campaign has achieved our original goal of awakening the young generation. But students want to see real and fundamental changes in our political system, instead of a public education campaign," he said.
In talks on October 21, Chief Secretary Carrie Lam Cheng Yuet-ngor told leaders of the Federation of Students that the government would submit a report to the State Council's Hong Kong and Macau Affairs Office to reflect public sentiment since the protests began on September 28.
The government would also consider setting up a platform for dialogue on constitutional development beyond 2017. But the proposals failed to satisfy student leaders, who insisted that Beijing retract its decision to place tight restrictions on Hong Kong's electoral methods.
"We told student leaders to take the government's proposals more seriously as they are more concrete than what officials offered previously," Chan said.
The Federation of Students has indicated little interest in further dialogue, and the feeling is mutual on the government side.
Since early last month, Occupy leaders have been suggesting that students consider withdrawing as they note a growing backlash from people affected by the occupation of streets.
According to a survey by Polytechnic University's centre for social policy studies, 73.2 per cent of 554 respondents felt now was the right time to stop the protests.
"A civil disobedience movement would risk losing public sympathy if it lasts too long. The backlash against the disruption to people's lives is growing as the government adopts a wait-and-see strategy," Chan said.
The federation believes it would be wrong to withdraw before the government makes any concession. But with the occupation in its sixth week, Chan said students should reconsider.
"If no compromise can be made between the students and government, we should work out some action plans for occupiers to help the spirit of democracy take root in different communities and not just focusing on the occupation per se," he said.
The protests have veered dramatically from the script prepared by Occupy's co-founders.
Chan, 55, admitted the original leadership now had only "slight" control of the movement. He said there was a generation gap between Occupy leaders and student leaders.
"Sometimes we don't know if we are helping students or getting in their way. But we are always ready to help students whenever necessary," he said.
Fellow Occupy co-founder Benny Tai Yiu-ting, who raised the idea of the civil disobedience movement in January last year, is 50. Another co-founder, Reverend Chu Yiu-ming, is 70.
Ivan Choy Chi-keung, a political scientist at Chinese University, said Occupy leaders and pan-democratic lawmakers were more pragmatic because of their memory of the 1989 Tiananmen Square crackdown.
He said student leaders had become overconfident, asking for more concessions after their dialogue with top officials.
" "The students' intransigent stance has dealt a serious blow to doves within the Hong Kong government," Choy said. "If the hawks within the government who prefer tough action to clear protest sites gain the upper hand, Hong Kong society will face retrogression for a long time."
This article appeared in the South China Morning Post print edition as: Generation gap and battle plan divide campaigners