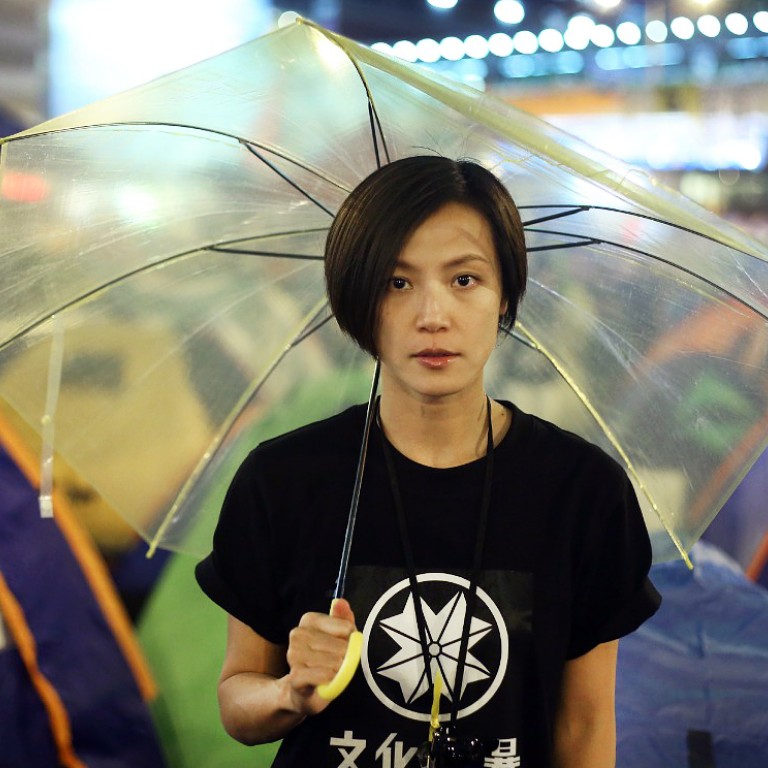 Canto-pop star Denise Ho vows to fight on for democracy despite mainland backlash
Artists face a dilemma in deciding whether to back the student protests for real universal suffrage - whether to follow their conscience or bow to Beijing, which can exclude them from the lucrative mainland market
Wearing a black T-shirt and minimal make-up, Denise Ho Wan-see blends right in among thousands of protesters on Harcourt Road in Admiralty. For more than a month, the Canto-pop singer and celebrity has joined students camped outside government headquarters to call for an open election of Hong Kong's next leader.
Watch: Hong Kong pop singer Denise Ho: Occupy Central students inspire me
Despite the risks for her career, she vows to stay until the end.
"Students are fighting for genuine democracy, which is what Hong Kong has been fighting for many years for," says Ho, 37. "As adults...we must fight for them."
Ho's vocal support for the Umbrella Movement might turn out to be career suicide. Over the past weeks, there have been repeated calls for pro-Occupy celebrities to be banned from the mainland – including a commentary in Beijing mouthpiece Xinhua which condemned Ho as well as actors Anthony Wong Chau-sang and Chapman To Man-chak for "betraying" their motherland.

Recently Wong's face and name were removed from a mainland promotional poster for new movie Gangster Payday, despite Wong playing the lead role.

Sources at three TV stations and a newspaper on the mainland told the Post that their companies had received orders banning them from producing content featuring listed celebrities. One list contained 47 names.

Musician Anthony Wong Yiu-ming, who performed for students at Admiralty alongside Ho and actress Deanie Ip, is also allegedly facing a ban from performing on the mainland.

"It's all about money," said critic Jimmy Pang Chi-ming.

China is a major entertainment market and celebrities have no choice but to remain either politically silent or pro-China in order to survive, Pang said.

Of last year's record global box office takings of US$35.9 billion, US$3.6 billion came from China, making it the world's largest film market after North America.

That's a result of the staggering 27.5 per cent box office growth in China from 2012 to last year, compared to 1 per cent growth in North America during the same period.

And with major music markets in North America, Europe and Japan remaining stagnant or in decline, China has become the land of hope, even with its rampant copyright infringement.

"Do you dare to upset China? It could be a career suicide," Pang said.

US saxophonist Kenny G, who long ago lost his appeal in the West, moved quickly to clarify that he didn't support the Hong Kong protests when he was photographed visiting the Admiralty camp.

China's Foreign Ministry was even moved to issue a warning to the smooth jazz star, who has a built a second career on the mainland.

Film director Wong Jing announced on his Weibo that he had "unfriended" Ho, Wong and To, with whom he had previously collaborated. He claimed the protests had ignited the anger of Hong Kong's "silent majority", and he cheered police violence against the protesters.

"Wong [Jing] had to take sides because he has a new movie starring Chow Yun-fat," said Pang, referring to From Vegas to Macau II, the sequel to a gambling comedy that grossed nearly 600 million yuan in China during Lunar New Year. Chow has repeatedly expressed sympathy for the protesters, saying he does not mind making less money if he upsets the mainland.

In comparison, the Hong Kong market is peanuts. Wong Jing's latest offering, horror-comedy Sifu vs Vampire, grossed just over HK$2 million by the end of October. He cannot afford to let the sequel go wrong, said Pang.

Wong Jing denied that in an interview with state media CCTV, claiming that he came forward because Hong Kong society is not "mature" enough to sustain the kind of democracy demanded by students.

"We just want a peaceful Hong Kong," the director said.

Ho has enjoyed growing success in the Mando-pop market in recent years, with reportedly 80 per cent of her income coming from the mainland. But the Canadian-educated singer says she values democracy and social justice far higher than money.

"As a singer and a public figure, my first priority is not money or fame. Those are just a bonus. If I lose the materialistic success, so be it," she says.

She could still make a living out of opening a café or becoming a farmer, Ho says. Running for Legco might be a possibility in future.

"At the very least, I'm very happy now to be with the students and the public."

Ho's path echoes that of her mentor, the late Canto-pop queen Anita Mui Yim-fong.

In 1989, Mui called on Hong Kong celebrities to support students' pro-democracy protests in Tiananmen Square, staging a 12-hour fund-raising Concert for Democracy in China at the Happy Valley racecourse.

The Chinese market remained closed at that point, meaning celebrities in Hong Kong felt freer to voice their political stance. The concert featured a star-studded line-up, including Jackie Chan, and drew a crowd of hundreds of thousands.

Mui's support for students in Beijing earned her a ban from China.

Twenty-five years later, Ho formed Hong Kong Shield, an alliance of artists, academics and media professionals to support the student movement. Politics aside, Ho wants Hong Kong to reconsider how much its cultural and creative industries now defer to the mainland.

"There's been an excessive emphasis on China. If we only fulfil the needs of one market, that is not healthy," Ho said.

Mainland narratives that dominate Hong Kong-China movie co-productions are an example.

"[Those movies] have lost the characteristics of Hong Kong," she said. "We are losing our local spirit, which is the problem."

But focusing only on the Hong Kong market is not possible, said sports and culture lawmaker Ma Fung-kwok. Ma said this would mean Hong Kong cutting itself off from China.

Ho said the explosion of creativity demonstrated at the month-long protests could offer a new chance for the city's cultural development. Mainstream show-business has long been out of sync with the real world, full of cynical money-making ventures.

"To create means to express, we need to go back to the original motive," she said.

"Over these past decade, Hong Kong people have placed freedom and democracy as low priorities. But now is the time to reconsider our priorities."

Additional reporting by Nectar Gan

This article appeared in the South China Morning Post print edition as: Piper calls the tune