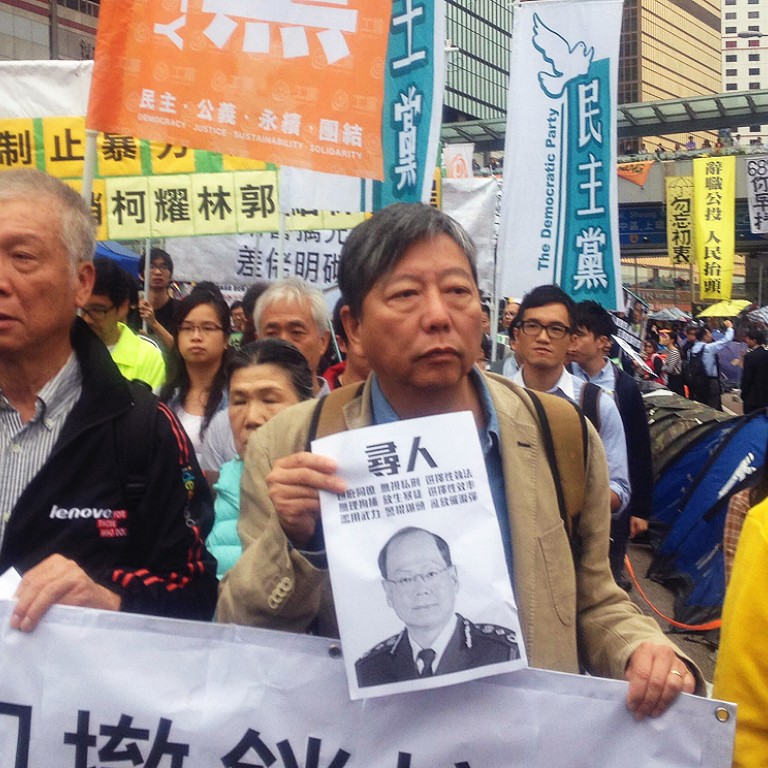 Arrest of Occupy Central marshals damages trust in police, protesters say
March to police headquarters demands that pair who came to tycoon's aid after animal innards attack are cleared of any wrongdoing
About 100 people marched to police headquarters yesterday to protest over the arrest of two Occupy Central marshals after they subdued three men who threw animal innards at media tycoon Jimmy Lai Chee-ying.
The pair were among five people arrested on Wednesday after Lai was struck in the face with the bloody organs at his tent in the Occupy protest zone in Harcourt Road, Admiralty.
Witnesses said the three who launched the attack spoke Cantonese with local accents and swore at the Next Media founder. They were subdued by protesters, who tied their limbs with plastic cables. The men were arrested on suspicion of common assault and fighting in public.
Alex Kwok Siu-kit, head of a 50-strong team of marshals in Admiralty, and colleague Ricky Or Yiu-lam were also arrested on suspicion of fighting.
The marshals were released on bail yesterday morning. But their arrest infuriated Occupy supporters, who called on police to apologise and drop the case.
Pan-democratic lawmakers including Lee Cheuk-yan, "Long Hair" Leung Kwok-hung and Emily Lau Wai-hing joined about 100 people on the march from the Admiralty protest site. The marchers did not seek police permission as required by law and said their protest - like the Occupy campaign as a whole - was an act of civil disobedience.
Several police officers tried to stop the group on Harcourt Road but were heavily outnumbered, and the march continued to police headquarters in Arsenal Street, Wan Chai.
Our interview with Alex Kwok Siu-kit recently: 
The protesters chanted calls for the police to drop the case against the marshals and for Commissioner of Police Andy Tsang Wai-hung to resign. They expressed concern that government officials and police management would put frontline officers under pressure to serve political ends.
"For years, we were taught to help the police fight crime," said Or, one of the arrested marshals. "But it turns out helping the police means we'll start as witnesses and end up as suspects and get charged."
He said the police's actions could destroy trust in the force. Police were already under fire over the use of tear gas and pepper spray earlier in the protest.
In a statement yesterday, the police force said members of the public should use only reasonable and proportionate force to restrain the perpetrator of the crime. Anyone who used excessive force to apprehend a suspect could face legal consequences, the statement warned.
This article appeared in the South China Morning Post print edition as: Arrest of marshals 'hits trust in police'