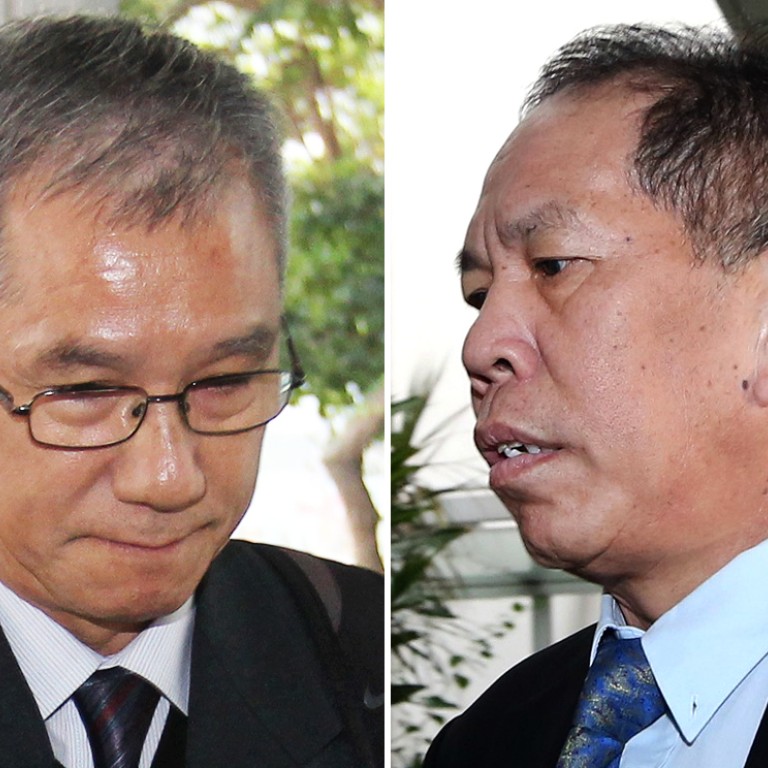 Lamma Island ferry sinking trial hears of 'substandard' navigation
Prosecutor speaks of a night which turned into terror, chaos and tragedy
The coxswains of both vessels in the 2012 National Day collision off Lamma that caused 39 deaths were guilty of "substandard" navigation that amounted to gross negligence, the High Court heard yesterday.
Outlining the case against both seamen, prosecutor Andrew Bruce SC said "a night which had perhaps promised fun, gathering with family and brilliant fireworks, turned into a scene of terror, chaos and tragedy".
The collision occurred when Hong Kong and Kowloon Ferry's Sea Smooth rammed into the port side of Hongkong Electric vessel Lamma IV, which was carrying 124 passengers on a tour to view the celebratory fireworks display over Victoria Harbour.
Lamma IV skipper Chow Chi-wai, 58, and Sea Smooth coxswain Lai Sai-ming, 56, are on trial for unlawfully killing Lamma IV passengers through gross negligence. Each has pleaded not guilty to 39 counts of manslaughter and two counts of endangering the safety of others at sea.
According to the prosecution case, Chow should have seen the navigation lights of the Sea Smooth, which had 62 passengers on board that night.
But the Lamma IV only changed its course slightly to starboard roughly a minute before the incident.
Bruce said the move was "inadequate and too late".
He also criticised Lai's piloting.
"When he altered the course of Sea Smooth to port towards Lamma IV, he committed one of the most fundamental and most dangerous breaches of the rules."
The prosecutor told the nine jurors in the Court of First Instance that in the course of the trial, they might conclude one of the two captains was worse than the other at steering their vessel.
"You will still have to ask yourself whether both fell below the standard," Bruce told the jury.
The court heard that a few minutes after the collision, the Lamma IV had sunk to the extent that its stern was resting on the seafloor, with the bow and part of the upper and middle decks pointing in the air.
"The way in which the Lamma IV sank is also of particular significance because it has a possible impact on why there were so many deaths," Bruce said.
The prosecution will today call the first of 29 witnesses, who include marine experts, passengers on board the two vessels and police officers.
Expert evidence from a former captain, John Third, who is now a consultant in marine investigations, would help the prosecution prove the coxswains had failed to keep a proper lookout and take adequate actions to avoid a collision, Bruce said.
The trial continues before deputy High Court judge Mr Justice Brian Keith.
The South China Morning Post does not make reports of ongoing jury trials available for comment by our readers.  This policy applies to all such trials and is intended to ensure Hong Kong's laws on contempt of court are observed.  Readers will be able to comment on these stories as soon as the trial concerned ends.
This article appeared in the South China Morning Post print edition as: Lamma trial hears of 'substandard' navigation