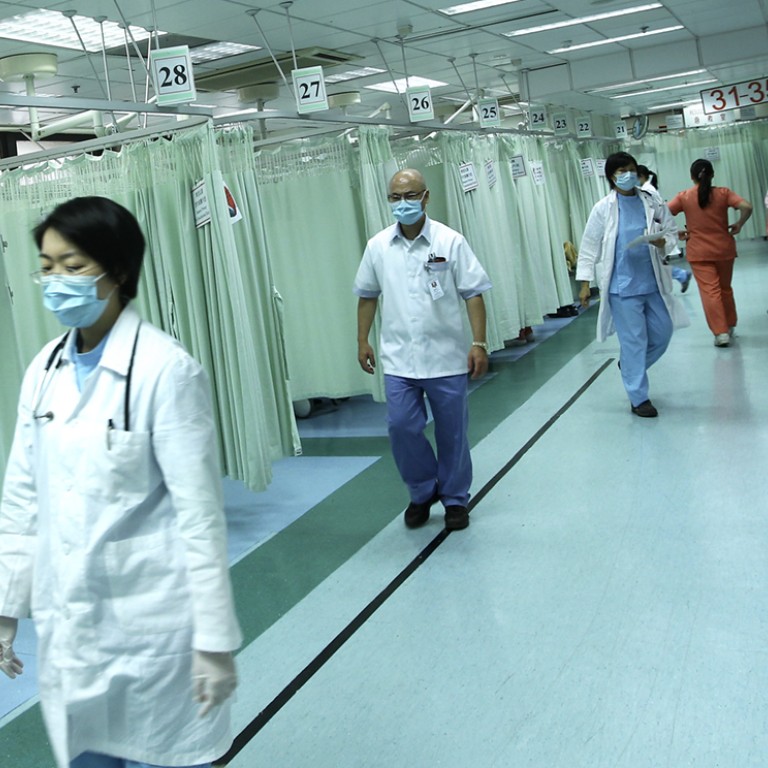 Dual systems the key to an effective health system
Plan to boost the Health Protection Scheme will alleviate overburdened public hospital facilities
Of 13,000 registered medical practitioners in Hong Kong, there are about 5,000 doctors in public service, accounting for less than half of the overall doctor manpower, to serve 90 per cent of the inpatient services.
The heavy workload and pressure are unimaginable. Loss of job satisfaction, an unclear career path, deprivation of professional development and training and poor administrative management directly explain the brain drain in recent years.
Not only the head count, but also the accumulated invaluable experience in the public service is directly transferred to the private sector.
Of course, increased opportunities for promotion is one of the strategies to slow down the manpower loss, but not in the long run. Balance in the number of patients and workload between public and private services is the ultimate solution to narrowing this doctor-patient mismatch, and reducing the public-private imbalance.
In its Health Protection Scheme (HPS), the government intended to invest an additional HK$50 billion in the medical field in the hope that this would provide incentives to attract those able to afford medical insurance - especially the middle class - to purchase it. On one hand, the insured has an additional option to follow his own preference during the treatment. On the other hand, the overwhelming workload in crowded Hospital Authority hospitals can be relieved.
Although we should not over-estimate the beneficial effect of the HPS and not expect too much immediate change in balancing the public and private sectors, a reduction of 10 per cent of the workload in the public hospitals is a big improvement. About 30 per cent of Hong Kong citizens have purchased various private health insurance plans.
Currently, doctors in the private sector mostly operate minor or intermediate procedures such as colonoscopy or gastroduodenoscopy.
In fact, these low-risk medical procedures have not exhausted resources and expertise in the private sector.
Are all patients in public hospitals medically high risk? Which groups of patients and procedures are potentially suitable for considering this public private partnership?
In 2011-12, among 24,000 major and ultra-major operations in public hospitals, 71 per cent were major procedures. Only 28 per cent were of ultra-major magnitude that carries extra risk. Most (19,000) were elective, non-emergency operations and of relatively lower risk. Ages ranged from 41 to 70 in 10,000 patients, accounting for 45 per cent of the total.
This group probably is the target group of the HPS.
To further analyse this potential surgical group, there are several categories which are elective procedures.
These include laparoscopic cholecystectomy (2,010 cases), transurethral resection of prostate (2,653), breast cancer resection (1,766), colorectal resection (2,021) and thyroid surgery (1,751) that are a relatively large burden on public hospitals. The operation time is not very long and there is only a low risk, with a mortality rate at zero to 0.6 per cent.
On the other hand, rare and high-risk operations, such as esophageal cancer surgery (only 97 cases per year) are more suitable to be performed in public hospitals with good support. Surgeries of high complication rates (20-30 per cent) and long hospital stay (two to four weeks ) such as liver and kidney transplant surgery are also more appropriate the well-equipped public hospitals. An appropriately and carefully designed HPS program not only shortens patients' waiting time, but also improves the workload in the public front lines.
In conclusion, the implementation of HPS has more advantages than disadvantages for doctors and patients. To encounter the ageing population and rising medical costs in future, a sustainable dual-track system is probably the key.
Dr Kenneth Fu Kam Fung is former president of the Public Doctors' Association
This article appeared in the South China Morning Post print edition as: Dual systems the key to an effective health system