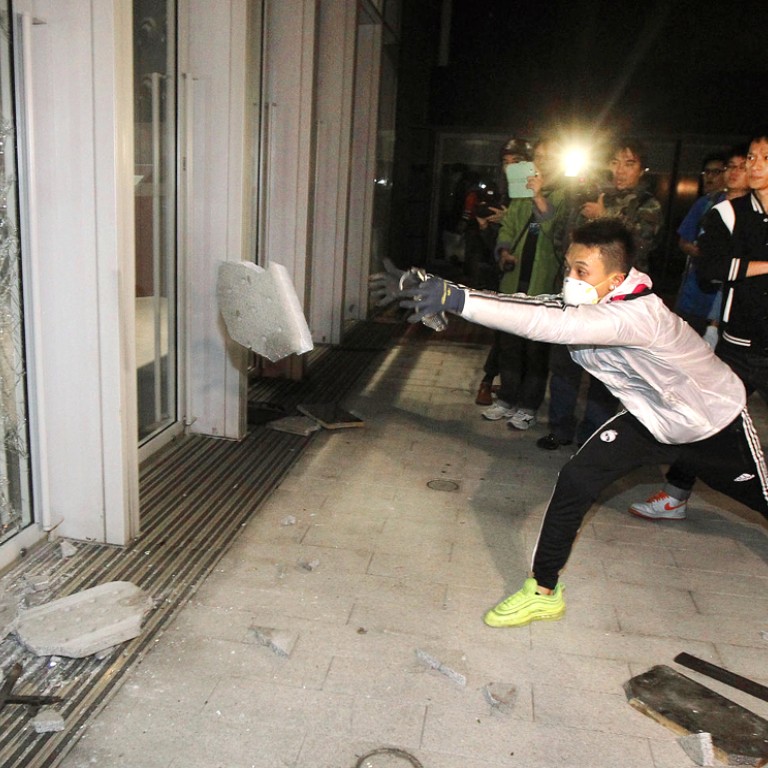 Rumour of copyright vote may have led to storming of Legislative Council building
Violence outside Legco which has widened split in protest camp may have been sparked by erroneous rumour of vote on copyright bill
Who stormed the Legco complex? Student leaders were adamant they did not instigate the violence, and the pan-democratic camp was quick to distance itself from events.
However, a strong clue emerged when someone at the scene in Admiralty used a megaphone to address the crowd before the assault was launched.
"We are besieging the entrances of Legco to stop lawmakers from attending a meeting tomorrow [yesterday morning] so that 'Article 23' cannot be passed smoothly," he said.
Suspicion immediately fell on "keyboard fighters" - internet users who instigate unrest.
On Tuesday, a handful had taken to popular online forum
HKGolden.com
to express their worries about a controversial copyright amendment bill - labelled by some as the online version of the Article 23 antisubversion law, which was shelved a decade ago after mass protests. The bill, if passed, would limit online freedom of speech, many believe.
The government has for years been trying to strengthen copyright laws to offer more protection for copyright holders online and meet international standards. But it has faced opposition amid concerns that parodies and satire would suffer. A previous bill was dropped in 2012.
Some who replied to the online alert urged protesters to escalate their actions. What subsequently happened was captured graphically by TV cameras.
Scores of masked protesters emerged early yesterday morning to storm the Legislative Council, battering a glass window with a metal barrier and lumps of concrete and injuring three police officers.
Six men aged 18 to 25 were arrested. A full Legco meeting and a public works subcommittee meeting scheduled for yesterday were called off.
The online campaign had begun when a man calling himself Yip Ching-shun posted a message online saying: "What the government does is to inevitably force people to rise against it. Let's surround Legco."
Yip accused the government in another online post of wanting to pass the bill on Tuesday.
But the bills committee on the Copyright (Amendment) Bill 2014 only met to discuss details.
Another user, called Japanese Buffet Convenor, suggested: "Even if you got there, no one has the guts to break the glass and storm in."
Posts with similar suggestions emerged throughout the day, though some users pointed out that the bill would not be put to the vote until next year.
Watch: Clashes as alleged Hong Kong protesters attempt parliament break-in
When the unrest started, Labour Party lawmaker Fernando Cheung Chiu-hung, who had arrived at the scene earlier, tried in vain to stop them.
Scores of police officers carrying shields moved in shortly afterwards, deploying pepper spray to fend off the attackers. Officers later spread out and guarded the entrance after the crowd retreated.
The stand-off continued for hours as more protesters flocked to the area and police reinforcements were called in.
At 3am, some protesters gathered again at Legco's north entrance facing Victoria Harbour, with another group forming in the open area 20 metres away. More protesters continued to pour in. The crowds were very fluid and moved around. Most protesters wore masks.
Cheung said the protesters who tried to storm Legco were "misled". Cheung said he rushed to the Legco complex shortly after midnight, after learning of a quarrel between "Long Hair" Leung Kwok-hung and a protester.
"They told me they thought Legco would meet to discuss the so-called Article 23 for the internet today. But there's no such meeting at all," Cheung said.
"I felt mad, and threw myself between those people and the glass door. Two men jumped on me, held me in their arms and pulled me away," he said.
A split between moderate and radical protesters widened after bailiffs cleared barricades in Admiralty on Tuesday.
"We want to use this action to pass on our voices to those on the other side of the glass," said one protester, who refused to be named.
Another protester, who said she had been staying in the protest zone in Admiralty since September, said the "main stage" people who organised the sit-ins were doing nothing apart from waiting for the government to clear them out.
"At least we need to fight to abolish functional constituencies … Universal suffrage is a far-off dream, but this we need to fight for because it's the first step." Not all "pushing forward" actions were bad, she insisted.
But others, like 23-year-old Kuroros Li disagreed. "Our aim is to attract occupiers in Admiralty who still insist that peace can change everything, and not the people on the outside," he said.
Federation of Students secretary general Alex Chow Yong-kang denied the protests had got out of control but said protesters involved had to improve communication among themselves.
Scholarism convenor Joshua Wong Chi-fung said the protesters' actions would endanger other demonstrators.
Police spokesman Chief Superintendent Steve Hui Chun-tak said the force would conduct further investigations into the background of those arrested. He said police strongly condemned the action at Legco, and called those who took part a "mob".
This article appeared in the South China Morning Post print edition as: Storm of controversy