Focus
Get more with myNEWS
A personalised news feed of stories that matter to you
Learn more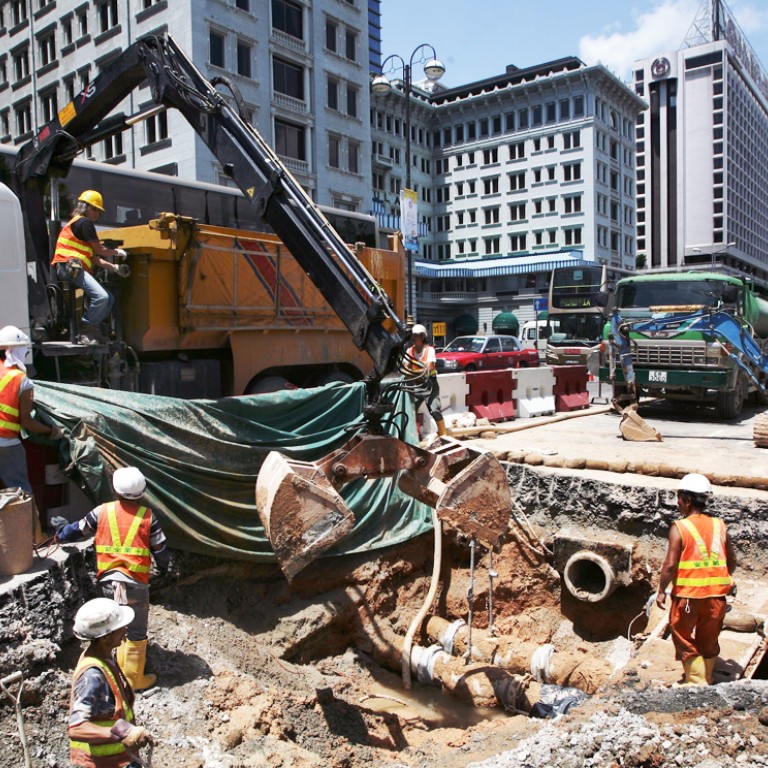 Small army of utility specialists keeps Hongkongers safe from pipes, cables under their streets
A small army of specialists struggles to keep Hongkongers safe from labyrinth of pipes and cables
Pinky Lee Tsz-ki has a beautiful head of lustrous, long hair, has a gentle voice, and works where cockroaches scamper.
Her job is to identify the location of cables and pipelines hidden underground that supply Hongkongers with power, gas and water and remove sewage. She assesses their condition and makes maintenance requests.
"I forced myself to calm down when I saw a group of cockroaches running on the wall as they might have jumped on to my face and body if I screamed," said Lee, 25, as she recalled her first job after graduation two years ago inside a rainwater pipe three metres below ground.
Her task was to use radar equipment to detect whether there was a metal frame outside the pipe that would obstruct a construction crew from boring a tunnel for the Sha Tin-Central link expansion of the MTR line.
In Hong Kong she is known as simply a specialist, but in some other cities she would be called a utility surveyor, prized for mastering the intricacies of electrical and drainage systems and slope structure.
Her profession is poorly recognised in Hong Kong, despite the fact that the density of the city's underground pipelines is 3.5 times that of Singapore, 24 times England's and 85 times that of the United States, according to the Highways Department.
Dr Wong King, founder of the Hong Kong Institute of Utility Specialists, said the city had about 800 specialists managing underground pipelines, just enough to cover half of the underground surveying projects demanded by both the public and private sectors, meaning many projects have to be managed by people who lack proper qualifications.
Highways Department data shows there are about 47km of underground utilities per kilometre of road in Hong Kong. The number is on the rise, with more than 20 utility companies placing power and telecommunication cables, gas and water pipes, and sewage systems underground.
But few in Hong Kong might have paid much attention to its underground pipelines until a series of explosions caused by a gas leak killed 31 and injured 309 in Kaohsiung, Taiwan, in July. The blasts tore trenches through main roads, overturned cars and trucks and resulted in fire and smoke that threatened residents.
"We learned from the massive Kaohsiung explosion in July that mismanagement of underground utilities can be disastrous," Wong said. "Hong Kong as an international city should plug the loopholes of the management system and enhance its professionalism when dealing with the pipelines buried under roads and buildings."
According to the Electrical and Mechanical Services Department and the Water Supplies Department, about 400 accidents occur each year involving underground pipes in the city, often wasting water, causing sewage problems and occasionally injuring people.
About 20,000 cubic metres of fresh water was wasted last year - equivalent to the volume of eight Olympic-size swimming pools - because of pipe damage due to road excavation, according to the Water Supplies Department.
Imprecise pipeline surveying has delayed public projects, notably the railway connecting West Kowloon and Guangzhou.
In April, the MTR Corporation admitted the network of utilities under Jordan Road was so complex that it had to postpone the completion date of the West Kowloon terminus, resulting in an extra cost of HK$4.62 billion.
Because of the absence of standards set by the government for underground surveys, Wong, also convenor of the International Institute of Utility Specialists, said most construction contractors tended to choose utility consultants offering lower prices.
He said a serious utility survey cost about HK$27.50 per square metre, more than a double the HK$10 per square metre proposed by some unqualified companies. Behind cheap contracts, Wong estimated that Hong Kong was paying a social cost of about HK$5.4 billion a year because of accidents resulting from poor surveys and unprofessional management.
He urged the Highways Department to require contractors to conduct a survey before issuing a permit to dig up a road. His suggestion is contrary to the existing guidelines, under which the survey - without specifying accuracy - follows the permit.
"This is why some streets are excavated and re-excavated frequently. Without a precise survey, workers using rough underground maps would find it difficult to locate the pipelines for replacement or maintenance," Wong explained.
Tsim Sha Tsui West district councillor Hung Chiu-wah said re-excavation of roads was common there. He said the junction of Nga Cheung and Jordan roads had been dug up twice in the past two years because of two projects - the building of a road connecting Western Harbour Crossing and Kowloon Station followed by the laying down of power cable for the art hub's construction.
"The government needs better coordination to minimise disruptions to the public," he said.
A spokesman for the Highways Department said contractors were usually asked to coordinate with other businesses when applying to dig up roads, adding that contractors can be charged for delayed excavation works at a daily rate of about HK$1,500 to HK$18,000.
But Wong said the punishment was lenient considering workers might hit a water-pipe system or even a gas line that could cause fatalities.
In November 2012, two workers hired by the Hospital Authority to maintain its electricity system in Mong Kok were seriously burned after digging into a power cable. There was a similar accident in Kwai Chung in 2010.
Existing law only requires excavations involving power cables, not gas pipes, to appoint a "competent person" to carry out a survey. One only needs to attend an 11-to-14-hour class and possess a minimum of six months' work experience in the field to be deemed competent.
Pinky Lee, the underground specialist, studied utility management, a programme set up in 2009, at Polytechnic University.
The Institute of Utility Specialists suggests enhancing the competent person's qualification to at least 35 hours of training and two years of on-the-job experience. Two hundred specialists in Hong Kong have become members of the institute, which regularly supervises the standard of their work as part of their membership.
"Utilities follow where people live. They age as people age. But Hong Kong's mentality of managing the utilities is not catching up," said Lee, one of two out of 13 female students who graduated in the class of 30 in 2012 who are still in the industry.
Lee always find it fulfilling to trace an underground object successfully, be it in a sewage pipe, at the tracks of an airport terminus or under a highway. But she said going underground was always the last option, when data is limited or where equipment cannot work, as it involves risks that could be life-threatening.
"Safety measures are important because colleagues responsible for the measurement could be sucked into the sewage pump if a careless slip happened," Lee said.
"The project demands high professionalism. Just imagine how many residents would use toilets in a morning and how disturbing a backflow would be if the sewage pipe were damaged."
This article appeared in the South China Morning Post print edition as: Threats from below