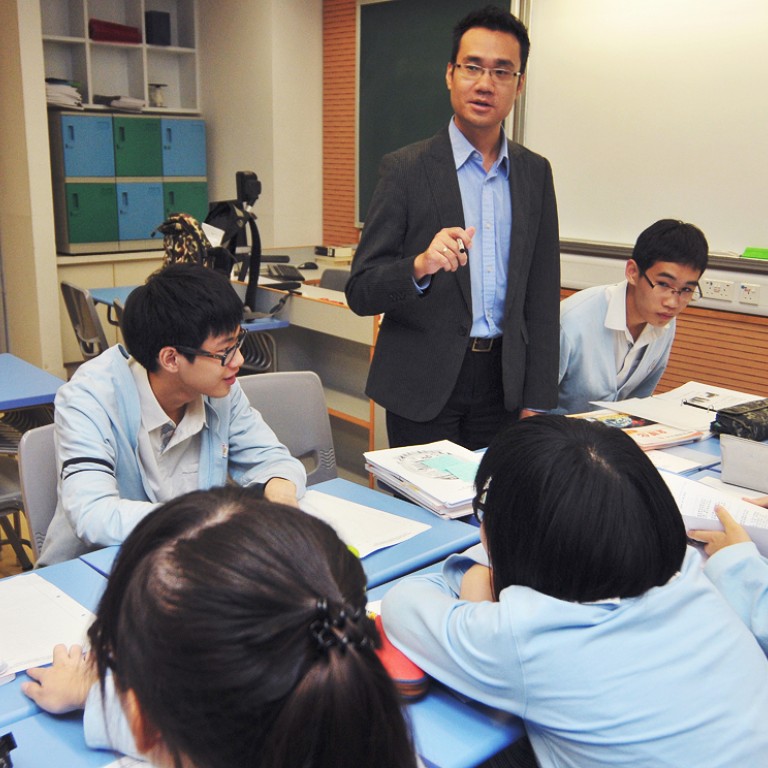 Move to change liberal studies discussion points
Teachers and students say political pressure is behind education officials' proposal to remove several topics from discipline's curriculum
Students pursuing liberal studies degrees should not be asked to analyse residents' responses to major social events or discuss why the city's youth participate in community issues, education officials have proposed as part of an ongoing review of secondary education curriculum.
But some students and liberal studies teachers have criticised the proposed move as unnecessary, saying it is influenced by political considerations.
The proposal is part of a midterm review of the new academic structure for senior secondary education. The review, produced by the Education Bureau, the Examinations and Assessment Authority and the Curriculum Development Council, is subject to a three-month public consultation that started yesterday.
The education officials recommended many changes to the framework for teaching liberal studies, which some pro-establishment politicians have blamed for students' participation in the ongoing Occupy Central pro-democracy movement. The subject currently comprises six modules, each with multiple discussion points.
The changes proposed include deleting a discussion point on young people's motivations for participating in community affairs, and removing residents' "feelings and responses towards … major events" as a recommended angle for another discussion point on how Hongkongers develop their identities.
Officials said in the paper that the former should be deleted because the relevant content had been merged with another module, and the latter removed to relieve teachers' workloads.
But officials made only two revisions with regards to merged content. They added "identity, a sense of responsibility" as an angle for a discussion point on factors that determine residents' participation in social and political affairs, and "adolescents" as one of the examples of different social groups that make demands.
Cheung Yui-fai, director of the Professional Teachers' Union's education research department, said the merged content could not compare with the original content, which was an independent discussion point and could encourage students to engage in more in-depth analysis.
"Now, when so many pro-establishment people are blaming the youth for causing trouble, the Education Bureau's move is not smart," said Cheung, who is also a liberal studies teacher. "It's easy for people to see it as being politically motivated."
But Cheung said the change was not big enough to bar teachers from bringing up politically sensitive issues, such as the Occupy movement and civil disobedience, in class, because other important discussion themes such as "rule of law and socio-political participation" remained intact in the framework.
A spokesman for student activism group Scholarism said it was important for young people not only to develop their own identities, but also to understand community and democratic affairs. It would be "dangerous" to take politics out of life, the spokesman added.
Government sources familiar with the consultation said education officials might issue liberal studies textbooks in the first or second quarter of next year.
There is currently no official textbook on the subject.
OFFICIAL RECOMMENDATIONS
the discussion point on adolescents' motivations to participate in community affairs.
"personal, eg. identity, a sense of responsibility, altruism, self-actualisation" as one of the angles for the discussion point on factors that determine residents' participation in socio-political affairs.
"adolescents" as one of the examples of "people, organisations and interest groups", when explaining one of the angles for discussion point on how the government responds to the demands of different social groups.
"feelings and responses towards … major events related to them" and "participation in and contribution to social groups" from the angles for the discussion point on how Hong Kong residents developed their identities.
This article appeared in the South China Morning Post print edition as: Move to change liberal studies discussion points