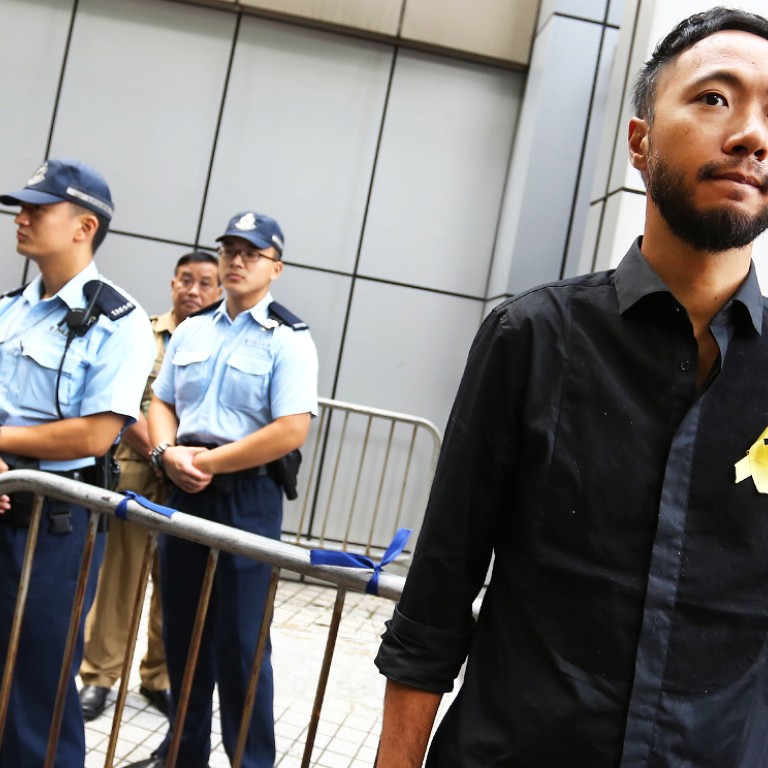 Police force arrests seven of its own over alleged beating of Occupy activist Ken Tsang
Seven police officers who were allegedly caught on camera beating Occupy activist Ken Tsang Kin-chiu arrested on charges of assault
Seven suspended policemen alleged to have beaten Civic Party activist Ken Tsang Kin-chiu during violent clashes with protesters in Admiralty last month have been arrested.
The arrests, on suspicion of assault causing actual bodily harm, came a month-and-a-half after the alleged attack on Tsang, a member of the Election Committee that chose Chief Executive Leung Chun-ying in 2012. But police last night denied there had been any attempt to delay the case.
Police also said that Tsang had failed to appear in an identification parade scheduled for yesterday and urged him to cooperate.
Tsang said he did not show up because the arrangements were "unusual" and involved "unresolved" legal issues. He and his lawyer Tanya Chan refused to elaborate on what these issues were.
"At the moment I still [cannot] say I am happy or [feel] safe … but we are willing to do anything to actively cooperate with the police's investigation," Tsang said. He complained about the time it had taken to make the arrests, adding that neither he nor his legal team had been officially informed.
Police said the investigation by the Complaints Against Police Office, with a view to finding if any criminality was involved, was in progress and advice would be sought from the Department of Justice when it was finished.
A spokesman last night could not say whether the seven had been detained or bailed.
A group of officers was shown on television apparently kicking and punching Tsang after his arrest on October 15 during the violent clashes on Lung Wo Road in Admiralty during which the thoroughfare was briefly occupied.
The force also responded sharply to calls from activists to overwhelm them with a spate of individual complaints about the Tsang case.
The force described such actions as "inconsiderate and selfish" saying they would affect normal service to the public.
The seven police officers have been released on bail. They are due to report back in mid-December.
This article appeared in the South China Morning Post print edition as: Cops arrested