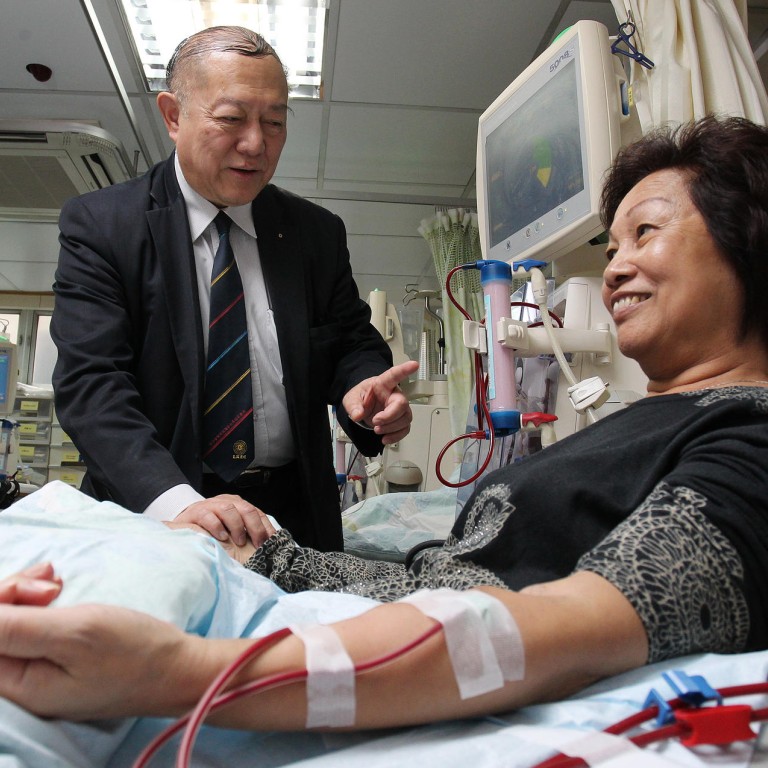 Lions kidney centre gives patients the gift of life, and of living
Specialised treatment offered by the Lions kidney centre allows patients more day-to-day freedom, as it only takes place twice a week
Two decades ago, Connie Hung suffered a double blow: she lost her baby in a miscarriage and learned she had kidney disease.
Since then, she has undergone two kidney transplants, both of which failed.
Now, with her kidneys unable to remove waste from her body, the 52-year-old has to receive a five-hour haemodialysis treatment to remove waste and free water from her blood twice a week. She is among the 168 patients who receive low-cost treatment from a renal dialysis centre run by the Lions Kidney Educational Centre and Research Foundation in Sham Shui Po.

"I could not afford to go to private hospitals for haemodialysis, as their prices are triple" those of the centre Hung said.
The foundation, conceived in 1987 by Dr Timothy Teoh Sim-chuan, and the Lions Clubs, District 303, HK, Macao, China, is a non-profit organisation funded by public donations to provide low-cost haemodialysis. It is a beneficiary of this year's Operation Santa Claus, the annual fundraising drive organised jointly by the and RTHK.
Haemodialysis and kidney transplants are two of three long-term solutions available to Hong Kong's 9,000 renal patients.
The third possibility is peritoneal dialysis - a method of pumping fluid into the abdomen to flush out the waste every night while the patient is asleep.
But Teoh, a urologist, said that while the latter was significantly less costly as it could be done by the patients themselves at home every night, it carried a higher risk of infection. Haemodialysis required only two sessions a week and allowed patients a higher quality of life, he said.
"Sadly, the public hospitals can only offer patients peritoneal dialysis due to their limited resources. The demand for haemodialysis is great as it is often too costly to come by," Teoh said.
The two-storey centre has 40 haemodialysis machines, which provide up to 16,000 therapies a year for 168 patients who need at least two sessions each week. It charges patients HK$1,050 a session after a HK$400 subsidy.
Hung said she used to receive the therapy at private hospitals for HK$3,000 a session, until she could no longer afford the cost.
Another patient, Ma Suk-lan, 65, said the centre was the only option for people at her age who could not afford private service, much less join the long queue for a kidney transplant.
"Receiving haemodialysis allows me to go on with my life as a normal person. All I need to do is to visit the centre twice a week. But having peritoneal dialysis would mean I would be tied down to the risky process every night."
Teoh said the HK$1 million funding would cover a third of the cost of renewing the reverse osmosis system, used to clean water used to diffuse waste material in the blood.
He also expressed hope that the centre could raise enough donations this year to buy 20 more machines in an expansion plan next year to benefit more patients from low-income families.
HOW YOU CAN GIVE
Donate at an ATM or any branch of HSBC (account number 502-676299-001 for SCMP Charities Ltd - Operation Santa Claus)
You can donate with a cheque payable to "SCMP Charities Ltd - Operation Santa Claus" and mail it to: Operation Santa Claus, Morning Post Centre, 22 Dai Fat Street, Tai Po Industrial Estate, Tai Po, New Territories.
Donations of HK$100 or more are tax-deductible. If you would like a tax receipt, please send the completed donation form and original bank receipt to the address above.
This article appeared in the South China Morning Post print edition as: Kidney centre gives patients the gift of life, and of living