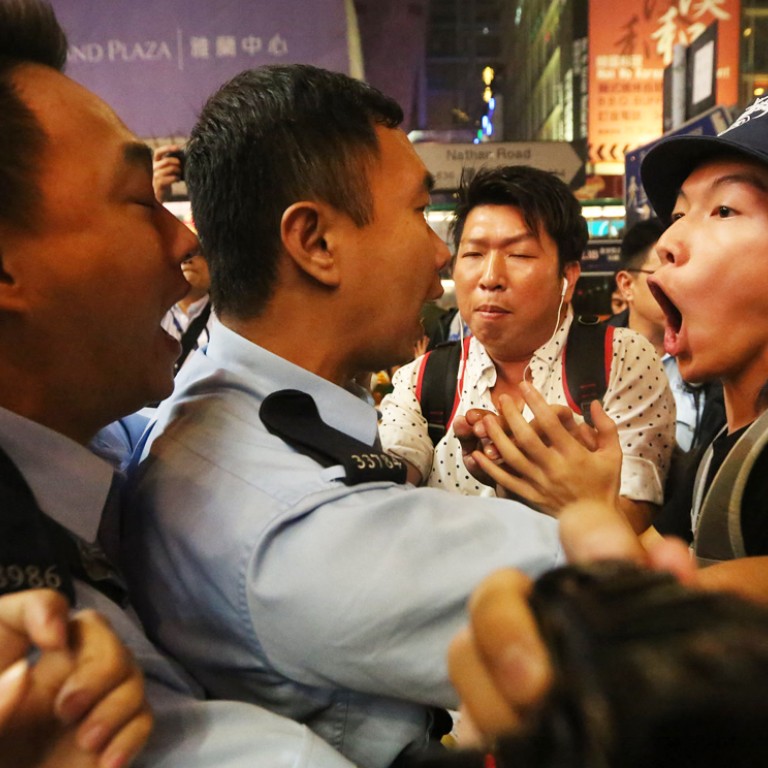 Students threaten to target government buildings after night of clashes in Mong Kok
The Federation of Students has threatened to target government buildings in response to the police clearance of the Occupy camp in Mong Kok following violent clashes overnight.
The Federation of Students has threatened to target government buildings in response to the police clearance of the Occupy camp in Mong Kok following violent clashes overnight.
"I think we have made it very clear that if [the police] continue the violent way of clearing up the place, we will have further actions," Federation of Students core member Yvonne Leung Lai-kwok said on an RTHK radio programme this morning.
"The further actions include a possibility of some escalations pointed at government-related buildings or some government-related departments," she said.
Leung, president of the University of Hong Kong students' union, said details would be released later but not before tomorrow.
The students' idea is in direct opposition to the plans of pan-democrats and Occupy founders, who at a joint meeting yesterday advocated ending the occupation. The Occupy trio, Benny Tai Yiu-ting, Dr Chan Kin-man and Chu Yiu-ming plan to turn themselves in to police early next month, even if others do not follow.
The government, meanwhile, said there is no prospect of further dialogue if the students insist that the August decision of the National People's Congress Standing Committee for Hong Kong's political reform be revoked.
Clashes broke out between protesters and police in Mong Kok in the early hours of Thursday, hours after traffic resumed on a key section of Nathan Road following two months of blockages by pro-democracy activists.
Some 200 protesters regrouped in the area overnight, angered by removal tactics yesterday, and began staging a sit-in on Sai Yeung Choi Street South. Some 100 police officers, not wearing riot gear, stood watch to prevent the protesters from spilling onto Nathan Road.
At around 4am, they peacefully followed police instructions and moved back to the pavement. Traffic resumed soon after.
Watch: Clashes break out as Hong Kong protesters attempt to reoccupy Mong Kok
Things remained peaceful until an unmarked police car was intercepted by protesters at the junction between Sai Yeung Choi Street South and Soy Street.
Scuffles ensued after police and protesters became engaged in a heated verbal exchange. Officers struggled with protesters before chasing them and hitting them with their batons. Officers pinned about a dozen protesters down to the ground or against walls. Some protesters were handcuffed with plastic ties and hauled away by police. A number of protesters sustained facial injuries.
Terry Chiu, a Year 2 student at Hong Kong University's School of Economics and Finance, said he joined the sit-in on Sai Yeung Choi Street South because he believed police had gone beyond the scope of court injunctions to clear the protest site.
"This is not rule of law, but rule by law," he said. "We came out to shop today, just as [Chief Executive] Leung Chun-ying called on people to shop more here after the clearance to give Mong Kok a boost. I don't understand why the police interfered with us."
Chiu said he didn't want to see Sai Yeung Choi Street become a new Occupy site. He said protesters should change their tactics and occupy mobile sites instead of fixed locations.
Clashes erupted from 10pm as hundreds of people made repeated attempts to reoccupy roads. There was pushing and shoving between the crowd and police. One man was left with a bloodied head and several people were subdued and taken away. Police reinforcements were sent in and red flags were raised warning people not to charge.
Some 169 arrests have been made in the Mong Kok clearance since yesterday, police said, with 21 men aged between 19 and 42 held overnight on suspicion of, among others, criminal damage, possession of offensive weapons, unlawful assembly and assaulting a police officer.
Hours after the last batch of protesters disappeared from the streets, police were taking no risks, with two to three officers stationed every 50 metres on Nathan Road and the nearby streets with plastic restraints at the ready.
Police Tactical Unit officers were also seen patrolling the streets in groups of six.
Independent Police Complaints Council chairman Larry Kwok Lam-kwong declined to comment on whether police had used excessive force in the clearance.
"About what has happened in Mong Kok in the past two days, we got most of the information from the media. We have not received reports to understand the whole situation and so it is not suitable for us to comment at this stage," Kwok said.
The council said that the police's internal watchdog, the Complaints Against Police Office, had received 13 complaints regarding the Mong Kok clearance. Complainants accuse officers of assault, being rude and swearing.
Kwok said some members of the council had been to the Occupy sites to make observations in a personal capacity. The council had not officially sent members to the sites because it may not be suitable, he said.
The council meanwhile has received some 17,000 complaints against its own members during the Occupy movement. Some complaints are about what council members have said in public.
About 6,000 police officers will be assigned to the cleared streets and nearby areas in Mong Kok until Sunday to prevent a reoccupation by protesters, a police source said.
The source said police would have 3,000 people on the ground at any time until Sunday, when a reassessment would be made.
"The police will continue to make their best effort to prevent people from obstructing the road again," Chief Superintendent Steve Hui Chun-tak said.
Occupiers said they were not deterred. "I will come back later. We cannot lose Mong Kok no matter what," Kumi Lam said.
Those arrested yesterday included Wong Ho-ming of the League of Social Democrats, Joshua Wong Chi-fung of Scholarism and Szeto Tze-long and Lester Shum from the Hong Kong Federation of Students. They were arrested for various offences including contempt of court and obstructing police.
The police source said Mong Kok was still considered "high-risk" and there was a hint last night of what might be in store. Several hours after the barricades fell, part of the road had to be closed again as police moved to break up new crowds.
Alex Chow Yong-kang, of the Federation of Students, said his group felt the Occupy movement "still had energy", but further action would continue to embrace the principle of non-violence.
Civic Party leader Alan Leong Kah-kit, Democrat Helena Wong Pik-wan, the Labour Party's Dr Fernando Cheung Chiu-hung and the Professional Commons' Charles Mok said they would not support any violence.
All six lanes of Nathan Road, northbound and southbound, were reopened at 3pm yesterday after the clearance supported by about 3,000 police including the crack Police Tactical Unit.
Police took over from bailiffs enforcing an injunction by taxi groups – who said their business had been damaged by the protests – after tension flared over the involvement of clearance workers said to have been authorised by the taxi groups.
Meanwhile, a Now TV engineer who was arrested on Tuesday night for allegedly assaulting police was released unconditionally late last night.
Speaking to the press, he said his hands were not in contact with any officer when he was covering the conflict in Mong Kok on Tuesday. He claimed he did not know why he was arrested.
Police said the 34-year old was released because he did not request bail, but the force reserved the right to prosecute as they were still investigating the incident.
The seven police officers who allegedly beat Civic Party member Ken Tsang Kin-Chiu last month have been released on bail. They are due to report back in mid-December.
Samuel Chan, Ernest Kao, Chris Lau, Timmy Sung, Emily Tsang, Joyce Ng, Danny Mok, Eddie Lee