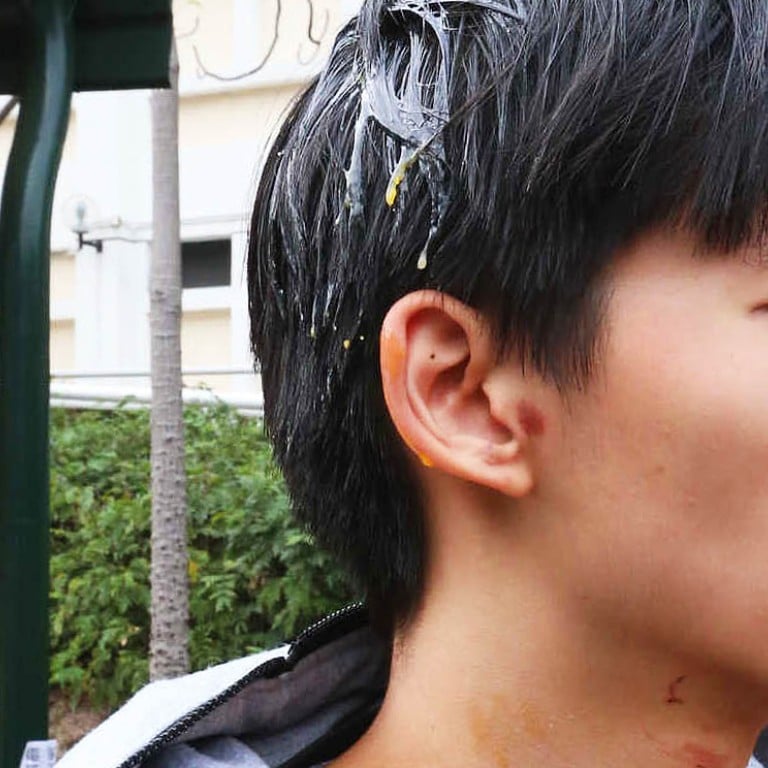 Joshua Wong pelted with eggs outside court after being banned from Mong Kok
Joshua Wong has been banned from entering parts of Mong Kok as a condition of his bail after he was charged with obstructing a bailiff who was clearing barricades.
Student leader Joshua Wong Chi-fung was pelted with eggs outside court after he was banned from entering parts of Mong Kok as a condition of his bail. Wong had earlier been charged with obstructing a bailiff who was clearing barricades erected by pro-democracy protesters.
Wong was barred from setting foot in the area bound by Fai Yuen Street to the east, Dundas Street to the south, Shanghai Street to the west and Mong Kok Road to the north – a condition sought by the prosecution.
Before the egg attack outside Kowloon City Court on Thursday afternoon, Wong said he was disappointed by the behaviour of police, who he accused of "attempting to injure him in the groin" while he was being dragged away on Wednesday.
"A team of 12 helmeted police officers rushed towards me and pushed me to the ground," he said. "I was injured in the neck."
Wong also said he was taunted and swore at by officers while in custody and was told at 3am on Thursday that he would go to court seven hours later.
The court heard that the Mong Kok no-go area for Wong is larger than the area covered by an injunction granted by the High Court.
But Principal Magistrate Peter Law allowed Wong, who was not asked to enter a plea, to travel through the area "on transport or in transit" after he was informed by the Scholarism convenor's counsel, Michael Vidler, that his client needed to go to university via Mong Kok.
Vidler also said Wong would like the court to make an exception for him to go to a blood donation centre in the area. Law turned down the request.
Clad in a dark green jacket, the student activist kept his hands in the pockets as he listened to the hearing being translated to him.
Vidler said the prosecution's request to adjourn the case until January 14 was a delaying tactic. The size of the no-go zone was also disputed by Vidler.
The evidence against Wong was "thin", said Vidler, who questioned if the prosecution had brought Wong to court in order to keep him from taking part in Hong Kong's ongoing pro-democracy street protests.
"My client did not obstruct the plaintiff and bailiffs undertaking their duties, nor did he obstruct the police undertaking their duties," he said.
Prosecutor Angus Lee Ka-hung said more time was needed for enquiries and legal advice, adding that the prosecution treated each defendant equally.
"The prosecution has no intent to delay the trial proceedings," Lee said.
About 31 defendants, including lawmaker "Long Hair" Leung Kwok-hung and student leader Lester Shum, will face various charges today arising from the police clearing of the Mong Kok protest site on Tuesday and Wednesday.
The charges include obstructing officers on duty, possession of weapons and assaulting police officers.