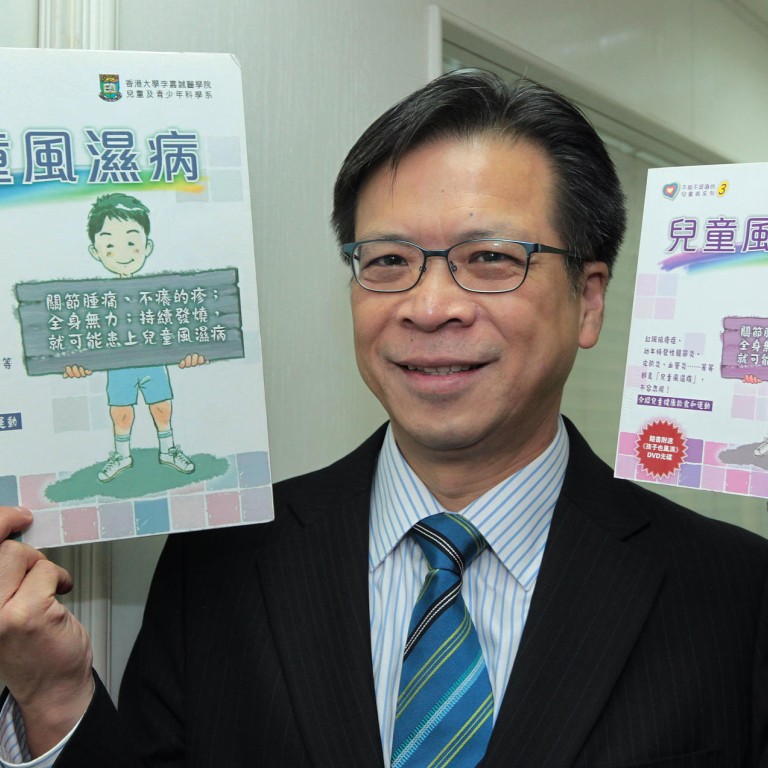 Easing the pain of young kids living with arthritis
Group aims to raise funds to expand support for children living with crippling conditions
Daisy is a quiet, shy 13-year-old girl, but there is one thing she is quite confident about.
"I want to be a social worker when I grow up," she said. "I'd like to share my experience [of living with arthritis] with others."
Daisy was diagnosed with a juvenile form of arthritis when she was just two, after the distinctive swelling caused by the condition appeared around her knees.
"Her joints were constantly painful," mother Candy recalled. "In the morning, she couldn't walk. She could half-walk in the afternoon [when the pain wasn't as bad], if there was a wall nearby to support herself with."
Daisy's crippling condition brought mother and child to the Paediatric Rheumatism Association in Kwun Tong in 2005, when it opened. The association provides support for children suffering from rheumatic diseases - a broad spectrum of illnesses with arthritis-like symptoms.
"Her knees still hurt, but she can walk stably now," Candy said. "You almost can't tell she's suffering from this disease."
The association, a non-profit organisation, offers financial support for 243 of its 522 member patients through medication and rehabilitation.
As a beneficiary of Operation Santa Claus, an annual fundraiser organised by the and RTHK, the association is seeking some HK$999,000 to broaden its physical therapy and empowerment programmes, and to educate the public on paediatric rheumatism. The money will also go towards creating the association's first international partnership, with Club Rainbow, a Singaporean non-profit group dedicated to helping children with chronic and life-threatening illnesses.
Paediatric rheumatism afflicts one in every 1,000 children regardless of gender, according to the association's website. Symptoms can start when a child is just one.
Association founders Angel Fu Lai-kuen and Irene Lam Wai-chun both had children with rheumatic diseases, chairman Raymond Chung Yik-cheung, a practising accountant, said.
Such illnesses were often quite costly, Chung said. "When the body does not respond to medicines, the treatment can get expensive," he said.
"It could cost a few hundred thousand dollars a year in the most extreme cases. Our members come from all walks of life and it's a pity that some aren't that financially well off."
As well as physical therapy, the association offered consultations and psychotherapy, so that the families of patients can "live like ordinary people", he said.
Chung's daughter also had a rheumatic disease. "Her immune system was attacking her muscles," he said. "Ten times more muscular enzymes [than normal] were released after she exercised.
"She is back to normal after years of treatment. The best support we had was the experience shared by our members."
HOW YOU CAN GIVE
Donate online by credit card at

osc.scmp.com/donate

Donate at an ATM or any branch of HSBC (account number 502-676299-001 for SCMP Charities Ltd - Operation Santa Claus)
You can donate with a cheque payable to "SCMP Charities Ltd - Operation Santa Claus" and mail it to: Operation Santa Claus, Morning Post Centre, 22 Dai Fat Street, Tai Po Industrial Estate, Tai Po, New Territories.
Donations of HK$100 or more are tax-deductible. If you would like a tax receipt, please send the completed donation form and original bank receipt to the address above.
Please call 26808159 or e-mail

[email protected]

with any inquiries, or visit us online at

osc.scmp.com
This article appeared in the South China Morning Post print edition as: Easing the pain of young kids living with arthritis