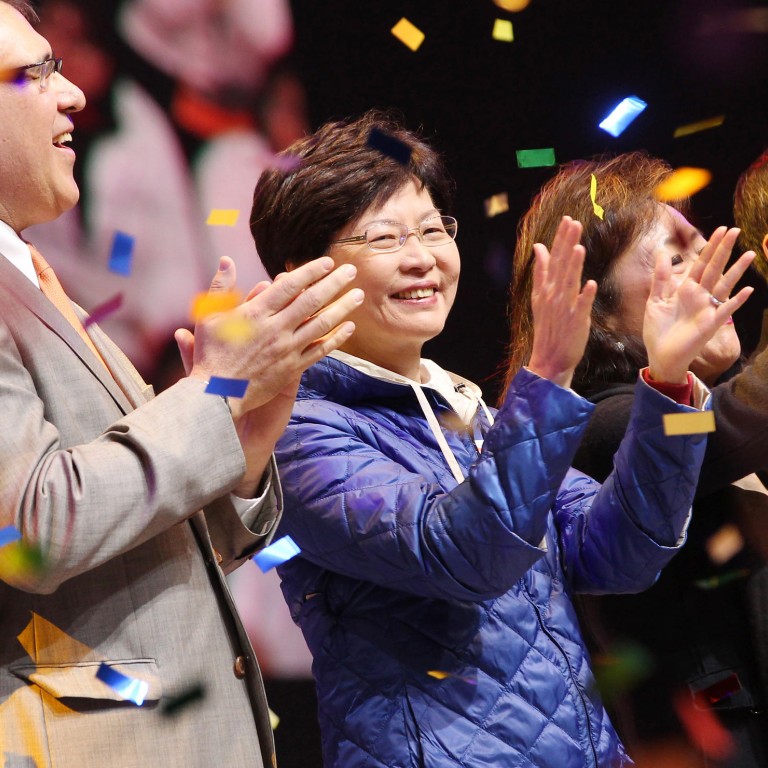 Update
Public consultation on 2017 election will happen 'soon after Occupy ends', says lawmaker
After student leader gives up his hunger strike, democracy debate poised to move from streets with second round of 2017 election discussion
The debate over the 2017 chief executive election looked to be moving from the streets to the political arena yesterday, as government officials pledged to start a second round of consultation "soon after Occupy ends".
Chief Secretary Carrie Lam Cheng Yuet-ngor said that when the consultation begins, "I'll be very willing to meet student representatives and listen to them".
The comments came as student leader Joshua Wong Chi-fung ended a 108-hour hunger strike. The officials ruled out dialogue with Wong, saying talks were possible only within the framework of the Basic Law and Beijing's guidance on 2017.
The new consultation is the final stage before the government puts a reform plan to the Legislative Council, probably in the summer, moving a showdown with pan-democrat lawmakers closer.
Wong and two fellow members of Scholarism gave up their hunger strikes, which started on Monday, yesterday. Another quit on Friday. Lam called on two others who had not eaten since Wednesday to give up.
However, Gloria Cheng and Eddie Ng, both 20, pledged to continue their actions. Neither have eaten for over 80 hours and both were this morning said to be "stable" by visiting medics.
"I will hang in there until the end," pledged Cheng, who is being pushed around in a wheelchair. Ng took some energy drink on Saturday night on doctor's orders.
Constitutional affairs minister Raymond Tam Chi-yuen said the government "would not entertain" requests for talks made through coercive means such as hunger strikes.
The new consultation will cover the details of the 2017 poll after the National People's Congress Standing Committee laid down a framework in August for how "two or three" candidates will be chosen for a public vote.
Tam said the consultation, to start "soon after" Occupy ended, would focus on topics including how hopefuls could enter the "primary election" in which a 1,200-strong committee will choose candidates. It will also look at how public opinion can be "formally channelled" and how to make the committee transparent and accountable.
Civic Party leader Alan Leong Kah-kit and Democrat Albert Ho Chun-yan said pan-democrats would stand by their vow to veto any reform based on Beijing's framework. Pan-democrats say the committee will "screen out" critics of Beijing. The reform needs a two-thirds majority in Legco, meaning pan-democrats have the votes to block it.
WATCH: When Hong Kong student leader Joshua Wong began his hunger strike
Returning to Admiralty last night, Wong criticised officials for ignoring the hunger strike, noting that fellow striker Prince Wong Ji-yuet was taken to hospital yesterday. He said that two years ago when members of his group went on hunger strike against national education, Chief Executive Leung Chun-ying and Lam visited on the second day.
"Now we have someone being admitted to the hospital, will the officials put aside their conscience? I am really looking forward to it," he told a rally.
Speculation continued last night on how long the Admiralty camp would remain. A clearance is thought to be unlikely until after President Xi Jinping visits Macau on December 19.
Lester Shum, of the Federation of Students, told the rally the group's actions "would not cease with the occupation".
This article appeared in the South China Morning Post print edition as: Consultation 'soon after Occupy ends'