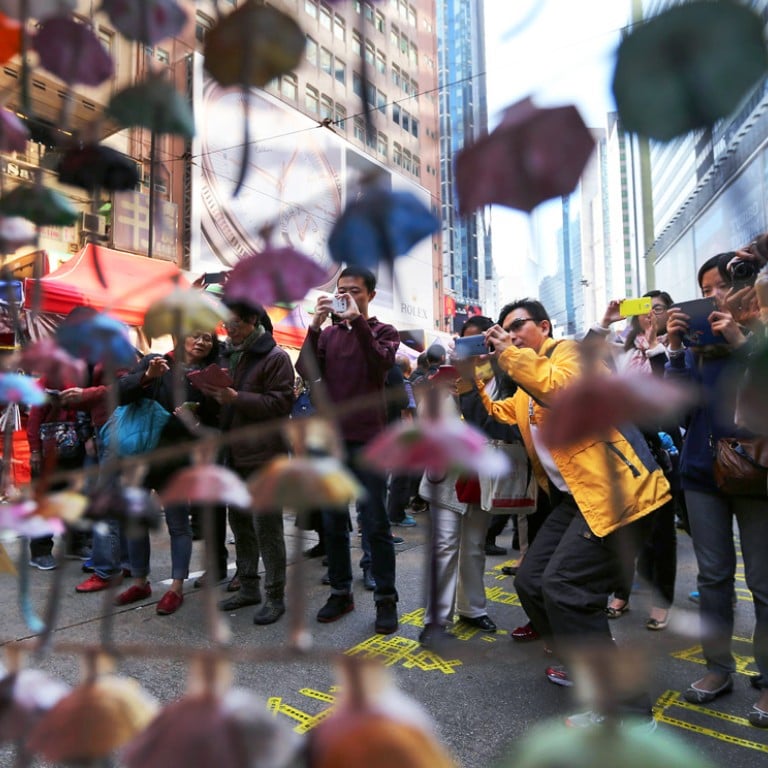 Occupy groups to start 'non-cooperation movement' as follow-up to mass protests
Students and civic groups are launching a "non-cooperation movement"  urging people to delay paying public-housing rent and to pay tax bills in small amounts as a follow-up to the Occupy protests.
Students and civic groups are launching a "non-cooperation movement" - urging people to delay paying their public-housing rent and to pay tax bills in small and symbolic amounts - as an offshoot of the Occupy prodemocracy protests.
Alex Chow Yong-kang, secretary general of the Federation of Students, said yesterday the actions were legal and busy workers unable to join previous protests could take part.
"Occupy is taking on different forms. While the government has no timetable for universal suffrage, we do have a timetable to fight for it and challenge the legitimacy of the government," Chow said.
Secretary for Justice Rimsky Yuen Kwok-keung called on the public not to follow the groups' suggestions, saying it was not "a wise act" and he would not agree to "any suggestion to act in breach of the law".
The groups' call came after police last week dismantled the Occupy stronghold in Admiralty.
Police planned to clear the last remaining camp in Causeway Bay today, with about 400 officers set to move in on the 100 metre-long site and another 400 to 600 on standby, a police source said.
Protesters were to be given 30 minutes to pack up and go before police started clearing the site at 9.30am.
"We expect little resistance," the source said. "It should take no more than three hours."
Under the non-cooperation plan, Hongkongers are urged to express their displeasure with the government by splitting their tax payments into small sums. Tenants of public housing flats are being urged to delay paying their monthly rent until the last possible moment.
The groups said salaries tax and rent were chosen as targets because they were unhappy that the government was spending taxpayers' money on "white elephant infrastructure projects" and land policies that benefited developers.
Franklen Choi Kin-shing, a social sciences lecturer, suggested that people, while paying their full tax bill, should split payments into cheques for sums of HK$689 or HK$6.89 - a reference to the number of people on the election committee who voted for Chief Executive Leung Chun-ying.
There are 1.5 million taxpayers and more than two million public housing tenants in Hong Kong.
Yim Pik-fan, spokeswoman for the Alliance for Defending Grassroots Housing Rights, said many tenants were middle-aged or elderly, and might not see a connection between paying rent and fighting for democracy. But she said the alliance would still promote the idea among residents, and aimed to start the first effort on December 31.
Leticia Lee See-yin, convenor of the Justice Alliance, an anti-Occupy group, said the students' plan would only "bring trouble to civil servants" and waste administrative resources.
On the eve of the Causeway Bay clearance operation, all but a few of about 30 protesters who have camped near the Sogo department store for the past 11 weeks planned to stay today to bear the legal consequences of civil disobedience.
Staying until the last moment has a special meaning for janitor Man Wah, who has camped in Causeway Bay since the start of the protests.
"It may be only another 30 minutes, but I want to stay with this community we've built from scratch until the very last moment," said the 47-year-old, who has been running a supplies booth on the site.
Packing was mostly finished yesterday. Self-defence gear had been removed and remaining supplies were donated to charities, said Orphee Leung, who helped build the study area. "We won't wait for police to arrest us. Now is not the time yet," he said.
This article appeared in the South China Morning Post print edition as: 'Non-cooperation' is protesters' next gambit