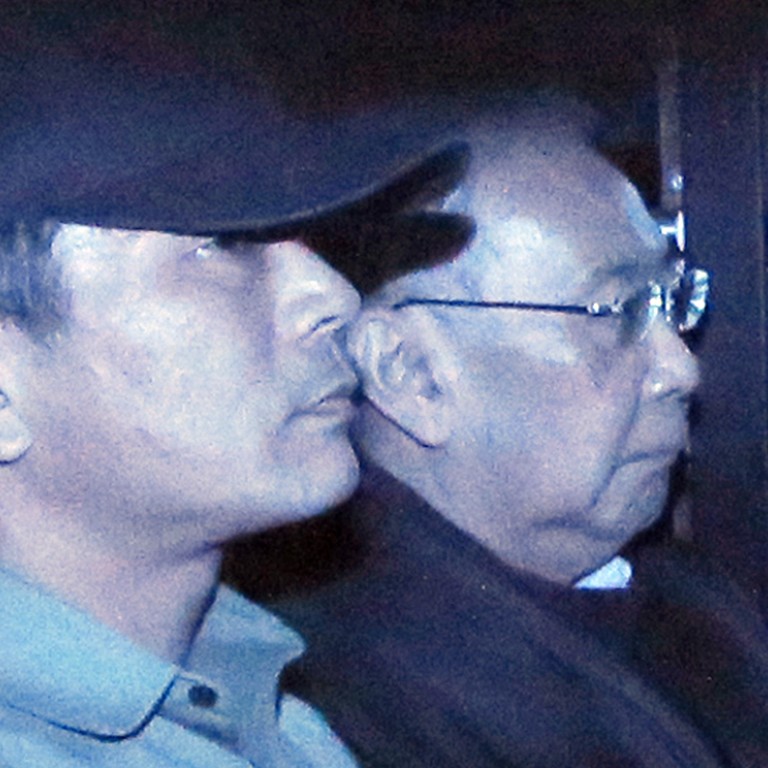 Rafael Hui and Thomas Kwok found guilty of bribery in Hong Kong's biggest graft trial
Former chief secretary and billionaire spend their first night in custody, but property tycoon's brother is cleared of all four charges
Hong Kong's former No 2 official Rafael Hui Si-yan and property tycoon Thomas Kwok Ping-kwong spent their first night behind bars after they were convicted of corruption yesterday in a marathon trial that gave a rare glimpse into collusion between the political elite and big business.
Kwok's younger brother, Raymond Kwok Ping-luen, was acquitted of all his four charges. He now takes sole charge of Sun Hung Kai Properties, the city's biggest property developer by market value, as its chairman.
Red-eyed and weary, the 61-year-old walked free from the High Court alone as two other co-accused were also found guilty.
"I have conflicting emotions," he told the media circus waiting outside court. Thanking his wife, mother, children and God, he added: "On the one hand, I'm happy … I've been proven innocent after these two years of struggles. On the other, I'm very unhappy because Thomas Kwok and Thomas Chan … are convicted. We will continue to support [them and their] families."
Thomas Kwok, 63, was convicted of one count of conspiracy to commit misconduct in public office. The brothers' top aide Thomas Chan Kui-yuen, 68, was found guilty of two counts - a fate shared by ex-stock exchange official Francis Kwan Hung-sang, 64.
Last night, SHKP said Thomas Kwok and Chan would appeal against their convictions. Both resigned from the property giant after the verdicts.
The man at the centre of the storm, Hui, was convicted of five out of eight charges, making him the highest-ranking official in Hong Kong's history to be convicted of taking bribes.
The case marked the dramatic fall of a man who was once the most influential and decorated star in local politics. Failing to escape the long arm of the law, a fragile Hui, 66, nodded blankly in the dock yesterday as the jury delivered its verdicts at 2.45pm.
Chan, who sat behind Hui, turned red in the face, while Raymond Kwok laid a hand on the shoulder of his elder brother. As he prepared to leave the dock, Raymond paused to speak to the court guards, as if to confirm he really could go.
All four criminals were taken away by Correctional Services Department officers. They may be sentenced as soon as Monday when Mr Justice Andrew Macrae hears mitigation pleas. By last night, Hui and Kwan had yet to decide if they would appeal.
Macrae ordered a doubling of fees for the nine jurors to HK$820 a day, meaning each could claim about HK$100,000 for their work on the case. He exempted all nine from jury service for five years, thanking them for showing "why retention of the jury system is so important in the city".
The case, lasting 131 days, was a close fight to the end. The jurors alone took five days and four nights to make up their minds, and had to seek directions from the judge once. And although four of the five were convicted, only 10 out of the 19 verdicts were in favour of the prosecution.
"[Thomas Kwok] considers the verdict very strange," his lawyer Lawrence Lok SC said outside the court. "Why were some defence arguments accepted but not others, when they were part of the same thing?"
Of Hui's five convictions, three counts were about misconduct in public office. He concealed from his public-sector employers financial benefits totalling HK$16.582 million.
Thomas Kwok was convicted of paying Hui HK$8.5 million, via middlemen Chan and Kwan, days before the latter became chief secretary in 2005. All four were found guilty of conspiracy to commit misconduct in public office in a 7-2 jury decision. But the Kwoks were cleared of involvement in HK$11.182 million in bribes for which the other defendants were found guilty.
The billionaire brothers and Hui were cleared of paying HK$5 million and HK$4.125 million in bribes in 2005.
The Independent Commission Against Corruption said it would continue to exercise the law "regardless of the background, status and position of the persons involved". SHKP and two listed subsidiaries, Smartone and Sunevision, were suspended from trading at 2.45pm.
This article appeared in the South China Morning Post print edition as: Hui and Thomas Kwok guilty of graft