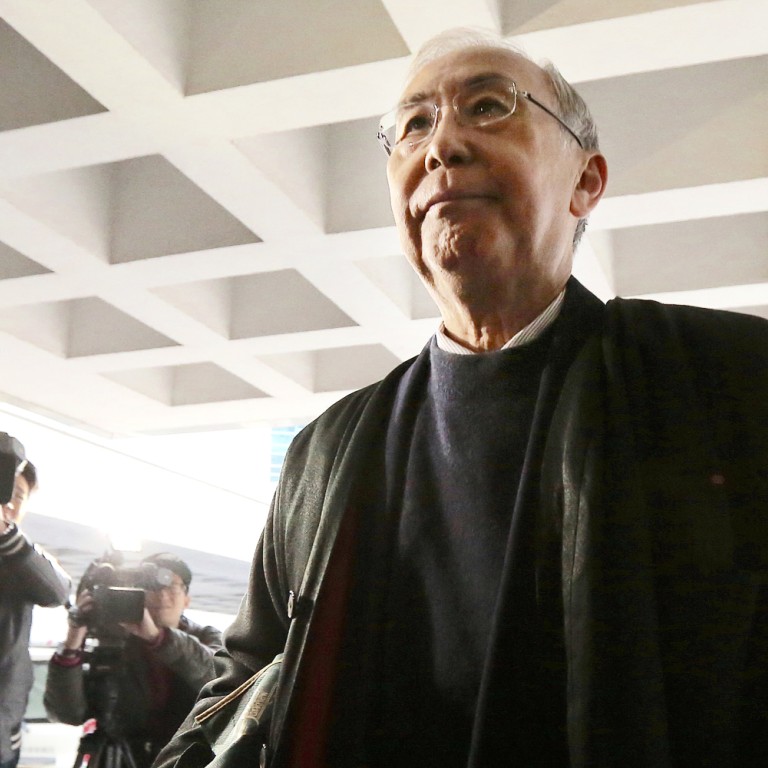 For sale: The Beatles, jazz and blues records from shamed Rafael Hui's extensive record collection
Music lovers can check out the roughly 11,000 records, CDs and video discs that once belonged to former chief secretary Rafael Hui but are now on offer to offset his reported HK$75 million debts.
International and local music lovers can check out the roughly 11,000 records, CDs and video discs that once belonged to former chief secretary Rafael Hui Si-yan but are now on offer, preferably to be sold in one batch, to offset his reported debts of HK$75 million.
Hui gave up his entire music library, the fruit of a collection craze since the 1960s, to trustees John Lees and Mat Ng of JLA Asia after the High Court declared him bankrupt in November last year.
Ng, managing director of JLA Asia, said they had been advertising in newspapers and on a website to sell the music and film records, which were divided into 11 categories according to the genre. The trustees had also contacted individual collectors to inspect the huge collection.
"We have received some offers and are still open to accepting more offers," Ng said.
"We prefer to find a single collector to buy the whole lot, but we may also split the collection into two or more batches if that can achieve a higher sale price."
HMV Hong Kong product manager Michelle Tang said she had inspected the lot. "The collection is very old and in very bad condition. We have little interest to submit a bid," she told the . "Hui seemed to have bought the music for his own enjoyment."
Apart from losing the music collection, the insolvent Hui and his wife had also moved out of two deluxe flats in The Leighton Hill, a Happy Valley estate developed and managed by Sun Hung Kai Properties, a source familiar with Hui told the .
The couple had shifted to a tiny rented flat in Tin Hau instead, the source said.
Hui's bankruptcy means he cannot live in luxury property, but only in a place with a reasonable rent agreed by the trustee.
He must surrender his assets and all income to the trustees, who will then give him an allowance to cover basic living costs.
"He can still buy CDs, go to a show, take a taxi or have a meal with his family as long as he spends no more than the monthly amount for expenses," Ng said.
During Hui's corruption trial, the court heard he inherited a flat in Wan Chai after his mother died but sold it a long time ago.
He also revealed he used to have a wine collection worth more than HK$7 million. Creditors sold that before the former chief secretary went bust, Ng said. The trustees had sold some of Hui's other assets, but Ng declined to give details, citing Hui's right to privacy.
All proceeds from the sales will be used to pay back Hui's creditors, including banks and finance companies. The sales will not be affected despite his conviction.
All these assets were part of the lavish lifestyle Hui testified to leading. He freely indulged in his fetish for classical music, resulting in the collection of 10,955 discs - mainly vinyl LPs - that includes 6,323 classical music albums, 965 titles on operas and ballet, 1,330 jazz and blues records and 835 rock and pop discs, many of which are Beatles albums from the 1960s.
There are also local discs, including 140 LPs by Canto-pop singers such as Alan Tam Wing-lun, Leslie Cheung Kwok-wing and Anita Mui Yim-fong.
The hobby cost him millions of dollars. He admitted spending HK$200,000 in a single day buying albums, and going on overseas trips for opera concerts that cost more than HK$200,000.
But he never listened to music at the office, according to a former colleague. "Mr Hui was very focused on his work, so he listened to his music collection only at home," the man said.
"However, he would ask not to arrange important meetings in the afternoon if there was an important concert to go to at night."
He said Hui liked to shop for records during lunchtime. Hong Kong Records, HMV and smaller shops in Admiralty and Wan Chai were his favourites.
An employee at one of the stores said Hui came at least once a week when he was in government, but had not visited since his arrest in 2012. "He spent almost HK$10,000 per visit. He likes to order whole collections or some rare copies of classical music, and he bought mainly vinyl."
Ng said the trustees were allowed to trace funds that Hui moved to non-family individuals up to six months before his bankruptcy, and up to two years before for family members.
Hui is believed to owe more than HK$75 million. The amount is equivalent to almost 200 times his monthly salary as chief secretary, and more than 900 times the monthly pension he had received since retirement in 2007.
Last year, at least five banks filed writs in an attempt to recover their loans. Those included Chong Hing Bank seeking HK$9.8 million, Honour Finance for HK$3.16 million, Standard Chartered for HK$1.19 million and Hang Seng for HK$780,000.
The largest creditor is Bank of East Asia, which has not disclosed the exact sum owing. News reports suggest it amounts to HK$60 million. The lender filed a bankruptcy petition against Hui and the court granted the order on November 27.
Under Civil Service Bureau guidelines for bankrupt retirees, Hui's HK$80,000 monthly pension is suspended during the maximum eight-year period he is under a bankruptcy order. The payments will resume once he is discharged from bankruptcy.
This article appeared in the South China Morning Post print edition as: A criminal record may soon be the only one Hui owns