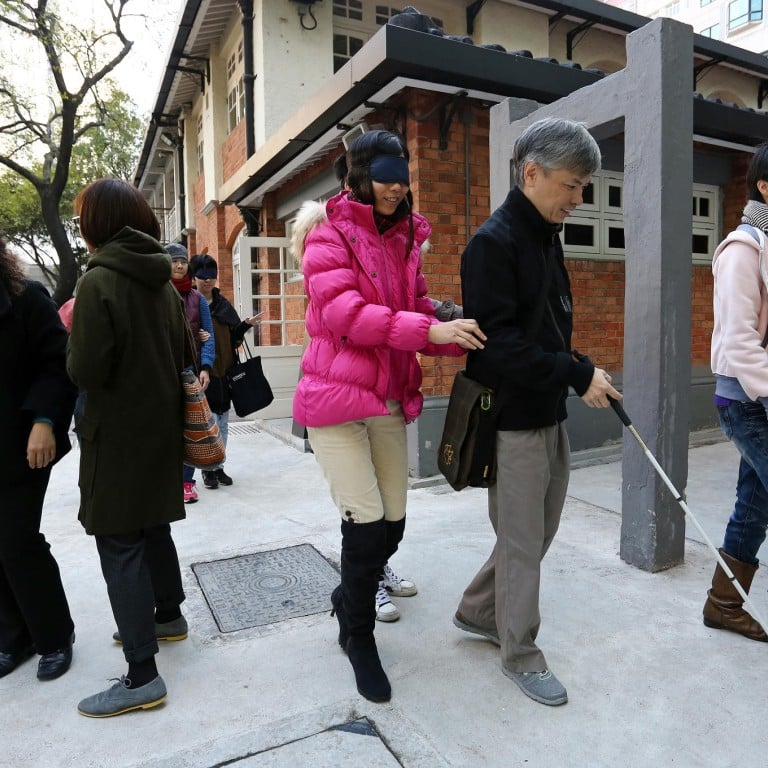 Walking tour offers insight into life for blind people on Hong Kong's streets
Walking tour puts visually impaired - and people using blindfolds - on equal footing as they discover North Point's smells, sounds and history
It was a case of the blind leading the blindfolded on a new walking tour catering to those who can, and cannot see, which tried to bring to life the smells, sounds and history of North Point.
Co-organised by arts cooperative I'mperfect and social enterprise Walk In, the two-hour walking tour took a group of about 20 people - seven visually impaired - through North Point's busy streets, with some sections travelled wearing blindfolds.
"Blindfolded, everyone is on an equal footing - then we see if we can experience the city in a different way," said Paul Chan Chi-yuen, the tour's guide and one of the founders of Walk In.
The tour group was told about Li Ka-shing's first real estate development venture, City Garden. Participants were also led through the bustling wet market to Chun Nam Noodle Factory, where they were able to touch the different types of noodles and dumpling wraps, and visited the tram stop and the bridge where a dramatic showdown took place during the 1967 Cultural Revolution unrest, when armed forces dropped down from a helicopter to deal with rioters.
The group was also told of the waves of Indonesian-Chinese, Filipino-Chinese and Hokkien immigrants in North Point, the meanings behind street names and the area's notoriety as a communist base.
Reaching a site, everyone was told to put on blindfolds and listen to the story behind the area. Some parts of tour involved people walking while blindfolded so they could experience walking on the streets without sight.
Jean Lin, 45, said her visual impairment had kept her from travelling around easily.
She slowly lost her sight owing to a degenerative disease and started using a walking stick in 2009. "I am a very visual person, so I really appreciated the descriptions given of places and the descriptions given while we walked," she said. "On a tour like this, I don't need to worry about bumping into things."
Lin said she especially loved listening to the historical background and the description of buildings and surroundings, since she had been trained in architecture.
Victor Kwan Chi-wai, who was born blind in one eye and lost his sight in the other at the age of six, said such tours would particularly benefit those people that had recently gone blind.
"Apart from being able to explore new places, being given those descriptive visuals is really great, so we can go back and visit next time," he said.
Maggie Lin said that she joined the tour because she was interested to find out how people could relate more to their surroundings. "I realised how unsafe and uneasy I felt when I was blindfolded," she said. "Yet I realise a lot of it is about fearing the unknown and letting my imagination focus on dangers.
"I would join this type of tour again. It's good for the visually impaired - they don't often get to go to new places. It's also good for us - there's a lot they can teach us and a lot for us to learn from them. We need to mix more. I'm humbled by this experience."
Chan said the tour had been a preliminary trial. "We wanted to see if we could give visually-impaired people a walking tour suited to their needs since walking tours are usually full of visuals," he said. "We were also keen to see if the interaction between those who can see and those who can't would be beneficial.
"The tour far exceeded my expectations - especially the chemistry between people."
This article appeared in the South China Morning Post print edition as: Trip gives insight into life for blind on city's streets