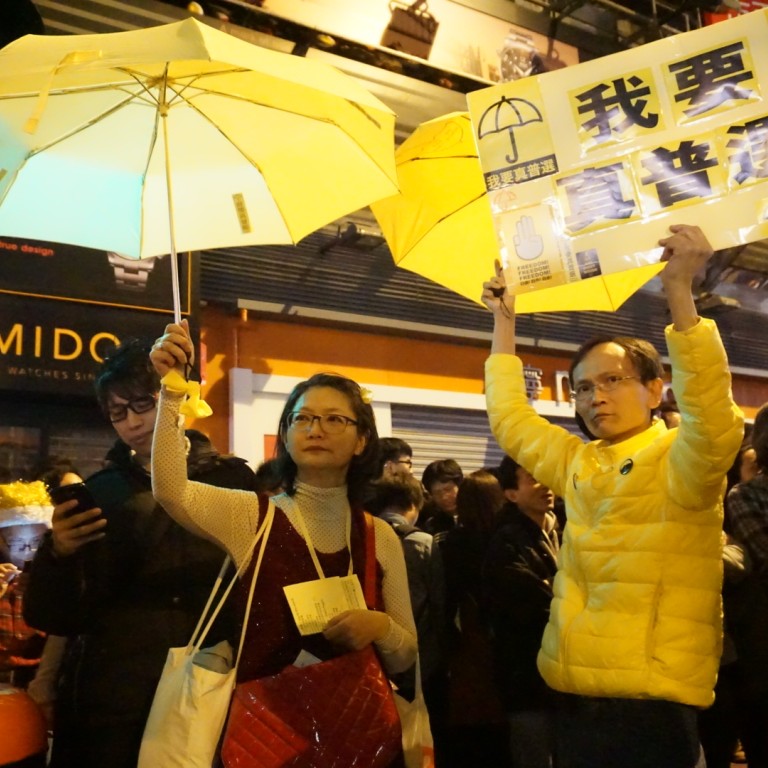 Update
12 Hong Kong protesters arrested in clashes with police on Christmas Eve
Hong Kong police arrested 12 people after brief clashes with protesters in Mong Kok between Wednesday night and early Thursday morning, as a large crowd carrying yellow-coloured accessories gathered and chanted slogans demanding true universal suffrage.
Police said on Thursday that they had arrested 10 men and two women, aged between 13 and 43, for offences including assaulting police officers and obstructing police duty, as well as vandalism and disorderly conduct. Two police officers were injured in the operation.
Another splinter group of demonstrators led disruption around Causeway Bay, the popular shopping district, as last-minute Christmas shoppers, tourists and late-night partygoers walked into the festive protests.
Earlier on Wednesday evening, pro-democracy activists kicked off Christmas rallies on the eve of the Chief Executive's trip to Beijing on Thursday.
Some 250 protesters started the march from Southorn Playground in Wan Chai and proceeded slowly towards Civic Square outside the government headquarters. The small but vocal crowds carried 30ft-long universal suffrage banners and chanted slogans for the same cause along the way. 
As the night wore on, another group of about 500 "shopping" protesters gathered at the junction with Shantung Street in Mong Kok, and later proceeded to Argyle Street. The crowd went back and forth throughout the night.
Some held yellow umbrellas, while others raised yellow crosses bearing the words "I want true election" - the slogan which they also yelled.
A brief ruckus between police and protesters broke out on the pavement of Argyle Street near New Town Mall as police tried to apprehend a man for allegedly pushing people.
A baton was raised, but not used as the small team of officers surrounded by protesters was able to find their way out after tensions subsided.
As the mobile demonstration lasted into the early hours of Christmas Day, several protesters were handcuffed and taken away.
The most violent clash took place on Shantung Street later in the night, when three police officers allegedly smacked a young male protester in the head and pinned him down on the ground. A blood stain, presumably from the young man's injury, was left at the scene after police hauled him away.
One witness, a woman who gave only her last name, Wong, said the man was among a crowd which helped two women flee the scene after they got in a verbal argument with police.
Wong said the women left, but the young man was tackled by the police.
Several times the police unfurled yellow flags, warned protesters that they were taking part in an illegal assembly and would face prosecution.
Crowd control measures were also implemented to bar people, both protesters and pedestrians, from crossing Argyle Street.
Officers on duty also reminded protesters via megaphone to follow the traffic lights, as protesters in the area had previously sought to stall traffic by dropping coins on the road and picking them up, or crossing the road slowly.
But nurse Kathy Ho, in her 20s, remained undeterred. "My Christmas wish is to have a real election," she said.
Protesters attempted at least once to retake their previous stronghold of Nathan Road, which they occupied for more than two months during Occupy, but to no avail.
In Causeway Bay, hundreds of protesters gathered to watch a banner calling for universal suffrage unfurled on top of the clock tower in Times Square. Police monitoring the gathering swiftly pulled down the banner, which led to jeers and outbreaks of singing, but officers were unable to arrest anyone as they were on private property.
Kelu Fritz Craven, from Students Awaken, a co-organiser of the authorised march from Wan Chai to the government headquarters, said: "We want to remind people that we want true universal suffrage... and that the Umbrella revolution still continues.
"After the umbrella revolution not many people [were] doing anything to organise more activities to wake up people to attract attention on this topic."
The student-led group managed to unfurl a banner onto Lennon Wall outside the government office, saying "Do not forget our original purpose of Christmas Eve. Students awaken forever. Hold the yellow umbrella."
Hundreds of police officers lined the route from Hennessy Road and Queensway in Admiralty, containing protests with minimal traffic disruption.
Last-minute Christmas shoppers momentarily got tangled among the protesters escorted by police through Pacific Place along the bridge and under the Queensway Plaza.
Student Isabel Fung Yau-fong, 20, said: "Occupy Central hasn't ended and the story continues. We hope we can find ways like this to express our point of view.
"We don't want to have people think we've finished. Our true goal is still genuine universal suffrage."
Arizona Ma Chung-Yee, 38, a doctor, explained she was disappointed with the government's policies favouring corporations rather than individuals.
Ahead of the Chief Executive's trip to Beijing, she said: "I have no expectations for CY [Leung Chun-ying] at all. Every time he just keeps disappointing us. Maybe every time he sees Beijing officials we'll get some hints from their gestures or talks."
"This is a great way to spend your Christmas rather than going for a [family meal] or shopping," she added.