British soldier's unseen photos of Hong Kong 60 years ago revealed ... but can you tell where they were all taken?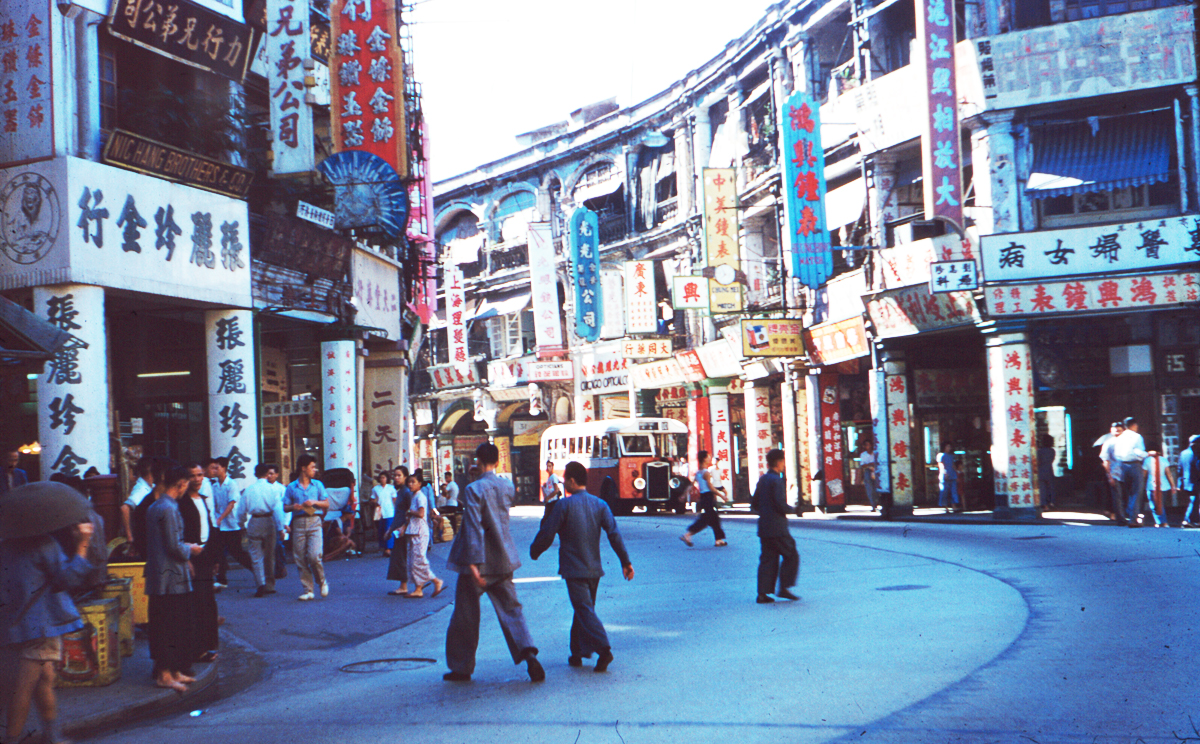 We have added five new pictures to Roy Passingham's collection, all taken during an eight-hour stopover; some are easy to spot, such as The Peak and the Clock Tower, but others seem a world apart from today's city.
A collection of rare colour photographs taken of Hong Kong in 1954 have come to light - but can you identify where in the city they were taken?
While some areas are obvious, like The Peak and the Clock Tower, others are barely recognisable, with streets and neighbourhoods that look worlds apart from today's bustling megacity jam-packed with skyscrapers.
The images include street scenes taken in Queen's Road Central and Pottinger Street, in Central, with its narrow stone steps heading up the slope, plus Jordan Road and Nathan Road in Tsim Sha Tsui.
There is also a spectacular panorama stretching out from The Peak towards Kowloon, created as a montage by combining two, then three, followed by four and, finally, five transparencies - just as the British photographer Roy Passingham intended when he took them.
All the pictures were taken in November 1954 by Passingham, at the time a young gunner with the Royal Artillery Regiment, who arrived on a troop ship en route to England. He had been stationed in Korea for a year while doing his National Service.
"The pictures still look quite good considering their age and having faded a bit," Passingham said, after looking at his photographs published on the South China Morning Post website.
While other servicemen chose to head straight to the pubs in 1954, Passingham used the eight-hour stopover - during the month-long journey back home - to explore the city with his Kodak Retina camera.
"Most of the fellas headed straight for the Suzie Wong bars of Wan Chai," he said, referring to the classic 1957 novel, The World of Suzie Wong, and its 1960 film adaptation, about a feisty Chinese bar girl who falls in love with a budding artist.
"I'd already rushed around taking pictures of Singapore on the way to Korea and was determined to take some photographs and remember some images of the territory, rather than just go drinking in a pub."
Passingham, who is now in his 80s, and lives with his wife Jenny, in Fleet, in Hampshire, dug out the old pictures, which he had kept in a box, just after Christmas. 
He said he sent copies of the pictures to the Post because he thought readers might be interested to see rare colour photographs of Hong Kong in the days before the relentless bulldozers transformed the city. Half a dozen photos from his collection were published in Post Magazine 20 years ago.
Novelist Richard Mason wrote The World of Suzie Wong in 1956 while staying in an historic building - the original eight-storey water-fronted Luk Kwok Hotel, in Wan Chai, which fell victim to the bulldozers - demolished and replaced with the modern, high-rise Luk Kwok Hotel.
"I had planned where to go [around Hong Kong] pretty thoroughly after talking to soldiers who had been there before," Passingham said.
"I dashed up to The Peak, to the Tiger Balm Gardens in Kowloon, a little away along Nathan Road, went on the Star Ferry and walked around Wan Chai and Central."
"I took everything on Kodachrome transparencies, so the quality is still good. I don't think in those days colour prints existed."
Now retired from the pharmaceutical business, he last visited in Hong Kong with Jenny in 1994 to visit their younger son, Andrew, who was a civil engineer with Ove Arup and Partners, working on the construction of Chek Lap Kok airport.
Passingham said the only things he could really recognise during that visit were the old Bank of China Building and Pottinger Street.
He took a new photograph of Pottinger Street at the time, standing on the same spot, and found it one of the few places in the city to have hardly changed at all.
"[Hong Kong] is so much more built up and very different from the days of Suzie Wong," he said.
However, coming back did not spoil the memories, he said, because it had been very interesting to see the big changes.
"All the new buildings are just part of progress."