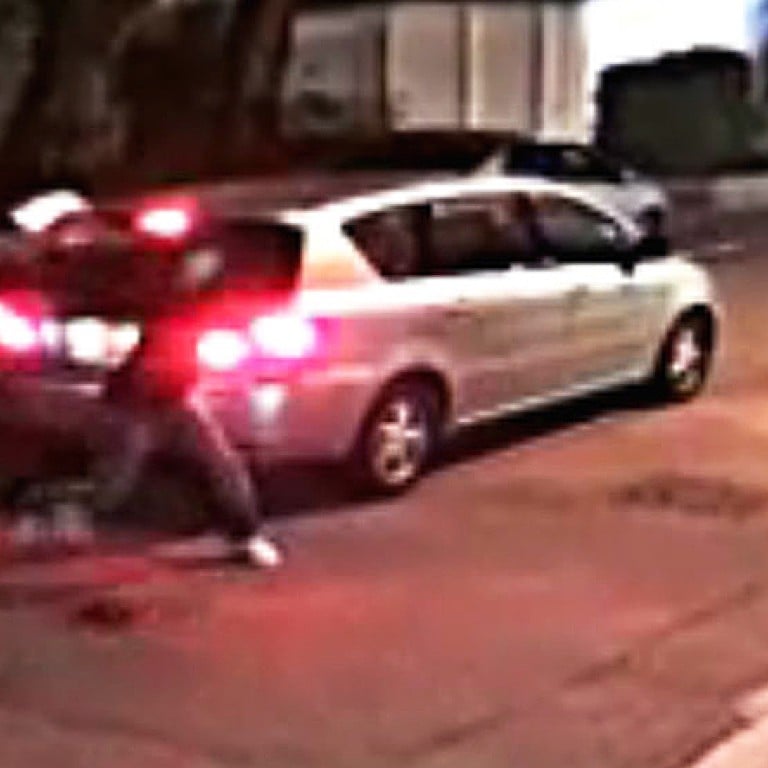 Firebombs hurled at home of Hong Kong media tycoon Jimmy Lai were 'attack on press freedom'
Attacks inflict little damage but do send a message, police say, as the media mogul joins key Occupy figures to face arrest over sit-ins
Masked assailants hurled petrol bombs at the home and head office of Next Media founder Jimmy Lai Chee-ying in coordinated attacks early yesterday morning, prompting a wave of condemnation against the violence.
The attacks, which a police source believed were designed to send a warning, came as Lai and more than 30 other key players in the Occupy movement faced arrest this month for their role in the civil disobedience actions.
Civic Party vice-chairwoman and former legislator Tanya Chan was arrested on suspicion of instigating others to take part in an unauthorised assembly when she arrived at the police headquarters at the force's request yesterday. She was released at about 9pm after refusing bail. Police said they retained the right to prosecute her.
Lai is expected to be arrested when he goes to the Wan Chai police headquarters on Wednesday next week.
The first attack occurred at about 1.45am yesterday when a man, wearing a surgical mask and a hood to hide his features, hurled a Molotov cocktail at the front gate of Lai's home on Kadoorie Avenue in Ho Man Tin. He fled in a seven-seat car driven by an accomplice.
A security guard called police after he put out the blaze with an extinguisher. Lai was at home at the time of the attack.
About five minutes later, a similar firebomb was hurled from another car and exploded at the gate of Next Media's headquarters in Chun Ying Street, Tseung Kwan O. The car was then driven to another entrance and another firebomb was thrown. Security guards extinguished the blazes and called police.
The two cars were later found torched in Tai Woh Ping Road, Shek Kip Mei, and Sham Mong Road in Cheung Sha Wan before 2.30am. Police said no one was injured in the attacks, which they believed were linked.
The Kowloon East regional crime unit is investigating. So far, no arrests have been made.
Police said they were looking into a possible motive for the coordinated attacks. One source said the two cars were stolen. "The attacks were calculated," he said. "We believe it was designed to send a warning rather than an attempt to harm anyone."
Secretary for Justice Rimsky Yuen Kwok-keung said the acts of violence would not be tolerated and must be condemned.
He stressed that "regardless of any reason or opinion, people should not resort to violence".
Yuen promised that the Department of Justice would prosecute when there was sufficient evidence to do so.
"I am sure police will carry out a full investigation and deal with [the] case seriously," he said.
Pan-democratic legislators also condemned the attacks, saying the violence was an attempt to try to silence the media and create "white terror".
Democratic Party chairwoman Emily Lau Wai-hing urged the police to solve all cases of violence against media workers and premises, or else the city would become "lawless".
She said: "Most of the cases [of violence against the press] were not solved. This is just like sending a message, 'You can go hit them because there will be no consequences'. This is lawless."
Next Media publisher Ip Yut-kin described the attacks as "barbaric" and "intimidation", while the Hong Kong Journalists Association called on the public to safeguard press freedom as a core value of the city.
In November, five people were arrested after Lai was struck in the face with offal at the Occupy Central site in Admiralty.
In June 2013, a bizarre warning was delivered to him when the front gate of his home was rammed with a stolen car and a man then placed an axe and machete on the driveway before fleeing the scene.
This article appeared in the South China Morning Post print edition as: Lai home, Next Media hit in fire bombings