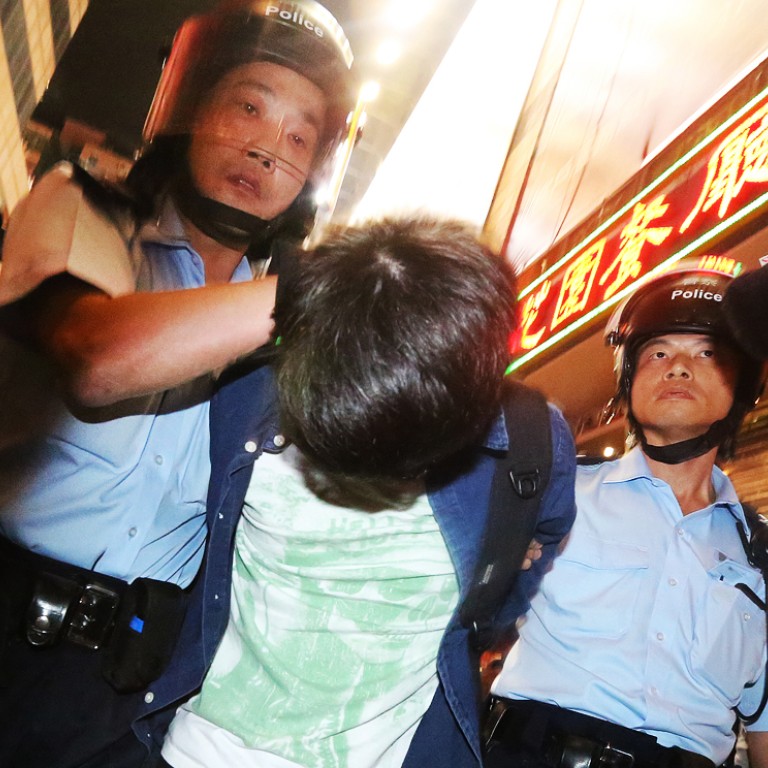 Police won't seek protection order for Hong Kong teen arrested during Occupy clearance
The police have called off their bid to apply for a child protection order for a 14-year-old boy arrested during the Occupy Mong Kok clearance operation, weeks after their attempts to separate another underage activist from her legal custodian were called into question.
The teenage boy, whose name cannot be revealed due to his age, was not required to appear at Fanling Court yesterday morning after his solicitor Patricia Ho wrote to the magistracy to call off the originally scheduled hearing.
This came after the Department of Justice announced last week that it had no interest in pressing a charge of contempt of court against the boy.
A care and protection order is usually used for children in dangerous circumstances, such as those facing the risk of drug addiction or abuse. It could lead to the removal of the boy from his parents' care.
"I welcome the decision … because if it's dragged on it would only cost more of my time and money," the boy told the . He called the order a "scare tactic" and "political prosecution".
The department said that, given the evidence and the decision to dispose of the case, "a care and protection order was no longer necessary and hence it was withdrawn".
While welcoming the withdrawal, the solicitor also berated the department for even considering seeking the order: "All along I saw no basis in the application."
The police have recently come under intense fire after they attempted to seek the same type of order, usually used on delinquent teens, for a 14-year-old who has come to be known as the "chalk girl".
The minor, also represented by Ho, gained her moniker by chalking a flower on the so-called Lennon Wall, where protesters posted colourful memos with uplifting messages during the 79-day pro-democracy movement in Admiralty.
She was detained for two days at a children's home late last month, after her bail application was turned down at Tuen Mun Court. The High Court later overturned the lower court's ruling, allowing her to be released on bail.
The boy's order came a month prior to the chalk girl, though it received little attention when he was brought before Eastern Court two days after his arrest.
Ho, who previously called the ruling "disproportionate", noted that both youngsters were never charged.
But a document police gave the boy indicated that he might yet face a lesser charge of obstructing a public officer.
This article appeared in the South China Morning Post print edition as: 'No care order'