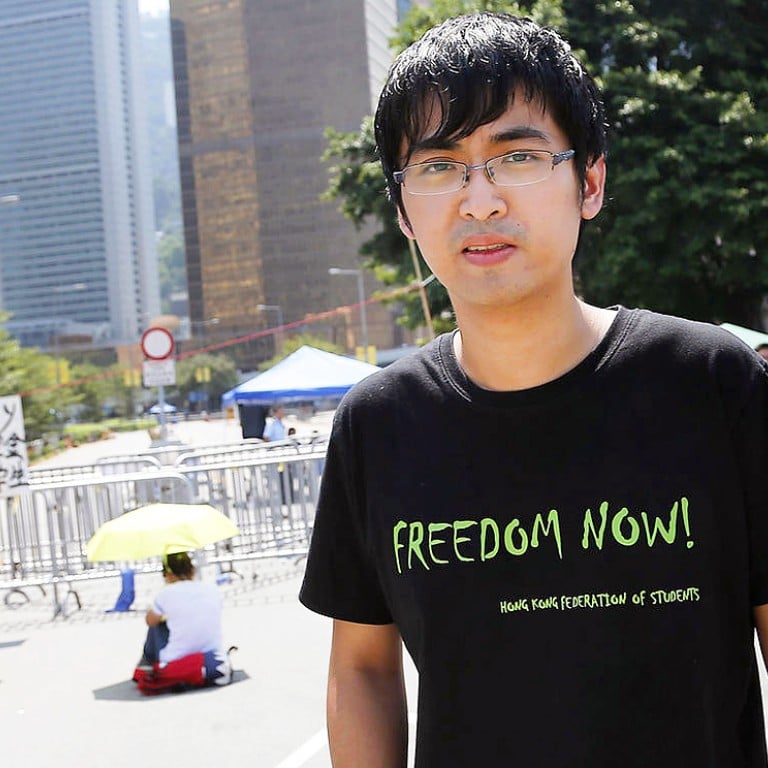 Gloves off as CY Leung targets Hong Kong student 'lies'
Chief Executive Leung Chun-ying hit out directly at student leaders at the start of his annual policy address, attacking them for 'putting forward fallacies' on nationalism and self-determination.
In a rare combative gesture, Chief Executive Leung Chun-ying hit out directly at student leaders at the start of his annual policy address, attacking them for "putting forward fallacies" concerning nationalism and self-determination for Hong Kong.
Leung slammed students for "advocating independence" in the University of Hong Kong Student Union magazine . He also criticised a book published by in September last year entitled .
Leung started his speech by outlining the key choices that Hong Kong faces in its economic and political development. He explained that under the "one country, two systems" principle, Hong Kong enjoys a "high degree of autonomy" and not an absolute one.
Previous policy addresses have rarely tackled Hong Kong's level of autonomy that directly.
Leung went on to say: "The February 2014 issue of … featured a cover story entitled 'Hong Kong people deciding their own fate' … A book named was published by . It advocates that Hong Kong should find a way to … self-determination.
" and other students … have misstated some facts. We must stay alert. We also ask political figures … to advise them against putting forward such fallacies," Leung urged.
Leung also dismissed a popular slogan during the 79-day Occupy Central protests, "Hong Kong shall resolve Hong Kong's problems" as unconstitutional.
There was an immediate reaction from students. Government and law student Brian Leung Kai-ping, editor-in-chief for both of the targeted publications, countered that they were both intended to be analyses of academic issues, examining Hong Kong's history and identity.
He claimed that the book's distributor Sino United Publishing had stopped selling copies to retailers at the start of the Occupy protests and had confirmed to him yesterday that it would not change its mind. Sino United Publishing could not be reached for comment last night.
Alex Chow Yong-kang, secretary general of the Federation of Students, said on his Facebook page that the chief executive's comments revealed his "extreme mindset". "He's even suspicious of remarks made in student magazines … it proves that he lives in the world of [pro-Beijing newspapers] and , and can't tolerate students' independence, freedom and defiance," he added.
"He is trying all he can to defame student activists after Beijing's pressure on him following the Occupy protests."
In a press conference later, the chief executive argued the February issue did not reflect an accurate understanding of the city's constitutional status.
He dismissed suggestions that his comments undermined academic freedom and freedom of expression in Hong Kong because the articles were "not academic works" but were instead advancing an argument. He pointed out that officials also enjoyed freedom of speech.
Executive Council convenor Lam Woon-kwong backed the chief executive, saying: "Any promotion or advocacy of independence is totally inappropriate."
But Financial Secretary John Tsang Chun-wah showed no support for Leung's words and declined to comment. "I think we should allow him to justify that ... This is his opinion," he said.
An HKU spokesman said the university cherished freedom of speech for its staff and students and recognised the autonomy of the student union, adding: "We trust that the union will be able to manage its own affairs and to take responsibility for them,"
A statement from the university's student union said: "The whole campus of HKU elected the editor-in-chief and the deputy [of ], with the vote count several times bigger than that of the small-circle chief executive election. With no members of the student union ever casting any doubt on the 's comments, how unnecessary it is for the chief executive to make a fuss about it."
This article appeared in the South China Morning Post print edition as: Gloves off as Leung targets student 'lies'