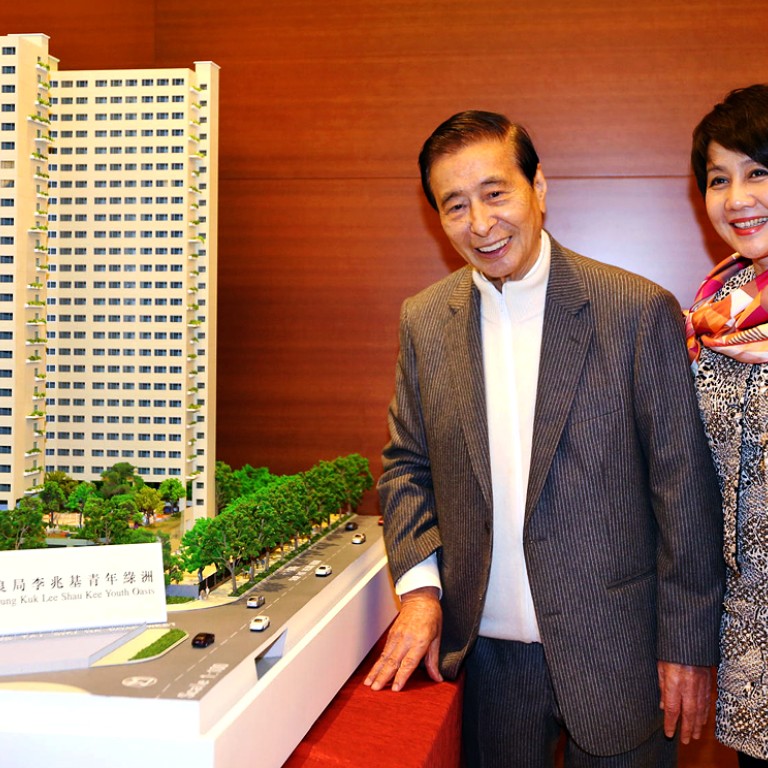 Tycoon Lee Shau-kee donates site for Hong Kong's biggest youth hostel
Henderson chairman says move is to help 'improve stability in society'
Lee Shau-kee has donated a site in Yuen Long to charity organisation Po Leung Kuk for building the city's biggest youth hostel.
The donation from the 86-year-old chairman of Henderson Land Development comes 14 months after he gave a 100,000 sq ft site in Tuen Mun for a nursing home for the elderly.
The planned 25-storey hostel, on a 63,000 sq ft plot, would provide nearly 1,250 units accommodating 1,600 people, Lee said after signing the site donation agreement with the charity yesterday.
He said the hostel units would be leased to people aged 18 to 30 at half the market rate.
The hostel is expected to be completed by 2018.
Lee said he expected his donation would help "improve the stability in society".
"A sound housing policy can solve the problem of polarisation between the poor and the rich," he said.
As part of his plan to alleviate the city's housing problem, Lee said he recently formed a charity foundation with Yeung Kwok-keung, the chairman of mainland developer Country Garden Holdings.
The foundation plans to build 10,000 flats in mainland areas that are within one to two hours of commute time from Hong Kong. They will be sold to Hongkongers at a 40 per cent discount to market value.
The plan was to sell the flats to the elderly.
Lee also said Hong Kong Settlers Housing Corp, a non-profit organisation in which he is a director, was in talks with the government to redevelop a 50-year-old housing estate in Shek Kip Mei that could be used to build up to 5,000 subsidised flats to be sold to the middle and low-income groups.
Each flat of about 300 sq ft would be priced at about HK$1 million, he said.
"But the biggest problem now is how to resettle the more than 1,300 households in the housing estate," he said.
On the outlook for the property market, Lee said home prices had peaked and would level off as supply increased. However, prices would not drop because construction costs were high.
Lee said his firm had no plans to restructure in the footsteps of Cheung Kong Group, which last week announced plans to separate its property assets to be based in the Cayman Islands.
"Share prices may shoot up in the short term after restructuring but they will come down," he said, alluding to the rally in Cheung Kong (Holdings) and Hutchison Whampoa stocks after their revamp was announced. "If we focus on business performance, share prices will automatically improve."
Lee, who is a non-executive director of Sun Hung Kai Properties, expressed sadness when asked about Thomas Kwok Ping-kwong, who is serving a five-year jail term after he was found guilty of illegally paying former chief secretary Rafael Hui Si-yan HK$8.5 million.
"Thomas had done a lot to improve the company," he said.
This article appeared in the South China Morning Post print edition as: Lee Shau-kee donates site for youth hostel