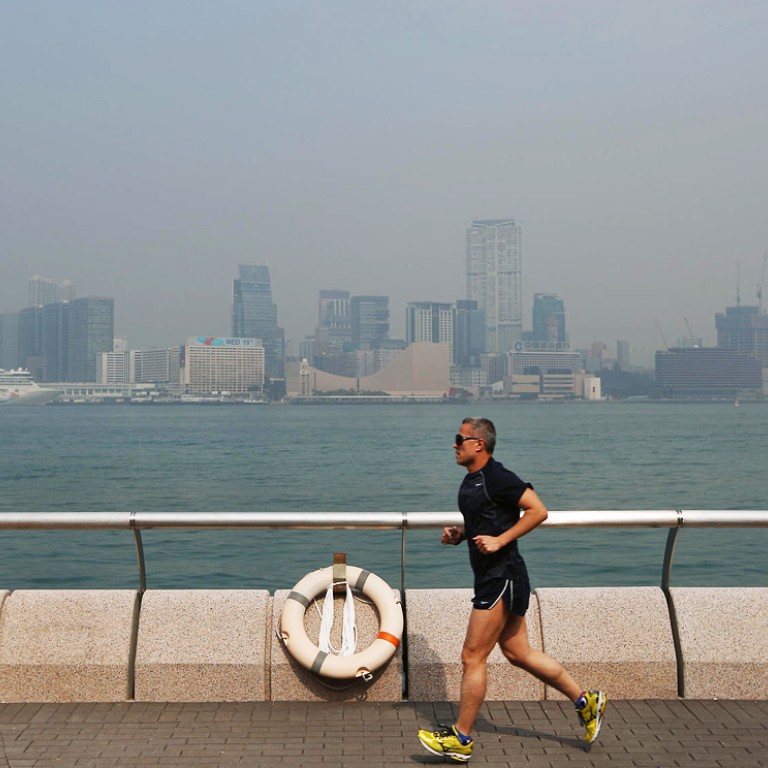 Pollution sensors to line Hong Kong marathon route
Government and universities team up to install monitors and give runners instant access to data
The Environmental Protection Department and four Hong Kong universities have joined forces to install sensors along the route of Sunday's Standard Chartered Hong Kong Marathon to gauge pollutants throughout the race.
Some 73,000 runners will be racing - just days after the majority of the city's monitoring stations recorded a "serious" level of pollution for the first time this year. It is the highest level in the government's air-pollution index and comes with a warning for the general public to reduce outdoor physical exertion to a minimum as well as the amount of time they spend outdoors, especially in areas with heavy traffic.
Undersecretary for the environment Christine Loh Kung-wai said it was in the public interest to monitor air quality on the day of the race.
"Taking measurements won't change the air pollution levels on the day but it could provide timely information to participants," she told the "This will enable us to have a better understanding of air quality along the route."
Loh said the results could persuade organisers to tweak the route in future so that it goes through less polluted areas.
Academics from environment, energy and public health departments from City University, the University of Hong Kong, Chinese University and the University of Science and Technology are involved in the work.
Ozone, nitrogen dioxide, carbon dioxide and PM2.5, particles which lodge deep inside lungs and are the most dangerous to human health, will be measured. The data will be converted to a real-time health risk-based pollutant index on a special website:
www.gmaqhi.hk/
Runners in the marathon, half-marathon and 10km races will then be able to access route-specific air-quality data.
The sensors will be switched on at 4.30am on Sunday. Readings will be taken at the start line on Nathan Road, Tsim Sha Tsui; at the 5km and 30km points which overlap in Lai Chi Kok; at the northern entrance of the Western Harbour Tunnel; and at the permanent roadside monitoring station near the finish line in Causeway Bay.
Air pollution data at previous marathons has been taken using the regular roadside and general air-quality monitoring stations.
"It's the first time we've tried this out. The air our runners are going to breathe is no longer going to be viewed as the average concentration from nearby stations," said Dr Ning Zhi, of City University's school of energy and environment. "This is a big difference from previous years."
He hoped the project could become a model for other marathons held in cities around the world to follow."
This article appeared in the South China Morning Post print edition as: Pollution checks on marathon route