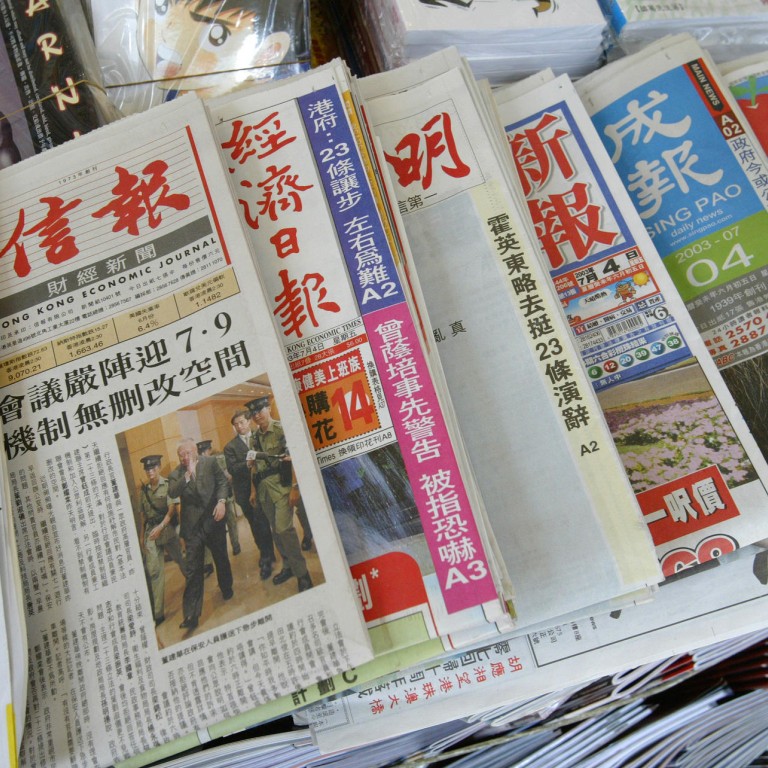 Squeeze put on Hong Kong press freedom
Beijing is openly interfering in city's media, says international organisation, and reporters have been subject to malicious persecution
News coverage of the Occupy movement and allegations of corruption against Chief Executive Leung Chun-ying and media tycoon Jimmy Lai Chee-ying exposed different degrees of self-censorship among media, says a spokeswoman for the International Federation of Journalists.
At the same time, the central government has been "more frequently and openly" interfering with press freedom in Hong Kong, according to the federation's seventh annual China Press Freedom Report released yesterday.
"There were very worrying signs that the interference with press freedom was more frequent and obvious last year, compared to the past," said Serenade Woo, the federation's Asia-Pacific representative.
"The news reports concerning the Occupy movement have provided particularly obvious evidence that the mainland has extended its control of the media to Hong Kong. This trend is expected to continue with political reform remaining the focus in the coming year."
During the 79-day Occupy protest, 39 reporters complained of being harassed, attacked, detained or maliciously accused by police and anti-Occupy protesters, the report said.
Some reporters received hundreds of harassing phone calls, and a few said they received calls from interviewees giving instructions on how to write up events.
Last year, the chief executive was accused of corruption over a HK$50 million payment from engineering firm UGL in 2011 as part of a deal to take over his old company DTZ. Lai, owner of , was accused of corruption when leaks revealed alleged payments to pro-democrat politicians. Woo said some media downplayed or even ignored the scandal embroiling Leung while playing up the Lai allegations, and vice versa.
"I guess the public get to see the vastly different treatments over these incidents and can feel for themselves whether there is self-censorship among local media," he added.
The report also noted that 20 journalists were detained, charged and in some cases jailed on the mainland last year.
In 2013, Beijing set up a security committee to "strengthen guidance" of public opinion; the federation said this committee worked with police and courts to suppress online comment.
The police "respect press freedom and fully understand the importance of facilitating the media in their reporting activities", a statement from police said last night. It also advised journalists to be vigilant of their own safety when positioning themselves between officers and radical protesters and added no violent acts would be tolerated.
Chinese University journalism professor Clement So York-kee said he had observed abuse of local reporters during the Occupy movement, adding that his department was working with the Journalists' Association on a survey about press freedom.
This article appeared in the South China Morning Post print edition as: 'Squeeze put on press freedom'