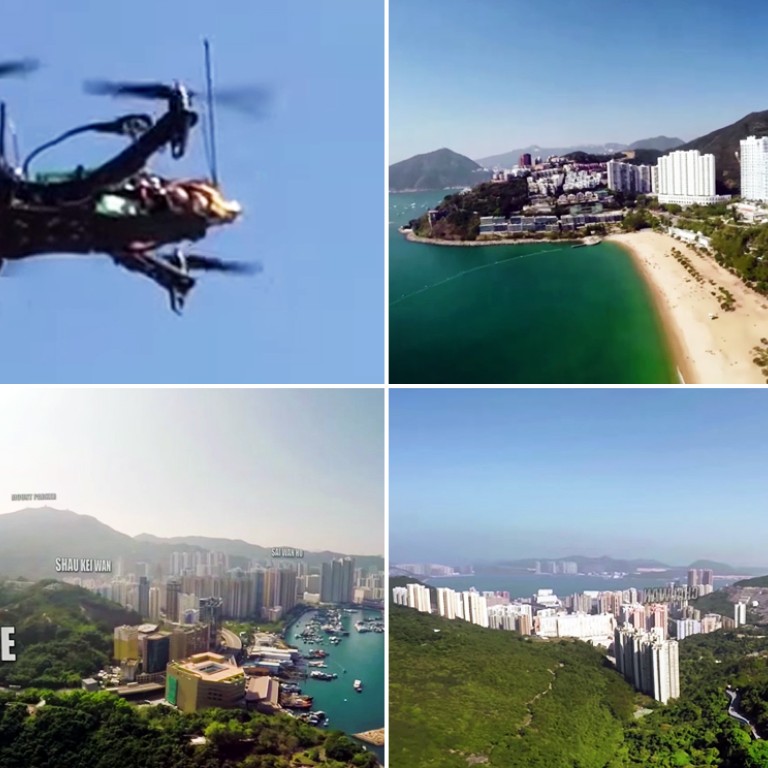 Hong Kong's best ever drone video? How stunning 10km chocolate delivery stunt took months to plan
An eye-catching stunt to pilot a drone over 10 kilometres of stunning Hong Kong countryside in order to deliver a chocolate bar to a friend took months of careful planning, one of the pilots has revealed.
An eye-catching stunt to pilot a drone over 10 kilometres of stunning Hong Kong countryside in order to deliver a chocolate bar to a friend took months of careful planning, one of the project's pilots has revealed.
Tens of thousands of viewers have watched a spectacular two-minute YouTube video of the flight mission, from Tseung Kwan O to Repulse Bay, believed to be the first drone delivery in Hong Kong.
Watch: Hong Kong man delivers chocolate from Tseung Kwan O to Repulse Bay by drone
But it wasn't simply a case of up, up and away. The team of pilots had to carefully plot out their route, taking into account obstacles such as air traffic, skyscrapers and no-fly zones.
The success of the stunt gives an intriguing look at the uses and capabilities of smaller drones, according to pilot "Sky Frog", who said he wished to remain anonymous for fear of repercussions over the flying escapades in a legally grey area.
Shopping giant Amazon revealed last year that it had been looking at the possibility of one day using drones to deliver goods to customers' doorsteps. A Greek businessman has also developed a line of drones that could deliver medicines to disaster-stricken areas.
Frog said he and his drone hobbyist friends had dreamed up the stunt after conducting aerial filming of Hong Kong's green areas using a "consumer-level quadcopter easily available online" and realising that it was theoretically capable of a long-distance mission.
The team had to modify their quadcopter to boost the battery life and spent weeks scouting remote areas of Hong Kong, researching wind speeds, air traffic patterns and the possible interference of obstacles along the way, while minimising the number of roads on the flight path for safety reasons.
On January 19, a clear day with blue skies, the team set off to make their delivery – transporting a 43-gram Kinder Bueno chocolate bar 9.8 kilometres to a friend waiting at Repulse Bay.
As the drone hovered near the Museum of Coastal Defence, the pilot turned the camera around to take in the panoramic view before the drone's journey continued, skirting Mount Parker and a cluster of towers in Chai Wan before passing Tai Tam Tuk Reservoir and finally arriving at Repulse Bay where the final pilot tucked into the Kinder bar.
"It melted a little bit. But the person at the very end ate it and said it still tasted pretty good," Frog said. "So it worked!"
"Drone technology is progressing so fast that if we hadn't done this delivery stunt, someone else would have – but someone with less experience.
"We wanted to raise awareness about the preparation required for a safe flight," Frog said.
"There are a few moments when we fly over roads. That was a calculated risk, we crossed at a high speed perpendicular to the road."
Drones typically have 12 to 15 minutes of battery time, but more powerful DJI Phantom models have a battery life of 20 minutes. "If you tinker a bit, you can achieve up to 25 minutes," Frog said.
Despite their success, Frog was cynical that drones would be delivering parcels in Hong Kong anytime soon.
"Anywhere you go, it's way too crowded and dangerous. There would have to be specific landing sites," he said. "If you live in the countryside, like the people living in the New Territories, for those people drone delivery would be more useful."
Frog says off-the-shelf drones can carry between 300 to 500 grams of payload, while some modified drones can carry up to 3.5kg. Drone models available in Hong Kong cost from a few thousand to tens of thousands of dollars.