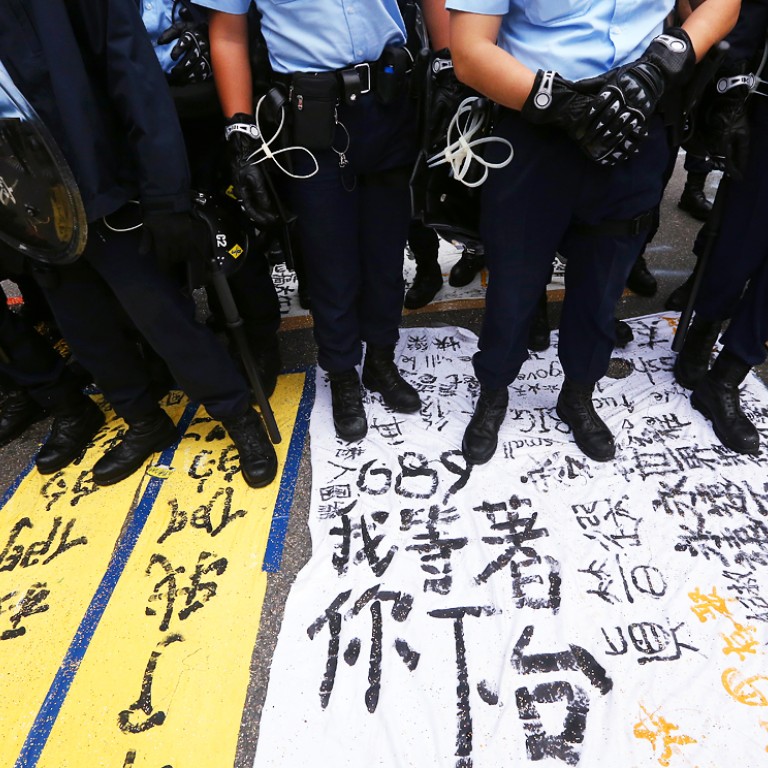 Hong Kong police warn marchers to provide security or face prosecution
Amid fears of a new sit-in appeal board says police can insist 100 marshals are recruited to bolster security in pro-democracy march
The police have warned protest organisers that they could face prosecution if they fail to recruit 100 marshals for their pro- democracy march on Sunday, amid concern that an Occupy-style sit-in could take place after the event.
The warning came from a legal representative for the police, Justice Department assistant law officer Lewis Law Chung-ming, as the Appeal Board on Public Meetings and Processions on Thursday heard an appeal lodged by march organiser the Civil Human Rights Front.
Front convener Daisy Chan Sin-ying had said she expected 50,000 people to march from Victoria Park in Causeway Bay to Chater Road in Central. They will call for the local and central governments to allow "genuine universal suffrage" in the city. Some activists have hinted that a sit-in could take place after the march, similar to an overnight protest after the July 1 pro-democracy protest that served as a dress rehearsal for Occupy Central.
Chan objected to the "unreasonable requirements" made by the police force in its letter of no objection. The force called on the organiser to recruit at least 100 marshals to maintain order and to "make best endeavours to assist the police" in calling upon participants to disperse in an orderly manner following a post-march rally in Central.
During a 11/2-hour meeting the front's lawyer, Martin Lee Chu-ming SC, said it was difficult to recruit marshals after Occupy Central marshals Alex Kwok Siu-kit and Ricky Or Yiu-lam were arrested in November after subduing three men who threw rotten animal organs at media tycoon Jimmy Lai Chee-ying during the Occupy protests in Admiralty.
"Even if our men are willing, their wives may not allow them," Lee said. Law said police had made an "objective risk assessment" to reach the requirement.
"For the July 1 march last year, the front was required to recruit 200 marshals," he said.
When the board's chairman, retired judge Peter Nguyen Van-tu, asked him whether the organisers could be arrested for failing to meet the requirement, Law said: "It is an offence to proceed with the march [under such circumstances] … as it is their responsibility to ensure that there are enough marshals."
Nguyen then ruled that the requirement should be kept in place, as it was reasonable for a march that size.
Chan said the front had only recruited some 60 to 70 marshals.
"I don't know whether the police are going to count the number of marshals and prosecute us afterwards," Chan said. But she welcomed the board's removal of references to "best endeavours".
Police Senior Superintendent Tan Wing-yuen welcomed the ruling. He said the police needed to ensure public safety.
Seven pro-democracy groups, including the Federation of Students and Scholarism, are supporting the march. Scholarism spokesman Oscar Lai Man-lok said he knew some groups might be interested in "follow-up actions" on Sunday night, and his group might consider joining peaceful actions.
This article appeared in the South China Morning Post print edition as: Organiser warned to patrol big march