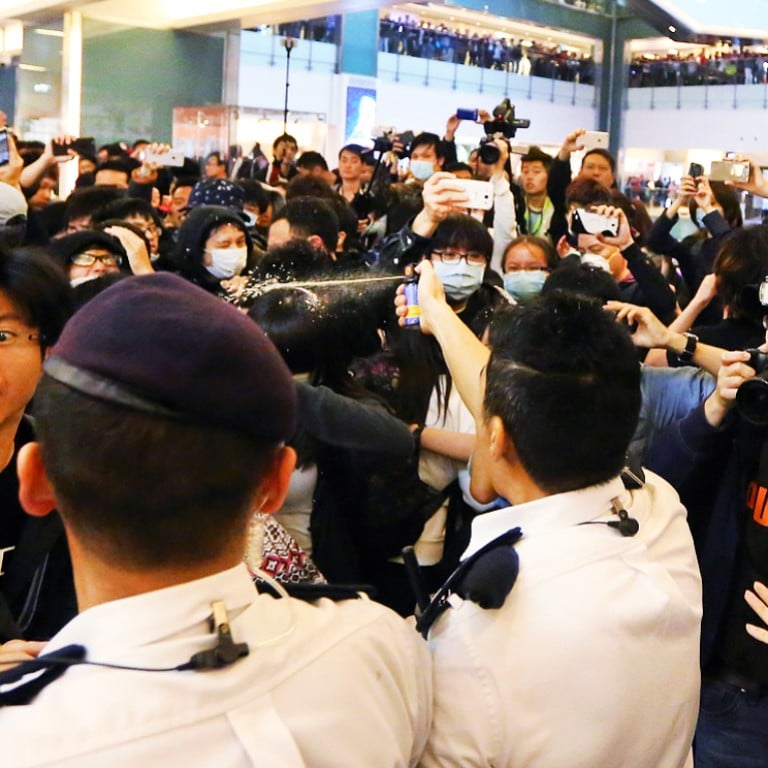 Update
Hong Kong chief Leung Chun-ying puts tourism on Beijing agenda after protests
He will raise prospect of limiting mainland visitors in wake of violent protests
Chief Executive Leung Chun-ying said yesterday that he would raise the possibility of limiting the number of mainlanders visiting Hong Kong when he meets 8 central government officials in Beijing next month.
It follows this month's violent protests against parallel-goods traders in the city, which Hong Kong's hotel industry yesterday said were partly to blame for a 10 per cent drop in room rates over the Lunar New Year holiday – the first drop in prices in seven years.
Announcing his decision to put tourism issues on the agenda when he heads to the annual meetings of the National People's Congress and Chinese People's Political Consultative Conference, Leung added: "We understand that people's daily lives have been affected [by tourists].
"However, we do not accept a small number of people, possibly with political intentions, using this dissatisfaction to support their illegal clashes in stores and shopping malls. This kind of behaviour should be condemned."
Hoteliers cut prices when bookings failed to materialise as the national holiday approached, but in the end the occupancy rate stood at about 90 per cent, similar to previous years – with guests booking much later than usual or just turning up without a reservation, according to Victor Chan Kok-wai, chairman of the Hong Kong Hotels Association.
Prices last dropped in 2008, during the global financial crisis.
Chan said there was a lack of confidence in the city following the Occupy movement, and the protests against parallel-goods traders in Tuen Mun and Sha Tin had further complicated matters.
Police unleashed pepper spray during clashes with the demonstrators, who marched through shopping centres shouting for mainlanders to go home. Another protest is due to be held in Yuen Long this Sunday.
The protests seemed to have spiralled into a hate campaign against mainland tourists, Chan said. "Would parallel traders really go shopping in Sha Tin? Those people targeted by protesters appeared to be genuine tourists, not parallel traders," he added. He noted destinations like Japan and South Korea were trying to attract more mainlanders. In the six-day period from last Wednesday to Monday inclusive, the number of mainland visitors to Hong Kong dropped 1 per cent from last year, to 842,124.
Michael Li Hon-shing, executive director of the Federation of Hotel Owners,  said the bigger-spending mainland tourists now tended to bypass Hong Kong.
"It's possible to buy luxury brands all over the world," he said, adding the city had to look beyond retail to attract tourists.
Secretary for Commerce and Economic Development Greg So Kam-leung  said it was Beijing that determined the number of mainland tourists permitted to travel to Hong Kong. It was "not an easy balancing act" to allow tourists to have an enjoyable experience in Hong Kong without overly affecting residents' lives, he added.
This article appeared in the South China Morning Post print edition as: CY puts tourism on Beijing agenda