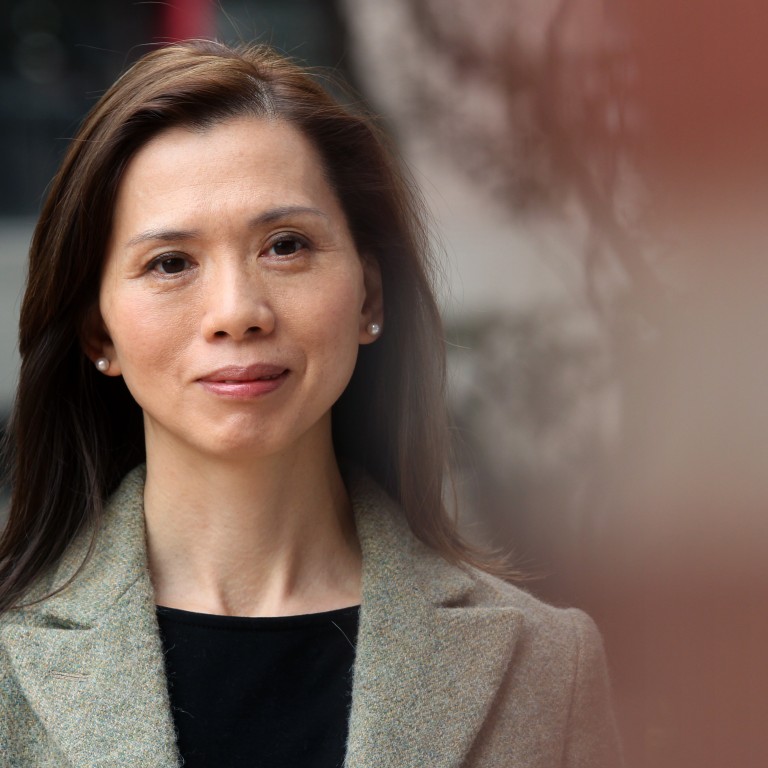 Mind the gap... Meet the woman behind those MTR announcements
If you've caught a train, you've heard Cheri Chan - one of the best-known people you've never seen
Cheri Chan Yu-yan is probably one of the most well-known personalities in Hong Kong – and yet in a city of more than seven million people, the chances are that you've never set eyes on her.
But if you've been out and about in the city for any length of time, you've almost certainly heard her distinctive voice.
Telling you to mind the gap, let people off before you board the train (probably one of her most ignored requests) or be careful when on the escalator, Chan has been the voice of the MTR for more than 20 years and is the closest thing the railway network has to a personality.
Watch: Meet the lady behind Hong Kong MTR announcements
And while you might think the Senior Lecturer at the Division of English Language Education at the University of Hong Kong simply turns up and says her piece, she's proud of her work and spends time ensuring every announcement - in both English and Cantonese - is just right.
"They have a whole team of people who spend ages writing these announcements," Chan explains. "They produce the script and the scripts have to be approved by the MTR. I'm just the voice.
"Once I have the script I do spend time and think about what kind of announcement it is. There's a difference between when you're recording an announcement to gently remind people not to walk on the escalators… to the emergency announcement.
You don't hear the emergency announcements that often luckily, but you will notice the difference. I have to think about interpreting the messages so the delivery is appropriate and has an impact."
Chan started making the announcements in 1992 while working as a broadcaster and researcher for RTHK, after being called out of the blue. Competition was fierce, with six potential candidates discounted before the MTR officials, who listened to Chan audition in a studio, decided hers would be the most suitable for passengers.
The role has provided her with regular work over the last two decades, thanks to updates, seasonal messages, re-worded announcements and of course the expansion of the underground system.
She recently provided the voices for the new HKU, Sai Ying Pun, and Kennedy Town stations.
"I know a new station is going to be ready way before most people because I've recorded the announcement," she revealed, politely refusing an South China Morning Post request to reveal the company's deepest secrets. "You'll have to talk to the MTR," she joked.
Before introducing the pre-recorded announcements that made Chan's voice so comfortingly familiar, drivers would use an intercom system to tell passengers which station they were at – a system still used today for unplanned announcements.
The company, however, decided to standardise the messages following complaints that the drivers were sometimes incomprehensible and the pre-recorded announcements featuring Chan were rolled out in 1994.
Despite the widespread recognition of her work, Chan tends to keep her identity a mystery – although in the early days, she says, her friends were not averse to gently ribbing her, especially when they rode the MTR together. Nowadays she enjoys watching from a distance as younger passengers mimic her announcer's voice.
"I often hear students, 3- or 4-year-olds… mimicking the announcements. I just want to go up and give them a hug and whisper in their ear the same announcement."
She added: "When I first started doing the recordings I remember hearing my announcements for the first time on the MTR and it was a really strange feeling. Now I'm used to it."
She said that she doesn't speak to people using her "MTR voice," though she makes an exception when she's travelling with friends and their small children.
"My friend might say, 'oh you know Cheri, Cheri's the voice of the MTR,' and this little child would look at me with big eyes, 'really? really?' And I might personalize it for them, you know, I might say, 'next station, Steven, is Disneyland.' They'd be so thrilled usually, like they have their own personalised announcement. I might do that just to make a kid smile."
Most recently Chan was asked to record a new batch of holiday announcements. If you take the MTR on Christmas Day or New Year's Day, you will hear her regularly wishing passengers a Merry Christmas or Happy New Year.
Not everyone, however, is enamoured with Chan's efforts
Hong Konger Nicholas Louie Wai-ting, 31, is a critical listener of MTR announcements and is the founder of a
website
dedicated to public transport in Hong Kong. The site includes an archive of more than 1,400 MTR and KCR (the Kowloon-Canton Railway, which later merged with the MTR) announcements, many of which he recorded when he was a student and would ride entire lines holding up a microphone to the carriage speakers to capture announcements
Watch: Hong Kong transportation enthusiast preserves lost voices of the city's subway
Louie says he misses the KCR announcements, which he thinks sounded more chatty and informal. One he remembers well is the old KCR message for those approaching Racecourse station, connected to the racetrack at Sha Tin. A recording he made in 2002 had a personal twist for punters.
"The next station is Racecourse. Passengers going to the races, please alight there. We wish you all good luck," it said.
More recently he points to another favourite, following the beginning of the Occupy protests that paralysed parts of Hong Kong. He didn't record this himself, but a YouTube video shows a supportive train driver thanking passengers for the sacrifices they were making and for protecting the city.
Given the brevity of Chan's recorded announcements, Louie said he wonders why the MTR invests time and money using real voice actors - the subway's Putonghua announcements are voiced by a native speaker - that sound robotic, rather than using a computer-generated system like those heard on many bus routes.
For Chan, however, it is all about clarity and getting her message across. While after more than 20 years as the voice of the underground she can effortlessly switch into MTR mode, she still puts a lot of effort into every announcement, pondering how they will be received and often recording several takes to get each exactly right.
"It's an art form. I think a lot of people don't realise this and they think you just make the announcement," she explains. "I use the MTR a lot… so I try to put myself in the shoes of the passenger and try to imagine how I want the message to be delivered.
"I see this as a public service. I'm doing something that's positive for Hong Kong's community. If we don't give passengers information, then you're going to have a lot of confused travellers wandering around the MTR stations," she said.
Her critical ear doesn't just extend to her own work, she also has strong opinions on the announcements she hears on subway networks around the world.
Singapore's MRT (Mass Rapid Transit) isn't a favourite due to its brief, impersonal messages, while the London Underground's "Mind the gap" message - one of the most widely heard on the city's subway network - is rather too serious.
"I'm an active listener of announcements. It's like people who make movies, you can never go in as an audience [member] any more, you always watch as a movie maker," she said.
And her favourite messages on Hong Kong's MTR? Here Chan sticks to the basics. "The next station is…" and "Mind the gap" top her list, as they are the words that help define the MTR experience.
So next time you're standing on an escalator listening to a voice telling you to hold the handrail, or speeding along underground with an ear out for your stop, spare a thought for the effort that's gone into producing the messages that accompany you on your journey. At last, you can put a face to the voice that you know so well.
Memorable voices of the subway
Many subway systems around the world have announcers telling passengers what's going on, and some have even become famous online. In 2012, The New York Times asked its readers for fantasy subway announcements that they would like to hear; then the paper asked the announcer, Bernie Wagenblast, to record them for the site.
These are some of the best:
"Ladies and gentlemen, cheap headphones are no excuse for inflicting your bad musical tastes on fellow passengers."

"Watch the gap, and by the way, you look marvellous, simply marvellous."

"Attention passengers, I can't help but notice there are two beguiling people on this train, who I think would make quite an attractive couple, but both seem to be a bit shy, won't someone introduce them."

"Mr Potter, your train awaits you at platform nine and three quarters."
More recently, an announcer for the London Underground was so beloved he got his own Facebook fan page, as reported by Vice and The Atlantic's Citylab.
The page says: "For all those who need a little lift on the way to and from work – this man always has calming words. He's the first line of defence of tube rage – GAWWWD BLESS HIM".
Announcer Carl Downer, who was born in Jamaica, does his best to cheer up commuters by wishing people "a very special good afternoon" when their train pulls up to the station or telling the train driver to "drop it like it's hot" when the train is moving away. There are four YouTube videos of Downer.
Vice tracked him down, and he said it was his duty to cheer people up at the end of the day.
"You have to enjoy life. You live life. You enjoy life to the maximum," he said. "You have one life to live and you've got to live and live it up – you can't let nothing become an obstacle in your way. No one can be happy for you, so you have a right to be happy. It's a God-given right."
This article appeared in the South China Morning Post print edition as: Voice of the MTR