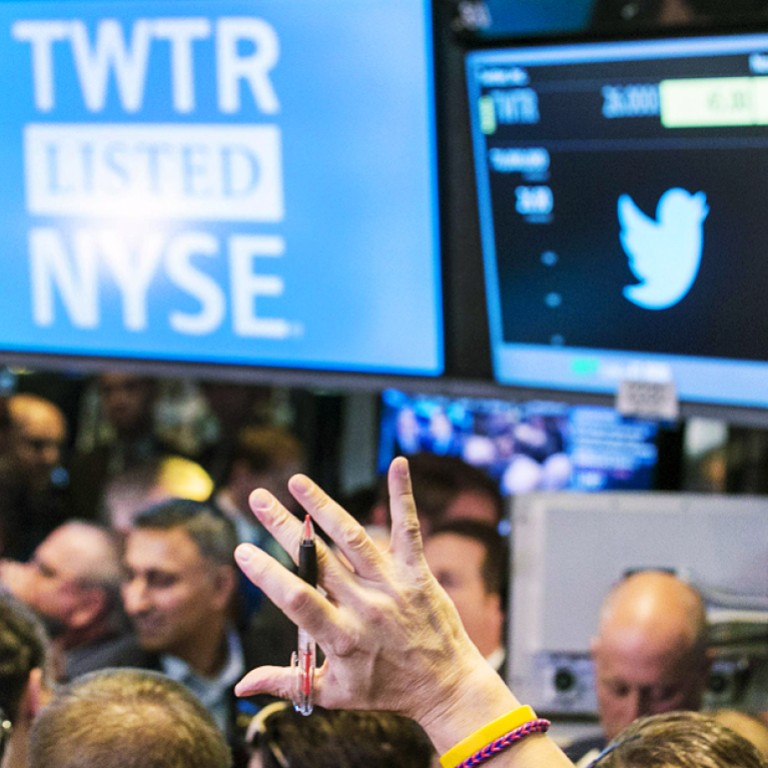 New

|
Twitter opens Hong Kong office for closer ties with Chinese businesses
The move is a clear sign that the US social media giant has kept alive its ambitions for doing business in the lucrative Chinese market.
Twitter, whose real-time micro-blogging service has been blocked in mainland China since 2009, is officially opening its office in Hong Kong today.
The move is a clear sign that the US social media giant has kept alive its ambitions for doing business in the world's number one economy.
Both Twitter and Facebook have been blocked in China for the past six years. Beijing is wary of Chinese netizens making use of Twitter and other social media tools to plan large-scale anti-government protests, such as the 2011 "Arab Spring" uprisings in the Middle East.
Late last year, internet search giant Google had most of its products, including Gmail and Google Hangouts,
finally blocked in China
after years of intermittent and disrupted service.
In announcing the launch of its Hong Kong branch, which will serve as the head office for the Greater China region, Twitter has emphasised its intention to help Chinese businesses connect with overseas users, rather than enter the Chinese market itself. 
"We're capitalising on this growing trend where the most ambitious, entrepreneurial and successful Chinese companies want to go global, and we believe that Twitter is an essential way for them to connect and engage with the world," said Shailesh Rao, Twitter's vice president for Asia Pacific, Americas and emerging markets. 
"Opening our Hong Kong office now and hiring a sales team to work directly with advertisers across the Greater China market will contribute to our next phase of growth in Asia." 
On Twitter's corporate website, the San Francisco-based company is currently hiring, including an account executive and media partnership manager for its brand new Hong Kong office.
The media partnership manager is expected to focus on the entertainment industry, according to the job description posted on the official website of Twitter.
"This is a smart move for Twitter. Entertainment is something that everybody from the government to the general public will be happy to enjoy," said one industry analyst who declined to be named as he was not authorised to comment on specific cases.
"If you get one celebrity on Twitter, you will soon get a ton of fans of the celebrity and that means a shortcut for Twitter to drive up its daily activities online."
Hong Kong is the home of many globally well-known movie stars such as kung fu star Jackie Chan. Even in the early days of Hong Kong's movie industry, stars like Bruce Lee came into international prominence.
According to the company's official data, Twitter, which claims to be the world's largest real-time information network, currently hosts more than 288 million monthly active users. It already operates offices in Tokyo and Singapore.
The international expansion of the 140-character microblogging company comes as it is trying to extract more revenue from its platform. China has been widely considered a "must" for many global technology firms despite many regulatory restrictions.
Facebook's founder and chief Mark Zuckerberg has been
learning Mandarin for a number of years
, and recently promoted Chinese president Xi Jinping's book on governance in what was seen by many as an attempt to improve relations with Beijing. 
Twitter and Facebook face stiff competition from local firms on the mainland, particularly Sina Weibo, the hugely popular microblogging platform that started out as a de-facto Chinese-language clone of Twitter. 
Although Twitter is banned by the Chinese government, many state-owned media organisations such as state broadcaster CCTV and People's Daily, the mouthpiece of the Communist Party, have set up Twitter accounts to target overseas users.
China's official Xinhua news agency even launched a new branding campaign recently to promote its official account on Twitter. 
Twitter joins Google and Facebook in setting up camp in Hong Kong. The latter two opened their Hong Kong offices just few years ago.
Google's Hong Kong office in particular is playing a strategically important role for its business in the entire Greater China region after its growing trouble with the Chinese government in terms of censorship and other regulatory issues.