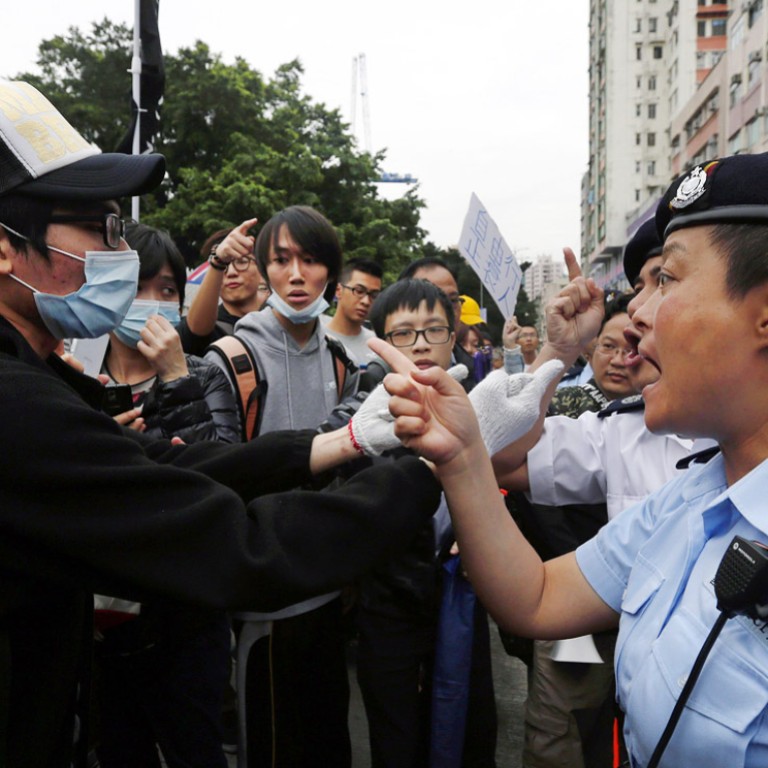 Hong Kong police told to 'be stricter over public gatherings of at least three people'
Top brass tell frontline officers to adopt a 'preventative' approach and use their judgment to disperse groups of would-be protesters
All police officers are to enforce laws governing public order "more strictly" to prevent any "suspicious" gathering of at least three people from turning into a protest, according to a new guideline from the top cited by multiple police sources.
The new direction, coming from the force's management last week, spells a focus on "preventive" handling of unauthorised protests and is meant for immediate implementation in each district, the sources say.
It is understood that a post-Occupy Central style of protest in Mong Kok, along with occasionally chaotic gatherings against parallel-goods traders since last month, are reasons behind the police bosses' stress on enforcing the Public Order Ordinance.
"If officers deem a gathering likely to cause any breach of the peace or threat to public safety, we would not allow the participants to proceed," a source said.
"We would demand that they produce identification and disperse, and follow them around if they did not leave. Anyone who refuses to comply can be arrested for obstructing police."
He said the force wanted to ensure "consistency and a closer adherence" to the law across districts at a time when anti-trading protests were spreading.
If necessary, another source said, the crack Police Tactical Unit would be deployed to patrol the streets.
The stipulated enforcement actions are provided for under the ordinance, which since 1967 has outlawed any gathering of three or more people without police permission.
The law came into force that year to crack down on pro-Beijing leftist riots against British colonial rule. It was briefly relaxed during the final years ahead of the handover - so protest organisers need only notify the police of their plans - but was reversed after 1997, making it a must to obtain prior police approval.
It is seen as unlawful assembly if at least three people behave "in a disorderly, intimidating, insulting or provocative manner".
Before Occupy in September, strict use of the law was mainly applied on suspected triad members, another source said.
"Before the Occupy movement, if police found a group of people wearing masks and carrying rucksacks gathering on the streets at night, we would check what they were up to and consider whether they were linked to triads," a senior police officer said.
He said the force was only being extra tolerant during and after Occupy, by letting people gather without approval. "We showed them more than enough tolerance during Occupy."
But the force is taking a stronger line in the wake of so-called protests that obstruct Mong Kok traffic, as well as aggression against what protesters call "cross-border smuggling". At these protests, some of which are pre-approved, participants are known to have split up into groups and stayed on after declaring their action has ended.
Icarus Wong Ho-yin, of the Hong Kong Civil Rights Observer, said the guideline asked officers to exercise their subjective judgment and would encroach on the basic right to assembly.
"Unless the people are all armed or are engaging in provocative acts such as shouting insults at parallel-goods traders, police have no grounds to break up a peaceful crowd," Wong said. He said the force should exercise restraint, since the cost of lodging a judicial review to reverse any police decision would be daunting.
Yesterday, the North District Parallel Imports Concern Group withdrew its application for an anti-trading protest in Sheung Shui this Sunday, police said.
This article appeared in the South China Morning Post print edition as: Police to crack down on illegal gatherings