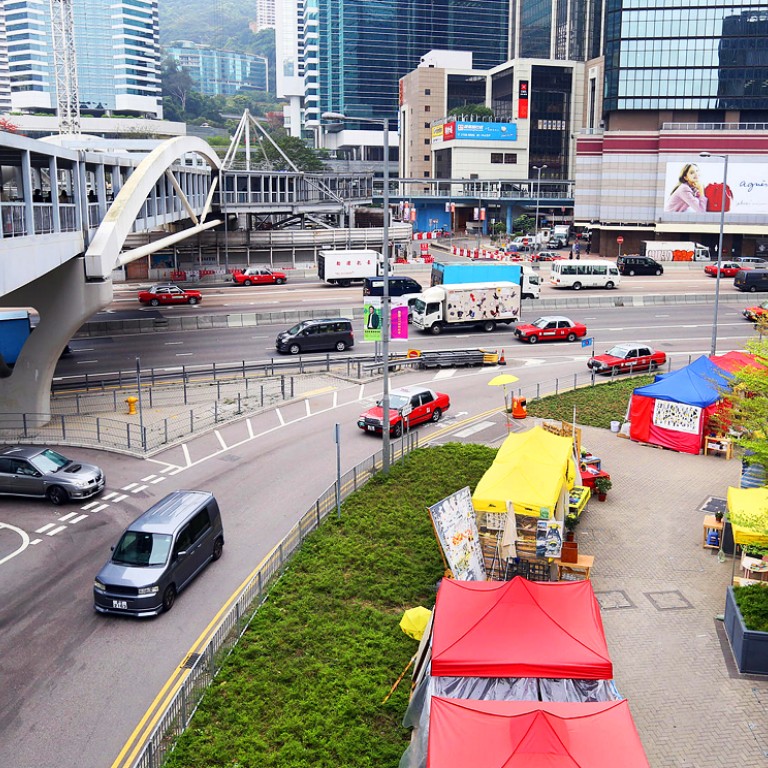 Occupy by stealth? Hong Kong protest camp grows as demonstrators mark six months of movement
Pro-democracy protesters are gathering at the site of Occupy Central's main camp to commemorate six months since the mass sit-ins begun last year.
Pro-democracy protesters are gathering at the site of Occupy Central's main camp to commemorate six months since the mass sit-ins began last year.
A tent community has been slowly expanding on the pavement outside the Admiralty government headquarters since police cleared Occupy's base camp on Harcourt Road and the adjoining roads in December, ending the 79-day mass sit-in.
The latest feature is a "study room", which started to fully function three days ago. With seven benches, lit by fluorescent tubes powered by charging packs, the corner is a smaller version of Occupy's study room on Harcourt Road at the height of the protests.
"I have grown accustomed to this place," said Chloe Lei Ho-yi, a Form Five student who came to study yesterday evening along with two friends after learning from social media about the return of the study room.
"I can do things here that I can't do in other study rooms: talking about political reform, parallel trading and the airport third runway. It's too quiet elsewhere," she said.
According to Facebook page "Umbrella Movement Tents Population Census", which keeps regular track of the site, the number of tents in Admiralty has grown from 78 in mid-December to 147 on Tuesday. At the peak of the protest, there were more than 2,000 tents in the area.
Since the police clearance, dozens of tents have remained at the demonstration near the Legislative Council and outside the government headquarters' forecourt, known as "Civic Square".
But as Legco banned protesters from staying overnight and construction work for a footbridge at the complex started, the tents have gradually moved outwards and become more visible on Harcourt Road. "I want to be seen here, so people will know we still want genuine universal suffrage," said Lo Kai-pak, a Form Two student.
Tables in the study room were made by several carpenters who set up the original study room on Harcourt Road last year, said Simon Wong, aged in his 70s. He has been taking care of a library, called "democracy university", with others in past months.
"Students have kept coming back. They had no place to sit, and they just sat on the ground leaning against the wall. So some suggested bringing back the study room," Wong said.
A technician was already thinking of setting up a Wi-fi network for the study corner, he added.
The site gets busy at weekends, just as it did during the protests. In the past three weeks, a "mobile democracy classroom" has seen former lawmaker Margaret Ng Ngoi-yee give lectures on the rule of law, which drew an audience of dozens.
Some groups are planning to commemorate the half-year anniversary of Occupy, which started on September 28, this weekend in Admiralty and Mong Kok, with activities including forums, exhibitions and craft work.
For some, returning to the site is more about nostalgia than to protest.
"After so many days of the sit-in, I feel that occupation may not be an effective way to fight for universal suffrage," said Tracy Cheng Hoy-ying, who came along with four classmates to study yesterday.
"But it feels like coming home here, although now it's much noisier with the cars back, and I got mosquito bites," said the Form Three student, who helped at one of the resource stations during the sit-in.
Wong was not sure how long the camp would last, however, as some government department staff had already come to inspect the area, he said.
A police source said that they had no immediate plans to clear tents from the pavement of Tim Mei Avenue, but they would continue to closely monitor the situation.
He pointed out that no actual obstruction was caused by protesters as tents were erected on one side of the pavement and passers-by could still use the walkway.
The source said: "If an actual obstruction is caused, police will assist responsible government departments to take appropriate action."
A total of 955 people have been arrested for various offences during the Occupy protest and another 48 people were arrested after it ended.
According to the Legislative Council's Secretariat, it will cost HK$2.78 million to fix damage done to the Legco building by protesters who stormed the complex during the movement last year.
This article appeared in the South China Morning Post print edition as: New life in old camp six months after protests