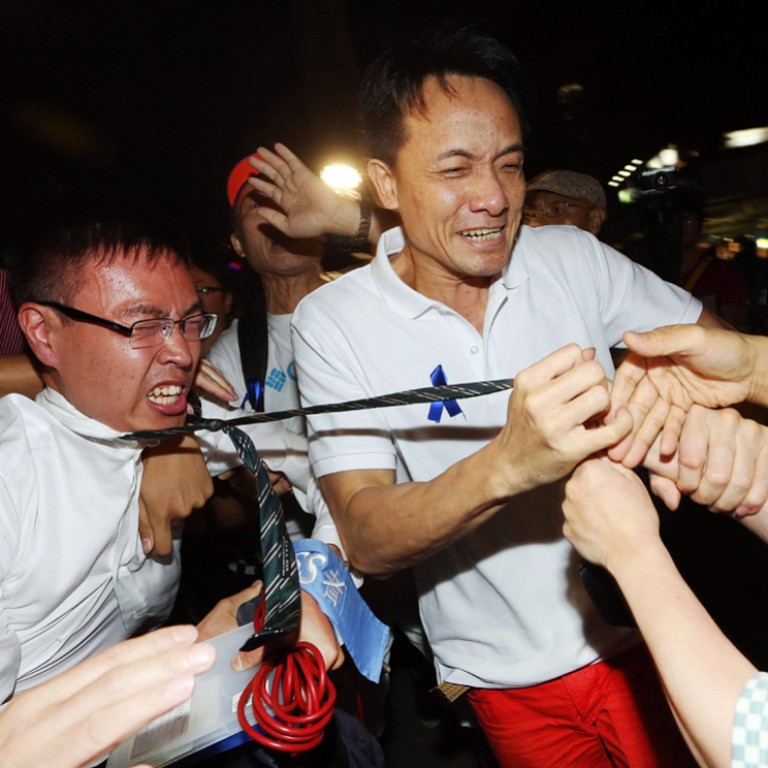 Hong Kong press freedom index falls amid attacks on journalists, self-censorship
Journalists Association cites attacks on reporters for decline in annual index
Press freedom in Hong Kong continued to deteriorate last year in the face of self-censorship and high-profile cases of violence, a poll of journalists and members of the public showed.
While more than half of the members of the public surveyed for the Hong Kong Press Freedom Index felt that last year saw a step back for press freedom, journalists were even more gloomy. Some 90 per cent said press freedom had suffered, with 48 per cent pointing to a "substantial setback".
The Hong Kong Journalists Association, which runs the annual index, said the results reflected a growing number of physical attacks on journalists, including during the Occupy protests and a February knife attack on former chief editor Kevin Lau Chun-to.
Overall, the Press Freedom Index stood at 48.8 points out of 100 for the general public, down 0.6 points year on year. For journalists, the decline was sharper, down 3.1 points on the 2013 figure to 38.9.
The index drew on two polls conducted in January. The University of Hong Kong's public opinion programme surveyed 1,035 members of the public, while the HKJA interviewed 537 journalists.
All were asked 10 questions about the working environment for journalists, and were asked to give answers on a scale of 0 to 10.
For journalists, self-censorship was perceived as the biggest problem. They gave a rating of seven when asked how common self-censorship was. The public gave a score of 5.6.
The public perceived pressure from management and media owners as the biggest problem, with a rating of 6.1. Journalists gave a rating of 6.9 on the same question.
On the question of whether personal threats were common when reporting, journalists gave a score of 5.5 points, up 0.7 points. The public score was 5.2.
Some 90 per cent of the journalists said they had the impression that there were more "attacks by law enforcers" on their colleagues last year than in 2013. Some 87 per cent said people participating in events organised by pro-establishment groups had become more violent towards journalists.
HKJA chairwoman Sham Yee-lan said the group recorded at least 30 cases of journalists being attacked last year, and that the use of violence was one of the main factors behind the declining press freedom score.
"I have been in the industry for 30 years and have never seen a year with so many reporters being attacked," she said, adding that the HKJA would raise its concerns with police.
The poll also found other areas of concern. Journalists gave a score of just 2.6 when asked how open government officials were in responding to queries.
Sham said the administration of Chief Executive Leung Chun-ying would deliver important policies in ways that did not offer an opportunity for questions.
Noting that reporters complained of increasing difficulty in accessing information held by the government and public bodies, Sham called for freedom of information legislation. She said such laws had been enacted in countries covering 77 per cent of the world's population.
This article appeared in the South China Morning Post print edition as: Press freedom on the wane, study indicates