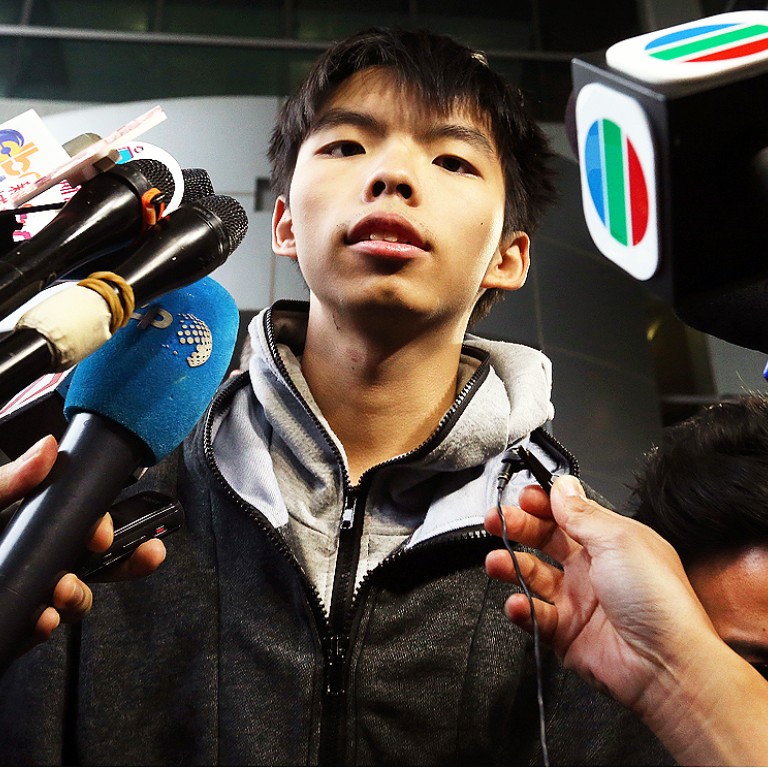 'Who's the real leader?': Joshua Wong in Fortune top 10 as CY Leung gets thumbs down
Hong Kong student activist Joshua Wong is ranked among the top 10 of the world's 50 "greatest leaders" by Fortune magazine, which gave a contrasting thumbs-down to Leung Chun-ying.
Hong Kong student activist Joshua Wong Chi-fung has been named among the top 10 of the world's 50 "greatest leaders" by US business magazine , which gave a contrasting thumbs-down to Chief Executive Leung Chun-ying.
Wong, who gained international recognition as one of the core leaders of last year's Occupy movement, is in the company of global heavyweights such as Chinese President Xi Jinping, ranked number three, Pope Francis at number four, and Apple boss Tim Cook, who tops the annual list.
The 18-year-old Open University student beat other, more famous and influential personalities such as Microsoft founder Bill Gates (18th, with wife, Melinda), Facebook chief executive Mark Zuckerberg (25th), and Chinese basketball icon Yao Ming (26th).
Hong Kong's chief executive did not make the list.
The magazine said Wong was one of the most compelling figures during the 79-day Occupy protests, when pro-democracy activists and others blocked key roads across Hong Kong to demand genuine universal suffrage.
"Wong doesn't look like Hollywood's idea of a charismatic rebel leader," said, but "his non-violent protest message and energetic idealism galvanised crowds that, over months, numbered in the hundreds of thousands."
Comparing Wong's performance with that of Leung, the magazine said the chief executive lacked leadership while the student activist demonstrated it.
In the first paragraphs of an article discussing the top choices, the magazine's senior editor, Geoff Colvin, noted that Leung was the city's leader with a range of powers from signing bills and issuing executive orders to appointing judges, but many Hongkongers chose not to follow him during Occupy protests.
"When they learned that the 2017 election for Leung's position would not be free and democratic, as authorities had previously suggested, they poured into the streets and followed Joshua Wong, then 17, who had started a pro-democracy student group," Colvin said.
"Leung, 60, commanded a vast city administration, including police wielding pepper spray and truncheons. Wong had a cellphone. Yet the protesters paralysed Hong Kong for three months."
The magazine concluded: "So who's the real leader? The answer is obvious: Leung has the leader's job, but he doesn't have leadership. Wong is the one who demonstrated that."
compiled its list based on nominations from its reporters and more than 20 leadership experts. Those who made the cut had to demonstrate such qualities as vision and the ability to move others to act with them on a shared quest last year, in addition to being brilliant, admirable or powerful, it said.
President Xi Jinping was described as the strongest leader in China since Deng Xiaoping, and noted for preaching meaningful reforms such as strengthening the rule of law.
Fortune's Top 10 world's greatest leaders
1. Tim Cook
2. Mario Draghi (president, European Central Bank)
3. Xi Jinping
4. Pope Francis
5. Narendra Modi (Indian prime minister)
6. Taylor Swift (pop star)
7. Joanne Liu (international president, Medecins Sans Frontieres)
8. John Roberts (chief justice, US Supreme Court)
9. Mary Barra (CEO, General Motors)
10. Joshua Wong