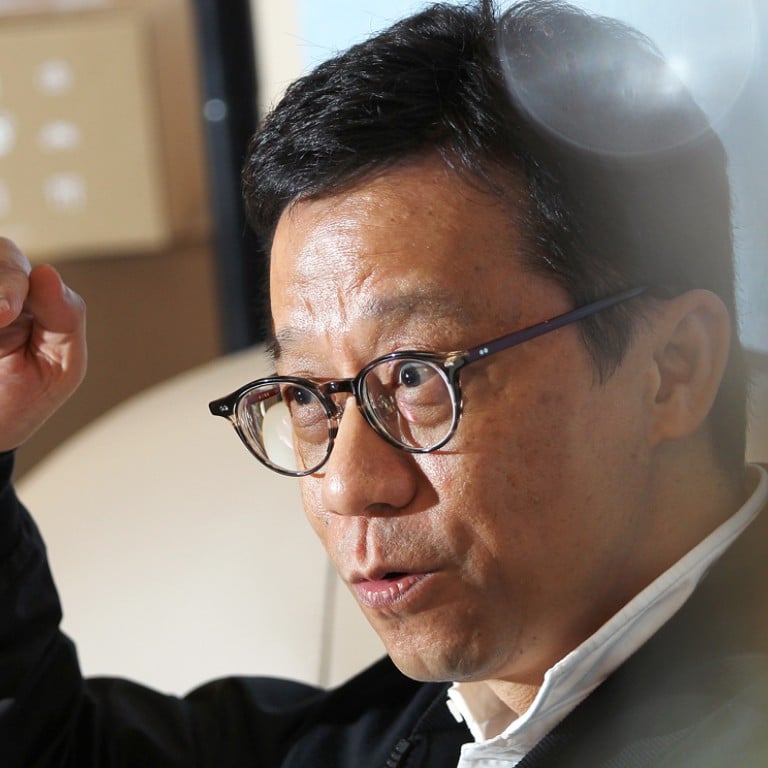 Shock as HKTV boss Ricky Wong 'agrees to buy beleaguered rival ATV'
Beleaguered free-to-air channel reports that Ricky Wong will be its new owner if courts and regulators approve; HKTV offers no comment
Struggling free-to-air broadcaster ATV dropped a bombshell yesterday, announcing that major investor and de facto boss Wong Ching had agreed to sell his controlling stake to HKTVs maverick chief, Ricky Wong Wai-kay.
The stunning announcement came during ATV's Chinese-language newscast at 6pm, and was repeated after the commercial break for added impact.
HKTV offered no comment and made no announcement to the stock market yesterday.
According to the report, Wong Ching and his relative, Wong Ben-koon, who holds the 52.4 per cent stake on paper, had accepted Ricky Wong's offer for the stake. HKTV would take over the broadcaster while the outgoing owners would take care of its debts. The station was waiting for approval by the High Court and accounting firm Deloitte, which was appointed to sell a 10.75 per cent stake to a "white knight". The Communications Authority would also have to approve.
ATV's announcement stunned industry insiders, especially after Ricky Wong repeatedly and categorically denied he would do any such deal with the station he once ran for 12 days.
They described it as a slap in the face for Chief Executive Leung Chun-ying, who was evasive when asked about ATV yesterday morning, Leung would only say ATV's licence was being handled according to established procedures and the law.
They noted that the Executive Council had already delayed a decision on renewing ATV's licence for four months while waiting for a white knight. That was despite the fact the Communications Authority's predecessor, the Broadcasting Authority, recommend not renewing the licence, which expires late this year.
Exco today holds a special meeting on ATV, arranged before yesterday's news.
Analysts and political commentators said Wong Ching had put the chief executive between a rock and a hard place. It's widely understood that the government does not want to let Ricky Wong run a free-to-air station, especially after controversially rejecting the outspoken telecoms veteran's application for a licence in 2013. But rejecting the deal would deny ATV a lifeline.
"[The government] would rather renew ATV's licence than let it die," said James Sung Lap-kung, a political scientist at City University. He said the government had no grounds to reject it.
Ricky Wong could not be reached for comment. He was understood to be out of town.
After making his name by building City Telecom, Ricky Wong spent 12 days as CEO of ATV in 2009. A year later, he applied for a licence for HKTV and began filming dramas at HK$1 million per episode. The government instead granted licences to two pay-television players.
HKTV's books show HK$819 million in cash on hand and assets of more than HK$3 billion, despite losses of HK$237 million.
ATV is running out of cash and has been taken to court for failing to pay staff. Wong Ching said last week that the station had no hope without a "miracle" by the end of March - yesterday.
IT sector lawmaker Charles Mok said any deal might spark legal action, given PCCW and i-Cable had been awarded free-to-air licences in principle and now wanted a share of the broadcasting spectrum. "TVB might take action too," Mok said.
This article appeared in the South China Morning Post print edition as: HKTV boss 'strikes shock deal for ATV'