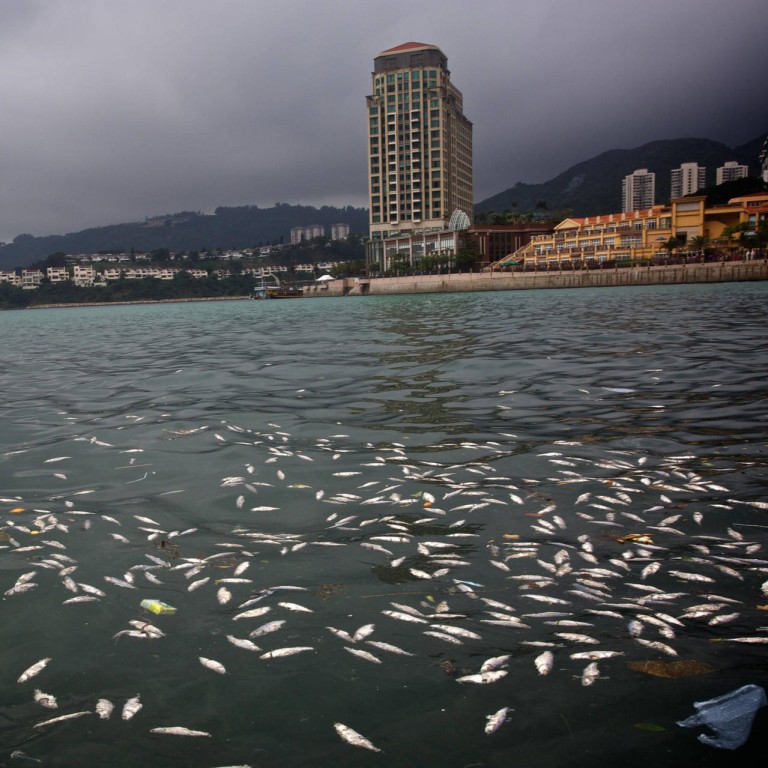 Thousands of dead fish found off Hong Kong's Lantau island leaves scientists mystified
Changing temperature of sea or illegal waste dumping could be to blame, says scientist
Thousands of dead fish have been found floating in rubbish between Peng Chau and Discovery Bay.
One scientist said they could have been killed by an algal bloom that starves fish of oxygen, or waste dumped in the water.
Pictures seen by the showed some had washed up on a beach in Peng Chau, off the northeast coast of Lantau Island.
Islands District Councillor Josephine Tsang Sau-ho said: "The fish are around half the size of a palm. There were thousands of them when they washed up and they really smell."
She said fishermen had told her trawling was not to blame.
The fish were found on Thursday and workers later cleaned up the beach. The Marine Department said around 80 catties of dead fish were cleaned up from water in the area yesterday.
Gary Stokes of the Sea Shepherd Conservation Society had also taken pictures when he witnessed dead fish "numbering in thousands" floating in the area, according to his Facebook page.
Professor Chan King-ming, director of the Environmental Science Programme at Chinese University, believed the fish had been dead for two or three days.
While he said he had not visited the scene, Chan suspected the changing season from spring to summer might have proved devastating for the fish.
"When the sun shines, it warms the water. It favours the growth of algal species and eventually leads to a drop in oxygen level," Chan said, adding that the drop in oxygen would kill the fish.
Another possibility, he said, was the illegal dumping of waste from construction of the bridge connecting Hong Kong with Zhuhai and Macau.
A spokesman for the Agriculture, Fisheries and Conservation Department said it had contacted fish farmers in the area but there were no reports of deaths from their mariculture rafts.
This article appeared in the South China Morning Post print edition as: Thousands of dead fish found off Lantau