Focus
Get more with myNEWS
A personalised news feed of stories that matter to you
Learn more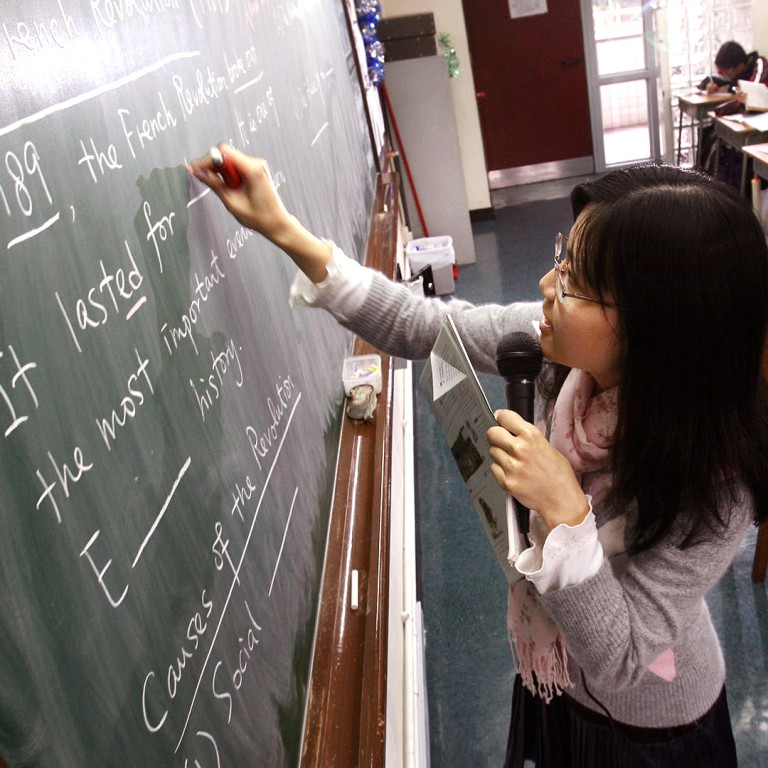 The Hong Kong government's language barrier
At a crucial time in the city's history, the use of English is increasingly being sidelined or ignored by the Hong Kong government
Last Sunday, Hong Kong watched Chief Secretary Carrie Lam Cheng Yuet-ngor deliver an opening speech at a crucial meeting between Beijing officials and the pan-democrats in a last-ditch attempt to break the deadlock over electoral reform.
It was a Chinese-only speech and many who don't know the language had no idea what she was saying while watching live coverage of an issue that affects everyone in this city.
It's just one example of English being increasingly ignored or sidelined by the administration at a time when Hong Kong's proficiency in the language of the world is the subject of much public concern and debate.
Most critics put the blame squarely on the government, pointing out a steady erosion of the official use of English since the handover to Chinese sovereignty in 1997. English-language journalists often complain about Chinese-only press releases and briefings. One of their biggest gripes is the practice of ministers writing Chinese-only blogs to float important policy ideas.
"The government is simply irresponsible," says Civic Party lawmaker Claudia Mo Man-ching, a former journalist who feels strongly about the problem. "When I was working as a journalist [during the colonial days], for any public statement we always got both the Chinese and English versions. But now the situation is going downhill."
Mo says the same problem crops up in the Legislative Council, with officials answering her in Cantonese when she asks questions in English. Most recently, she found it even more worrying that the Legco secretariat was only able to provide a Chinese version of an amendment she submitted to the budget bill.
"Without official translation by the government, it is actually passing its own responsibility to the media. And then the government can accuse the journalists of misquoting it and making errors," she says.
Her Legco colleague Michael Tien Puk-sun of the New People's Party attributes it to government messages being tailor-made for a political audience and a Chinese-speaking majority. "It would not be cost-effective if the government devotes the same amount of resources to the minority population," he explains. "I am not saying that this is right. Actually this is a vicious cycle."
And what does the government have to say about it?
The tracked down an obscure department known as the Official Languages Division under the Civil Service Bureau which is tasked with monitoring implementation of the government's language policy. Getting a straight answer from the bureau was an exercise in frustration.
Its press office could not answer a list of questions, instead quoting from its brief under the Official Languages Ordinance: "Both Chinese and English are the official languages of Hong Kong for the purpose of communication between the government and members of the public. It is the government's policy to maintain a biliterate (Chinese and English) and trilingual (Cantonese, Putonghua and English) civil service to ensure effective communication with all sectors of the community."
When pressed to respond directly to questions about the government's failure to use English as much as it should, the office would only say: "We fully appreciate the importance of maintaining bilingual communication with the public. Bureaus and departments will continue to be reminded to disseminate information bilingually."
The government does not see a problem with English standards in Hong Kong, to begin with. The most comprehensive attempt to address public concerns about this issue came from Education Secretary Eddie Ng Hak-kim about six months ago in response to a question raised in Legco. "There are no reliable and generally recognised assessments or tests showing that Hong Kong people's English standards are declining," Ng said in his written reply. "On the contrary, Hong Kong students' results in public examinations and international English assessments at different key stages of learning have all shown that their English standards are not falling."
As for standards among Hong Kong's workforce, Ng cited a 2009 study by the US Chamber of Commerce showing that 75 per cent of its members found the English proficiency of Hong Kong employees to be "satisfactory", which was "significantly higher" than in previous years.
He also cited academic studies back in 2003 which found nearly 70 per cent of respondents considered themselves fluent in English - those who claimed to have "excellent English speaking skills" rose from 5 per cent in 1983 to 32 per cent in 2003.
The problem with such studies, critics say, is that they're based on feedback from people who have inflated opinions of their command of the language.
Professor Virginia Yip Choi-yin of Chinese University's linguistics department agrees there is no research suggesting English standards are falling in Hong Kong.
"Over the past 20 years or so, there may have been a decline in the average level of English speakers," she says. "This is to be expected given the democratisation of education. In the past, only those with access to elite education spoke English at all, whereas for the past few decades everyone has had some English instruction and therefore the average proficiency of those using English might have been perceived to decline."
Professor Amy Tsui Bik-may from the University of Hong Kong's education faculty also supports this theory. "What I can say is that when compared to the past, nowadays there is an extensive use of English across the entire spectrum of society due to globalisation," she says. "This issue [of declining English standards] has been talked about for over 20 years, but there is no actual research data to compare the past with the present."
This contrasts sharply with the analysis of the EF English Proficiency Index, which produces a yearly report it describes as the world's largest ranking of English skills. It ranks Hong Kong 31st among 63 countries and jurisdictions, below even South Korea, Japan and Taiwan.
"The city's proficiency scores have declined steadily since 2007," its November report states, "calling into question the city's reputation as an English-speaking hub for business." The report also says major mainland cities are improving, with Shanghai overtaking Hong Kong.
Ex-civil service minister Joseph Wong Wing-ping finds it "ridiculous" that the government tries to project Hong Kong as an international financial centre while rolling back the policy of bilingualism.
"In the past, during the Tung Chee-hwa era, for all the stand-up briefings by government officials, they delivered their speeches in Chinese followed by English," he says. "But I've noted that nowadays officials only speak in Chinese without an English version. I notice that many officials have gradually deviated from this standard practice for public communication. How can the foreign journalists understand what they are saying? How can the government claim [the city] to be an international financial centre?"
The government's post-handover policy of mother-tongue teaching has been widely blamed for exacerbating the problem.
Mo is fiercely critical of the city's education system, and has been pressing the government to reform the English language curriculum in schools. "What is horrible is that many local teachers use Chinese to teach English. They translate the terms [such as] 'intransitive verbs' and 'transitive verbs' into Chinese and ask students to follow the hard grammar rules," she says.
"Language learning should be fun and the curriculum should be lively and contain activities related to our daily lives. The current curriculum is making this subject more difficult than physics studies. This is killing the students."
Tien agrees that "fun" needs to replace "the drilling and the exam-driven" learning. He cites the example of a secondary school he visited which uses Chinese as the medium of instruction. "The teacher asked students to use English to discuss the reconciliation between actor Nicholas Tse and singer Faye Wong. The response was overwhelming and everybody was raising hands to express their views. The teacher asked me to keep it confidential because this kind of teaching method must be frowned upon by the school's principal."
He goes on to say: "If there is a way to measure kids' interest in English, I can say that Hong Kong will rank the lowest in the world."
Mo does not hold out hope for reform of the education system. "You know how Eddie Ng responded to my request? He basically told me that all the past education reforms have exasperated the teachers and he is not going to do anything with the English education policy during his five-year tenure in office," Mo said.
"But how can the government promote Hong Kong as 'Asia's world city' when the education chief will do nothing about its English education?"
Yip is more optimistic about the future. She refers to studies by Chinese University's Childhood Bilingualism Research Centre on children whose parents choose to use both English and Cantonese in communicating with them: "Looking ahead, we can predict a rise in English proficiency due to the fact that more and more children are exposed to English from early childhood."
This article appeared in the South China Morning Post print edition as: The administration's language barrier