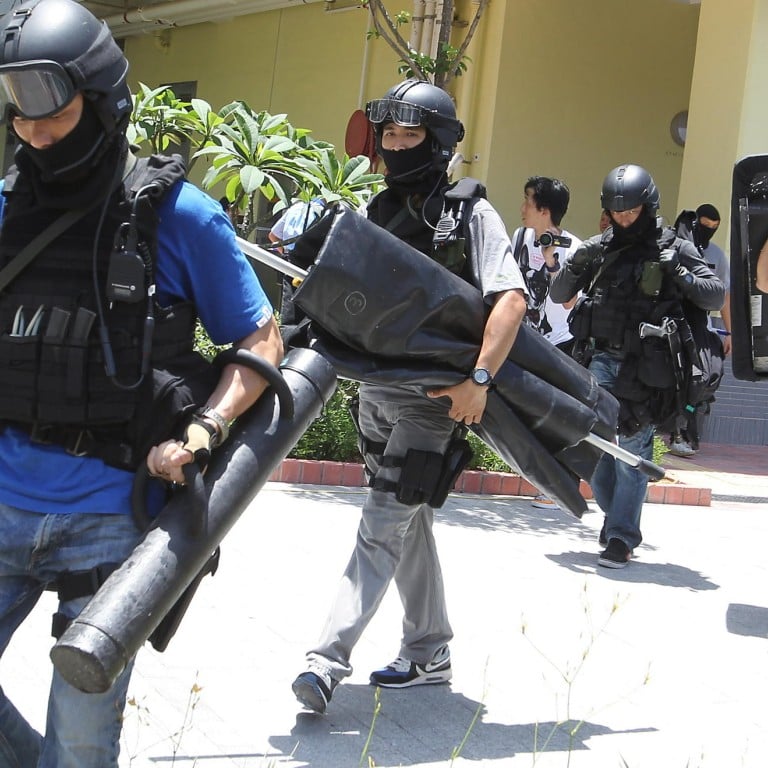 Ex-police superintendent head of Hong Kong's elite counterterrorism unit calls for citywide incident drill
Hong Kong's counterterrorism response unit is well prepared in theory, having never actually been tested
Hong Kong is well prepared for a possible terrorist attack, having set up a counterterrorism response unit in 2009, a former policeman who formed the elite 141-member team says.
The problem, however, is that the government's three-tier response system has never been tested on a citywide scale, according to former superintendent Clement Lai Ka-chi.
The threat of terrorism was brought close to home when a Bangkok blast last month killed 20 people, including two Hongkongers, prompting scrutiny of Hong Kong's own emergency response system.
The government's emergency response system was the the go-to framework when there was a threat to life, property or public security, but it had never been fully tested, Lai said.
"Hong Kong is pretty well prepared because it is very proactive," Lai, who resigned from the force last September, said.
"We have the tier system, the units, the officers, the skills. We don't have the experience but we learn it from overseas. The only thing is we need a good test of the whole thing."
Lai said Hong Kong having never been targeted by terrorism was a double-edged sword - the city had escaped the horrors of an attack, but with that came the complacency it would never happen locally.
"People underestimate the possibility of such things happening in Hong Kong," he said. "It would take only one minor incident related to terrorism to have a big impact on Hong Kong and we cannot afford that."
Lai's counterterrorism response unit sits among elite police squads such as the police tactical unit, special duties team and airport security.
At the time of its launch, Lai fielded questions over why Hong Kong, long viewed as a safe city and off the radar of terror groups, needed such a unit. "Why? Because Hong Kong is an important financial centre. One incident of terrorism will have a serious impact on the confidence of overseas investors," he said.
He urged the force to carry out a citywide terrorist incident drill. "We need to be more proactive. You don't want to educate people after something has happened," he said.
The unit carries out exercises on a minor scale with other government bodies, such as the Fire Services Department.
"But in Thailand, it happened in the centre of the city. Hong Kong has special features such as high-density buildings and roads. How effective is your deployment?" Lai asked.
Hong Kong might be seen as an ideal target for terrorists, he said, because of its global demographic and the mass damage they could cause.
"Hong Kong, fortunately and unfortunately, is an international place every day," he said, referring to events that drew international crowds and wide media coverage.
"If you bombed IFC, how many nationalities would be in the building? You have to understand the terrorist mentality."
Those sentiments were echoed by another former superintendent with more than 30 years' experience including in the force's elite units.
Speaking on condition of anonymity, he said the ability of hospitals to cater for mass casualties was a key part of preparing for the worst. "Would they be able to cope?" he asked.
Steve Vickers, head of risk management consultancy SVA, believed the city had a "reasonable capability" to deal with an attack, but "since the handover in 1997, this has not been tested".
He added that "the primary terrorist threat to Hong Kong and Macau is not likely to be home-grown", but would come from regional elements such as those seeking independence in Xinjiang and jihadist groups.
The Security Bureau said it would not disclose how many times the response system had been activated, but said there was no intelligence to suggest Hong Kong was likely to be a terrorism target.
The threat level remained at moderate, it said.
This article appeared in the South China Morning Post print edition as: Citywide terror exercise urged