Alibaba
Get more with myNEWS
A personalised news feed of stories that matter to you
Learn more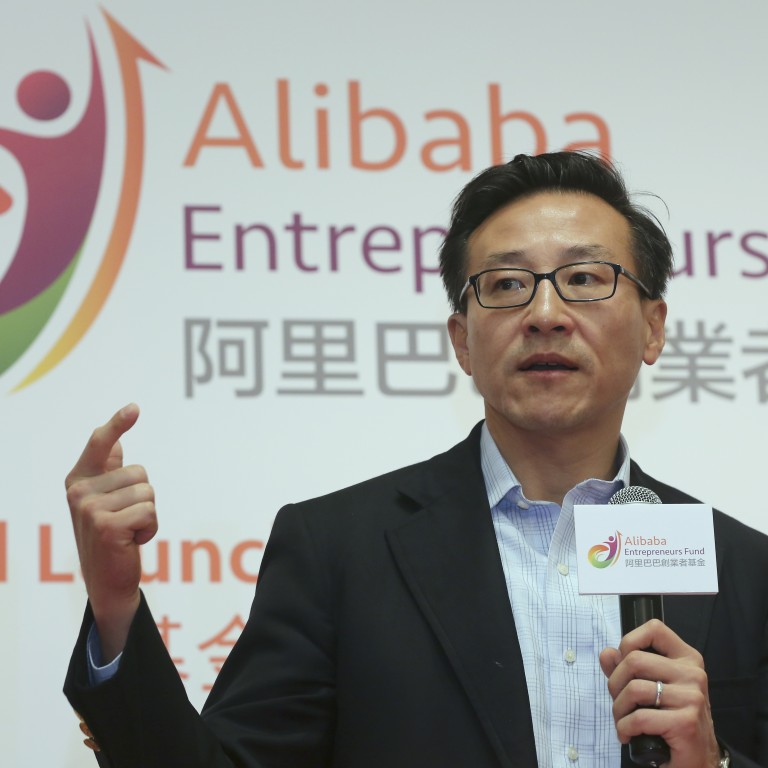 Alibaba buys the South China Morning Post: Full Q&A with executive vice chairman Joseph Tsai
In a wide-ranging interview, Joseph Tsai, executive vice chairman of Alibaba Group, explains the thinking behind the e-commerce giant's decision to buy the 112-year-old South China Morning Post newspaper, and all its other media assets. Removing the paper's paywall and ensuring objective, balanced and fair reporting continues, as well as pouring more investment into the product were among the key principles he shared with executive editor, Chow Chung Yan.
Why does Alibaba want to buy SCMP? What value do you see in us?
SCMP is a unique property. It's the English-language paper of record. It's the only English-language paper in Hong Kong that everybody will read for that matter. It's uniquely positioned because from the vantage point of Hong Kong you can cover China very well. And SCMP has been able to build up this journalistic and editorial capability to cover China - the Chinese economy, Chinese society, etc. That is a unique vantage point that none of the western organisations have. We see this as a great opportunity to create a unique product. Our vision for SCMP is to build a global readership. It is not just for expats or senior executives or companies in Hong Kong, but it is for anybody who cares to know more about China and to understand China - whether you are in New York City or London or Sydney or anywhere where English is spoken, the content of SCMP should be available. So we are very excited to take on this responsibility of ownership. Even though some say the newspaper industry is a sunset industry, we don't see it that way. We see it as an opportunity to use our technological expertise, and use our digital assets and know-how to distribute news in a way that has never been done before.
How does this deal fit into your global business plan? What are the synergies between Alibaba Group and SCMP?
We are publicly traded in New York. Since our IPO, we increasingly feel it is very important for our constituencies outside China, for example our shareholders, the brands that we work with, governments outside China, places where we operate - we have all these constituencies - that want to understand more about Alibaba's business. We want them to understand, including SMEs outside China. Because the core of Alibaba's business, the core of our consumer market is still very much in China. Sometimes people don't understand the company that well. We feel that if people understand China better, they will understand our company better. That's how it fits into our strategy - SCMP is uniquely positioned to help people around the world to understand China better. What is good for that understanding is also good for understanding Alibaba.
SCMP is 112 years old. Mr Ma will be our first owner with a mainland Chinese background. Given the present political atmosphere in Hong Kong, there is already concern about Beijing trying to rein in Hong Kong's media through media ownership by Chinese business tycoons. How will you address these concerns?
We always say Alibaba is founded by Chinese but it is founded for the world. We are a company that happens to come from China but we see ourselves as a global company. And we are in the process of transforming ourselves from a company whose core business is very much based in China to an international company, bringing our culture, our people, and the way we operate up to international standards. I don't think we are there yet, as a full-blown international, multinational, company. But that is what we aspire to be. Set in that context, yes, Alibaba today has very Chinese roots. Jack is a Chinese citizen. But at the core of a news property, we have to have the readers' trust. That will depend on reporting that is objective, balanced and fair. If we don't have that trust, we cannot build up our readership. Even though we are the corporate owner, we will let the editors decide the editorial policy and direction of coverage for any story. That's our basic principle.
SCMP is known for its objective and independent coverage of greater China. From time to time, our reports are blocked by Beijing. Alibaba is headquartered in the mainland and has extensive business interests in China. Mr Ma himself is well connected with government officials. Are you worried that our coverage of China will become a business liability for Alibaba? How are you going to handle it when there is conflict between editorial independence and the business interests of Alibaba?
We don't see it that way. There are going to be situations when sensitive topics are being covered. But we think coverage should be objective, balanced and fair. That's the principle. I don't think there is anything wrong with seeing things from a certain perspective. Our perspective is this: China is important, China is a rising economy. It is the second-largest economy in the world. People should learn more about China. The coverage about China should be balanced and fair. Today when I see mainstream western news organisations cover China, they cover it through a very particular lens. It is through the lens that China is a communist state and everything kind of follows from that. A lot of journalists working with these western media organisations may not agree with the system of governance in China and that taints their view of coverage. We see things differently, we believe things should be presented as they are. Present facts, tell the truth, and that is the principle that we are going to operate on.
5. Alibaba and Mr Ma are in the news all the time. There is concern widely articulated by other media that Alibaba in future may use SCMP as a vehicle to promote its own business interests. What editorial policy will we have when reporting on Alibaba and Mr Ma?
People don't need to worry about that. The policy should be determined by the editors on how they are going to cover, not just Alibaba but all companies. I don't think people need to worry that Alibaba may use SCMP to say good things about Alibaba. Nobody will believe it. If they see a puff piece in the SCMP about our company, people will say, "Oh, they are just kissing up to the corporate owner." That shouldn't happen. Editors who have integrity will never let that happen. There is no expectation from us for SCMP to favour any company in their coverage. But the one thing that I want to emphasise is that the coverage has to be objective and fair. We feel that as a company we have been subject to a lot of negative coverage, not by SCMP but by a lot of other organisations.
To follow up on that, how do you see our past coverage of Alibaba and Mr Ma? Will that affect how you handle the newsroom in future? 
Generally, SCMP's coverage has been fair, no better or no worse than some other news organisations. We are a fairly sizeable company with a lot of activities. At any given moment there could be interesting activities going on, it is hard to avoid covering a company like that. When we first tried to do a listing in Hong Kong, there was a lot of coverage on how good or bad our company's governance structure was. Generally, there is too much of a focus on what is wrong with Alibaba, rather than on what Alibaba is doing to impact business, particularly small businesses, society, and the transformation of some of these rural villages in China. There are a lot of very interesting stories that can be told about what Alibaba is doing that have not been told. I'm not saying SCMP should step up coverage of Alibaba, but it should be more curious. Curiosity is important. There are so many things we do that I think are fascinating. At the confluence of the growth of China and the advent of new technology, especially mobile technology, so many of these phenomena are just fascinating. If I were the editor of a newspaper, I would be very curious.
What is your vision for SCMP? What changes will you bring to the newsroom? Will these changes affect the principal officers of the company?
First of all, we don't come in with any preconceived notion of personnel. We want to start from the point of business as usual. And I, in particular, am going to spend quite a bit of time getting to know the corporate-level people as well as people in the newsroom. So I think the first thing is business as usual. Our vision is that we want to see change or progress. We want to define the readership of SCMP as a global readership. It is an English-language newspaper. We think there is a lot of potential, given its focus on China coverage. There are many people outside Hong Kong who will be interested in reading SCMP content, reading about China and Hong Kong. So how do we reach readers globally? We need to use technology and digital means of distribution to reach them, especially now when everybody is on the go, looking at news and information from a mobile device. Mobile devices are going to be a very important part of our distribution strategy. We feel that what underpins success is editorial excellence. You have got to have good content, so we are willing to make an investment to hire more journalists, more editors to maintain the quality of the paper and to strive for broader and more in-depth coverage. We want to make this investment. That is our commitment.
SCMP is a traditional print newspaper in a transition to become a digital media. What is your view on the future of the print media? Will we stop printing newspapers soon and go fully digital?
The newspaper, the broadsheet, is iconic. And there are still a lot of subscribers. Lots of people still want to touch and feel that paper in their hands. What we hope to do is to build on that and add more digital subscriptions and digital distribution. We are uniquely positioned because of our technological expertise to grow the digital readership base.
At present, our content is still behind the paywall. Will that policy change? How do you plan to make SCMP a more profitable business?
The reason that there is a paywall on the digital version is that people have to pay for the paper subscription. And advertising dollars are still concentrated in the paper version as opposed to the digital version. So the fear is that if you take down the paywall, you will see more cancellations of the paper version and the circulation comes down. I think that is one view of the paper business. Our view is that circulation is a broadly-defined term. It is not just your subscription base of the newspaper, it is anybody who accesses SCMP content, whether it's from a computer or a mobile phone. And if you can build up that circulation to a critical mass, then you can generate more advertising revenue. Our plan is that we want to build up the digital version of the SCMP's content. What's the best way to drastically improve the digital circulation? The best way is to take down the paywall. Currently, the paywall is a deterrence to more people accessing the content; the paywall is so inconvenient, even for people who want to pay, there is friction. Probably a third of the people may drop off just because of the frustration of having to make the payment and put in a password. Why put up that friction point? Why not make content more accessible to anybody who wants to come on a global basis, on a mobile app, on a mobile phone? That is our philosophy. It's a very internet company philosophy because we believe users should not pay for service or content - the people who end up paying are advertisers who want to reach out to these users.