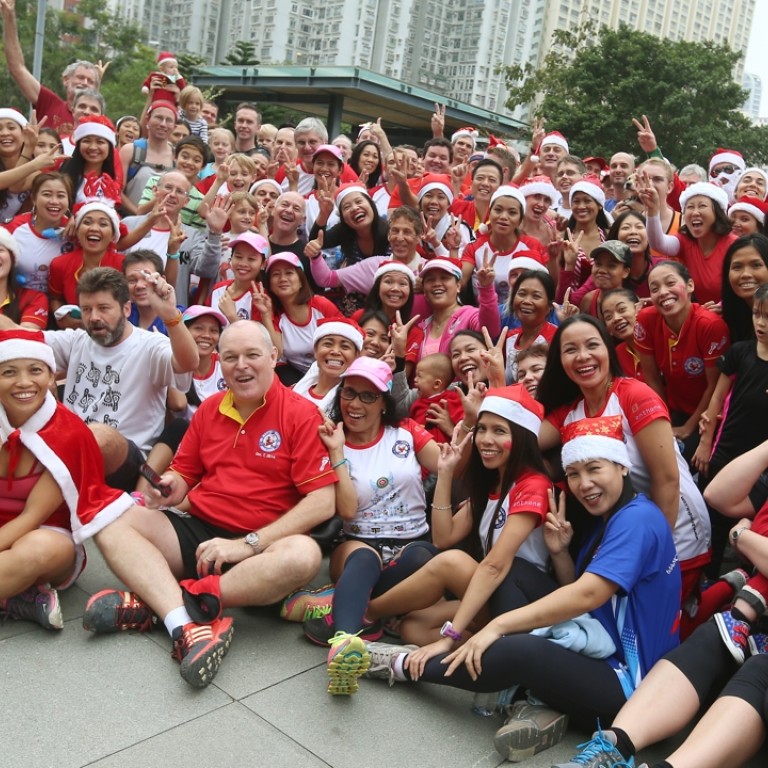 Operation Santa Claus: a 'hash dash' with smiles followed by a few beers
More than 150 runners hit the road to raise over HK$50,000 for annual charity campaign
Going to the gym alone for a workout can be boring, but a group of enthusiastic runners have discovered a way to keep fit while having fun and doing it for a charitable cause.
More than 150 "hashers" from 14 hashing clubs in the city gathered at the Aldrich Bay Park in Sai Wan Ho for the Santa Hash, bringing smiles to curious passers-by with their Santa hats.
The run was non-competitive and there were no limits set on participants, who could choose to run 8km, 5km or 3.5km at their own pace before returning to the starting point for snacks and drinks.
"It's really fun. You get to make friends from around the world and my wife doesn't have to worry where I go to hang out," said driver Stephen Lee Wing-kwong, who has been "hashing" for 10 years.
Sipping his beer after the run with his fellow hashers, Lee added: "We even have a club that meets specifically during typhoons to run in the hills. It's wonderful."
The hashers are staunch supporters of Operation Santa Claus, the South China Morning Post and RTHK's annual fundraiser to support vulnerable groups in the city and on the mainland. Every year since the campaign first started in 1988, hashing clubs in the city have gathered ahead of the festive season to hold a fun race. This year they raised over HK$50,000.
The first hash run is said to have taken place in Malaysia in 1938, when a group of British expatriates came up with the idea of a run before returning to their canteen, the Hash House, for some beer to refresh themselves.
Among those who ran in the Santa Hash for the first time this year was Robert Gordon, a 42-year-old civil engineer. Dressed in a Santa Claus outfit, Gordon said he was excited about the run but looking forward to enjoying a few beers later.
"If all the beer disappears before I come back, I'll be upset," he joked.
Fourth-time participant Mark Sullivan brought along his nine-month-old baby son, Tom. Carrying Tom on his back, Sullivan managed to finish the 8km track in about an hour.
"It was good. I enjoy it," he said. "My son was always turning his head, looking around here and there. I think he must enjoy the view."