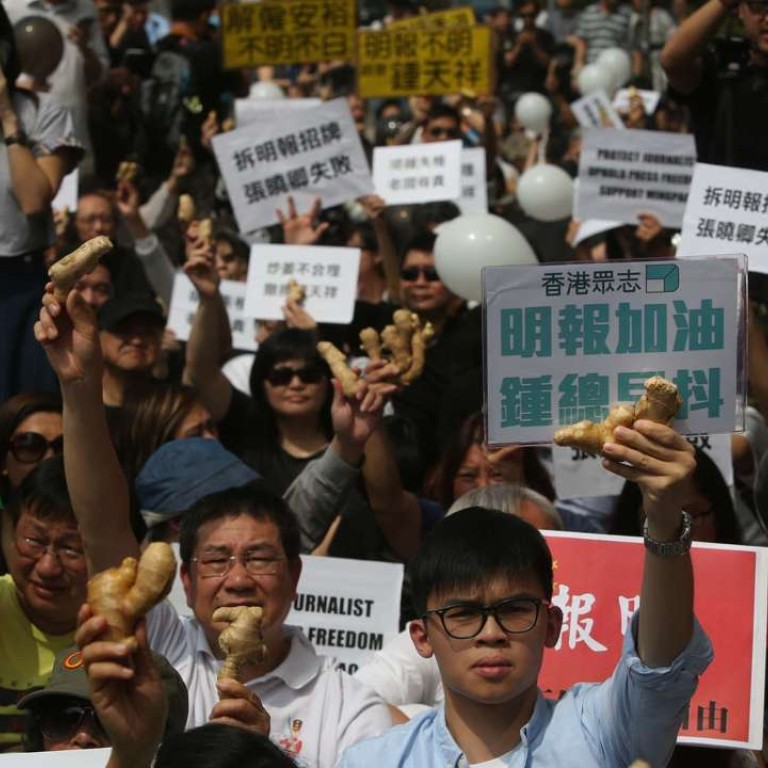 'Ginger' rally: more than 400 gather to protest sacking of top editor at Hong Kong daily
Hong Kong Journalists Association chairwoman Sham Yee-lan reads open letter demanding reinstatement of former Ming Pao chief executive editor Keung Kwok-yuen
More than 400 journalists, community activists and politicians braved the heat and rain on Monday afternoon to protest against the sacking of a top editor of Chinese-language daily Ming Pao, fearing that the move threatens press freedom in Hong Kong.
At a rally on the street outside Ming Pao Industrial Centre in Chai Wan, protesters carried pieces of ginger to symbolise their support for Keung Kwok-yuen, whose surname in Chinese also means ginger.
Watch: Hundreds protest over sacking of Hong Kong editor
Last month, Keung, Ming Pao's former chief executive editor, was abruptly fired to cut costs, according to the paper's management. But the paper's staff union suspected the move was meant to punish "dissidents of editorial decisions".
Hong Kong Journalists Association chairwoman Sham Yee-lan, in support of the protesting editorial staff, read out an open letter from eight Hong Kong journalist groups to the Ming Pao management demanding it revoke the decision to sack Keung.
Sham said: "The recent sudden dismissal of [Keung] is a matter of great concern to the news industry and to society as a whole.
"It not only reflects changes in your newspaper's overall direction and human resource policies, but also worrying developments in Hong Kong's media."
Sham added: "Social justice and quality journalism depend upon good leadership talents."
Keung was not present at the protest.
According to the results of a survey released in March by the association, the perception of press freedom in Hong Kong has deteriorated for a second consecutive year.
Housewife Mary Chung, 60, said she joined the protest because her son is a regular reader of Ming Pao, and she wanted to show support for the protesting journalists.
Chung said she was worried that the quality of the newspaper would go downhill after veteran employees like Keung were fired.
"These days, the future of the media industry in Hong Kong doesn't look too good," she said.