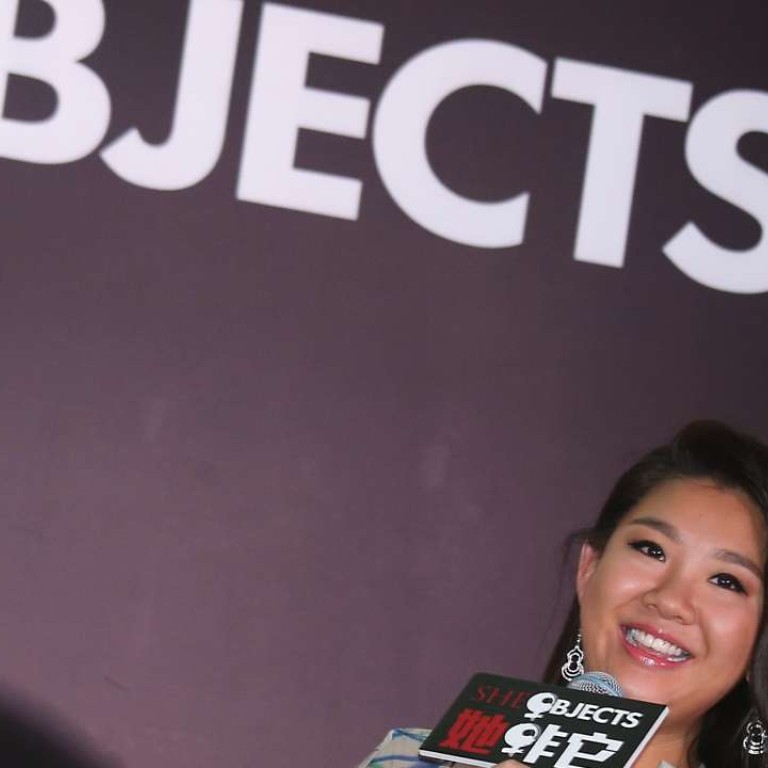 Culture of coercion: film by Hong Kong charity attacks the way media treat women as sex objects
Stars attend Central premiere of She Objects, which shows how gender stereotyping affects the self-esteem of young girls
Gender stereotypes and the media's sexualisation and objectification of women are among the issues tackled in a documentary film produced by a Hong Kong charity.
She Objects, directed by rising star Nicola Fan, examines how the portrayal of women in the media is negatively affecting the self-esteem of young girls.
Angie Shum, and actress Chindy Lau, hit the red carpet for its premiere in Central on Tuesday.
The screening was part of a wider feminist project by The Women's Foundation to challenge gender stereotypes.
The charity hopes to celebrate diversity in the media and support the advancement of women.
The Foundation's chief executive Su-Mei Thompson said it was hoped the film would provoke Hong Kong society to pause, reflect and act to change the status quo.
"She Objects explores how the portrayal of women as sex objects contributes to a culture where sexual coercion is more permissible," she said.
The film includes interviews with young women about their experiences of social media, as well as commentary from university academics on the evolution of the women's movement and how this is being affected by media.
It also discusses issues such as anorexia, compensated dating and pornography.
Carlo Imo, president of Kering Asia Pacific, the film's main sponsor, said: "We are proud to support this film. As a man, I believe we are part of the problem and we should be part of the solution."
Fan's project cites a YouGov poll from 2015 which found 58 per cent of girls choose not to participate in activities because they do not want to draw attention to the way they look.
The same poll also highlighted that 90 per cent of women in Hong Kong aged between 18 and 30 think about their weight all or some of the time.
Last month, the film's trailer received a positive reception after it was shown at the 69th Cannes Film Festival.
Ten Hong Kong schools and universities will study the film as part of a curriculum devised by the Women's Foundation and Professor Stephen Chiu, co-director of the Institute of Asia-Pacific Studies of the Chinese Universityof Hong Kong.
A community screening of She Objects is also set to be held at the University of Hong Kong on June 23.
For more information visit sheobjects.org
The South China Morning Post is a media partner of She Objects