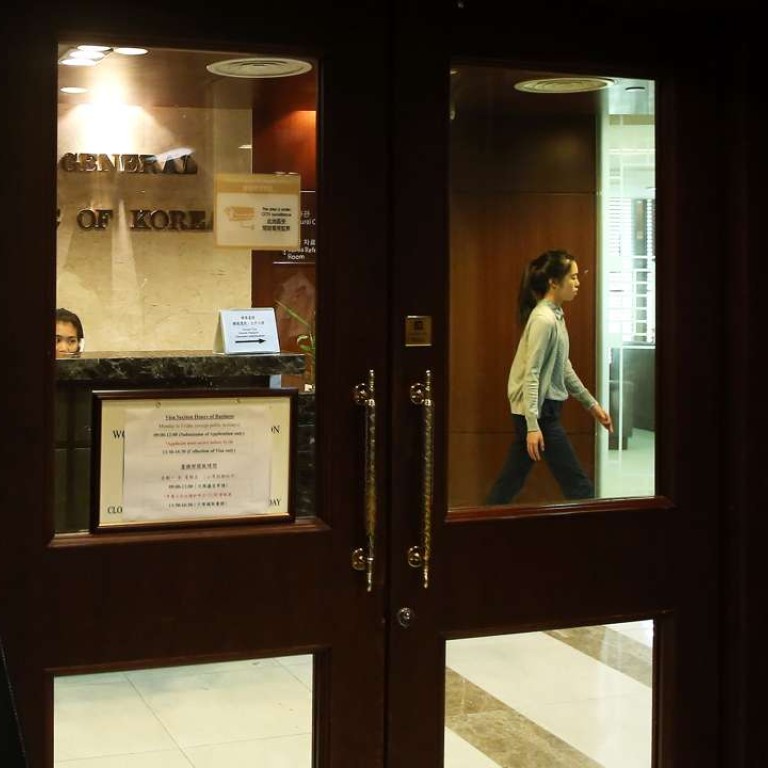 Security stepped up after North Korean defector seeks refuge at Hong Kong's South Korean consulate
Government sources revealed a defector, who is thought to have been a member of a North Korean delegation that attended an academic competition at a Hong Kong university, has sought refuge at the consulate
Security around the South Korean consulate in Hong Kong has been stepped up after a North Korean defector sought refuge there, the Post has learned.
It is understood the defector was a member of a North Korean delegation that attended an ­academic competition at a local university about two weeks ago.
Government sources revealed yesterday that since last week, ­police had boosted patrols around the Far East Finance ­Centre in Harcourt Road, Admiralty, with the focus on Seoul's mission on the fifth floor.
It was understood that uniformed and plainclothes officers from the force's counter-terrorism division were also deployed and observation posts were set up in the vicinity, just a short distance from government headquarters.
The Post was told that the Hong Kong office of the Ministry of Foreign Affairs was also alerted over the incident.
Sources with the knowledge of the case said police from the counter-terrorism division were liaising with the Security Bureau after the awkward diplomatic issue surfaced.
"The Admiralty site is one of the areas where police have ­enhanced patrols in the city," one source said, while refusing to go into further details for security reasons.
Yesterday evening, a police van was seen parked below the building and another police car circled the area repeatedly. It was understood plainclothes officers were also deployed at the ground-floor lobby of the building.
But the sources refused to reveal details about the defector's background and circumstances.
Another source said there were not many North Koreans visiting the city each year and they needed visas to enter Hong Kong.
"We believe it's not easy for North Korean citizens to leave their country and travel abroad," the source said.
The South Korean consulate in Hong Kong was not available for comment.
The Hong Kong government also declined to comment. Last night, a police spokesman said police were aware of news ­reports of the incident but provided no ­information.
In April, Pyongyang media claimed 13 North Koreans who worked at a restaurant in China were tricked into defecting by South Korean spies.
The 13 – a male manager and 12 female employees of a Pyongyang-run restaurant – arrived in Seoul, South Korea's Unification Ministry said.
This article appeared in the South China Morning Post print edition as: North Korean seeks refuge at South's consulate in city