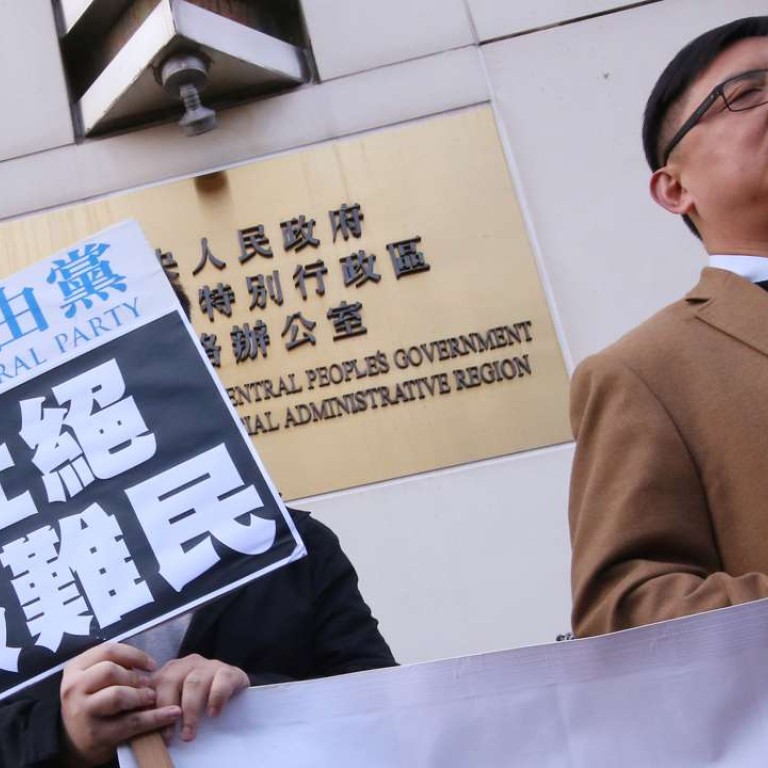 Election bombshell: threats and attempted bribery alleged as Hong Kong's New Territories West Legco candidate drops out of poll race
Ken Chow Wing-kan of Liberal Party says he fears people close to him may be under threat if he continues his election campaign
Liberal Party aspirant Ken Chow Wing-kan, who is running for a Legislative Council seat in New Territories West, dropped a bombshell on Thursday night by announcing he would stop his electioneering for fear of "people close to him paying a heavy price".
Chow's abrupt move has sparked speculation on whether the Yuen Long district councillor is being pressured by Beijing's liaison office, which is allegedly coordinating the election campaign of the pro-establishment camp.
Meanwhile, one of Chow's rivals, Junius Ho Kwan-yiu, admitted on Friday morning that one of his volunteers had proposed bringing men to "pursue" Chow before and after the election forum "until he had no mood for such forums anymore". The assistant was heard talking about it in a voice clip provided to the media by Chow before the forum on Thursday night. But Ho said he decided not to take any such action.
In an interview with magazine E-Weekly last week, Chow admitted that he was earlier approached by a middleman to quit the race for a hefty sum of money – double the amount of his election expenses. Chow, a long-time district councillor and a member of the pro-establishment Liberal Party with close ties with the rural gentry, claimed he had told the middleman that such deals were illegal and that he still believed he was free to contest in a democratic society like Hong Kong.
During the New Territories West election forum organised by Cable TV on Thursday night, Chow – dressed all in black – was the only candidate who brought no banners or other publicity materials with him.
Watch: How do we choose the Legislative Council? Hong Kong's electoral system explained in three minutes
In a dramatic twist, he told the crowd in his introductory remarks: "I now announce a very heavy decision to all of you. As I do not want supporters around me caught in any 'high level' troubles or paying a price, I will stop all my electioneering to gain voters' support starting from tonight. This forum will be the last one I will attend.
"I bow – and apologise – to all my volunteers, family members, citizens and supporters … I have let you down because I am not strong enough," an emotional Chow said. The Liberal aspirant gave up the chance to debate with opponents, but made a brief speech before the forum ended.
The scariest factor was not death, he said, but the failure to protect the people around him.
"I just don't want to affect the people around me. I don't want to talk about it, I don't want to talk about it," Chow said after the forum, holding back tears.
Chow's remarks left all the other contenders shocked, with a number of pan-democratic candidates questioning Beijing-loyalist Junius Ho Kwan-yiu during the forum, as he was likely to benefit from the Liberal candidate's departure.
Chow's announcement came after he passed the media a voice clip, in which a man – who Chow said was Junius Ho's campaign assistant – claimed he would bring 20 to 30 men to the forum to "clash" with Chow. The man in the clip also said the move was due to Chow's smearing of Ho.
Ho, a solicitor and former chairman of Tuen Mun Rural Committee under the powerful rural body Heung Yee Kuk, on Commercial Radio on Friday morning, admitted the man in the voice clip was his volunteer, but said he was not involved in the discussion in a WhatsApp group, where the voice clip came from.
"I later decided not to take such proposed action against Chow," Ho said. "I have no personal rivalry with him."
Asked whether he thought it was unusual that Chow wanted to quit the election, Ho said "unusual things happen every day".
The Electoral Affairs Commission says no violence or threats that affect a candidate will be endured during the election, and it will refer any complaint to law enforcement agency for investigations.
But the watchdog also warns that any acts to spread false or misleading information about a candidate are subject to criminal sanctions.
The Democrat Party's Andrew Wan Siu-kin said no political power should intervene in the city's election and urged Ho to join him in filing a claim to the police regarding the threats Chow had faced.
But Ho dismissed it as a political smear campaign, saying he did not know "what the accusation was" and that he had a lot more meaningful things to do.
Liberal Party leader Felix Chung Kwok-pan told the Post he was shocked by Chow's announcement and that he needed more time to "know the story first".
Chow is the first candidate to quit the race over alleged threats. Under electoral rules, no verified candidate can withdraw from the election once the nomination period has ended. It means Chow can only stop canvassing support while remaining in the race.
Liberal Party honorary chairman James Tien Pei-chun said he and other core members of the party did not know of Chow's decision beforehand.
"We are trying to reach Ken," Tien said.