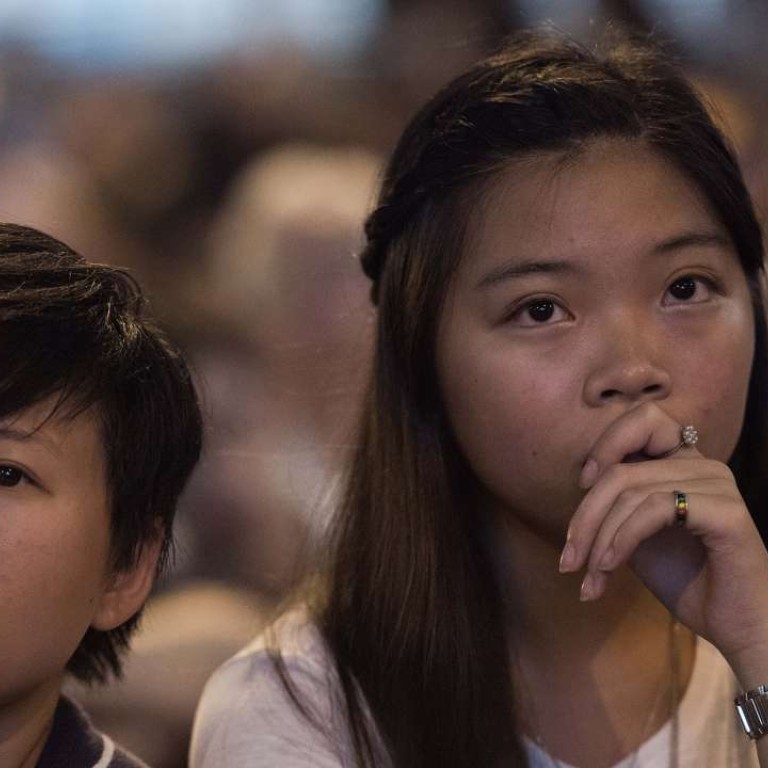 Hong Kong youth feel powerless in politics
Exclusion from city's policy development process has led to a fall in young peoples' outlook, according to a university study
Youngsters in Hong Kong are less satisfied and feel powerless in political developments, according to an annual survey carried out by Chinese University.
Between May 30 and July 26, more than 1,000 young people aged 15 to 24 were interviewed for the university's Youth Quality of Life Index 2015-2016, which has been published since 2013.
The overall score was 99.68, down from 100.3 last year. A score of above 100 means a better quality of life for the city's young than in 2013, according to the ­centre's methodology.
Of the major domains, politics registered the largest decline in youth perception, at 4.18 per cent. Other domains include ­society, economics, overall well-being, physical health, psychological well-being, living environment and education.
Within politics, young people's perception of their impact on ­policy fell the most, down 10.19 per cent.
"[The youth] are dissatisfied that they do not have a say. They do not have participation in youth policy formulation and implementation," Professor Wong Hung, director of Chinese ­University's Centre for Quality of Life, said.
He added that young people were feeling "powerless" when it came to influencing Hong Kong's government.
"Education, housing and ­employment policies have the biggest effects on youth. While the government said improvements would be made, youngsters are still worried about their future," Wong said.
"It is a signal to the government to involve more young people in the process of youth policy formulation, and housing, education and employment policies should be more … youth-targeted."
Adding to young people's ­declining quality of life score was the fact that youth unemployment had also seen an increase of more than 10 per cent, according to the university's study.
According to Wong, disengagement with Hong Kong's political developments could have encouraged the city's youth to focus on other areas.
The index found exercise participation and rest indicators both increased 6 per cent while social services participation dropped more than 10 per cent.
"One can have control on their own time and body in doing ­exercises … this could be a ­response to the state of powerlessness," Wong said.
Scores for participation in ­government-funded tertiary programmes also increased 9.3 per cent, but Wong said the higher ­admission rate was due to there being fewer eligible students rather than an increase in quotas.
Professor Paul Yip Siu-fai, a social work professor from the University of Hong Kong, said the government should adopt updated methods of communication, such as social media.
"There hasn't been any meaningful engagement … many youngsters feel their voices aren't being heard," Yip said.
This article appeared in the South China Morning Post print edition as: hong kong youth feel powerless in politics