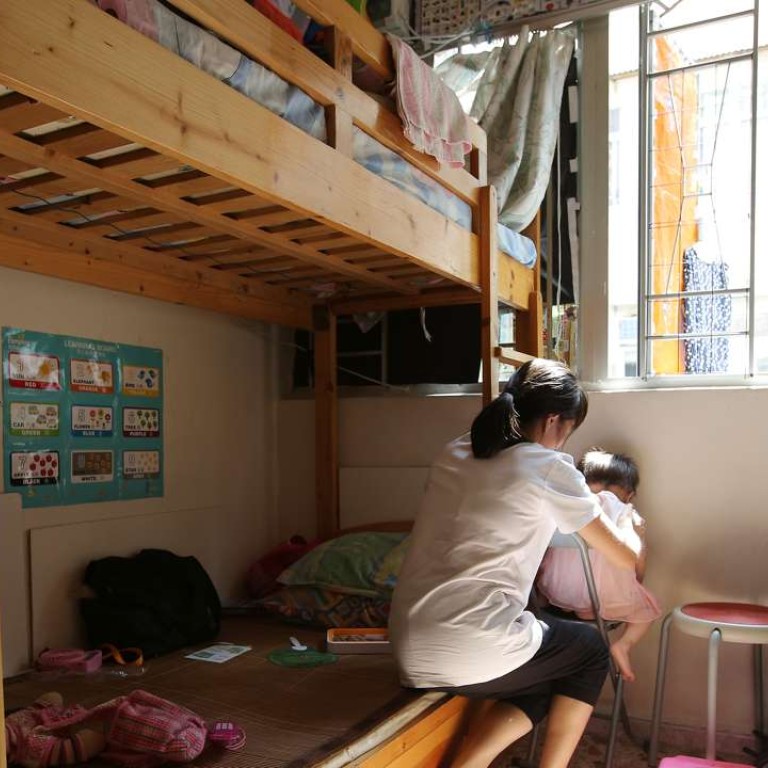 Hong Kong's poorest squeezed as rents for tiny subdivided flats rise at double rate for other homes
As landlords exploit the city's most vulnerable, a concern group urges the government to use empty public buildings to house desperate families
Rents for subdivided flats that house some of Hong Kong's poorest people are rising at almost double the rate of other homes in the private sector, according to a study by a concern group.
The skyrocketing rents, driven by an increasing wait for public housing as well as a government crackdown on illegal cubicle units in
industrial buildings
, have prompted the group to call on the government to use vacant public buildings as interim housing.
An index used by the Platform Concerning Subdivided Flats in Hong Kong found that rents for subdivided flats jumped 13.6 per cent from 350.5 in October 2014 to 398 last October.
In comparison, rents of flats under 430 sq ft in the private sector increased 7.4 per cent from 177.4 to 190.6 in the same period, according to the official index by the Rating and Valuation Department.
The group based its calculations on rent, electricity fees and official rateable values of 68 subdivided units in 29 flats across five districts from July to September this year. Many of the 400 sq ft flats, divided into at least three units, are in Kwun Tong, To Kwa Wan, Kwai Tsing and Tsuen Wan.
It said soaring demand for low-income housing had pushed up rents.
"These people are being chased out of their homes, but at the same time they have nowhere to go," the group's convenor, Lai Kin-kwok, said, referring to the government clearance of illegal subdivided flats and a four-year waiting list for public housing.
Almost 200,000 people were living in 88,000 subdivided flats last year, according to the Census and Statistics Department. However, these figures do not include the estimated 10,000 people living illegally in industrial buildings or in rural areas.
The group's survey showed that at least 2.6 people lived in flats measuring an average of 132 sq ft. This meant each person had an average living space of 60 sq ft, which is 15 sq ft less than the minimum in public rental accommodation.
Yeung, who lives in a 70 sq ft apartment in Tsuen Wan, said she was worried that her family of four would be kicked out.
"My husband lost his job a few months ago and I'm worried that I won't be able to pay the rent if he still can't find a job," Yeung said.
She pays HK$3,850 a month in rent, or HK$55 per sq ft, which is double that of a private flat in the same area. Rent for a 460 sq ft private flat in Tsuen Wan is around HK$11,000 a month, or HK$30 per sq ft, according to Centaline Property.
Edward Yiu Chung-yim, the new lawmaker in the Legislative Council's architectural and surveying sector, said residents in subdivided flats were the most vulnerable.
"Landlords of such flats don't charge rent according to the market but look at how much these grass roots can afford, often charging up to 70 per cent of what they earn," Yiu said.
The group suggested abandoned schools be used to provide temporary housing for those who would be evicted in government clearances and who were waiting for public housing.
There are currently 29 unused campuses in Kowloon and on Hong Kong Island, according to Audit Commission data.
The group said two schools that had been empty for five years in Kwun Tong could provide homes for at least 120 families.
This article appeared in the South China Morning Post print edition as: Poor in tiny flats hit by biggest rent rises