Alibaba
Get more with myNEWS
A personalised news feed of stories that matter to you
Learn more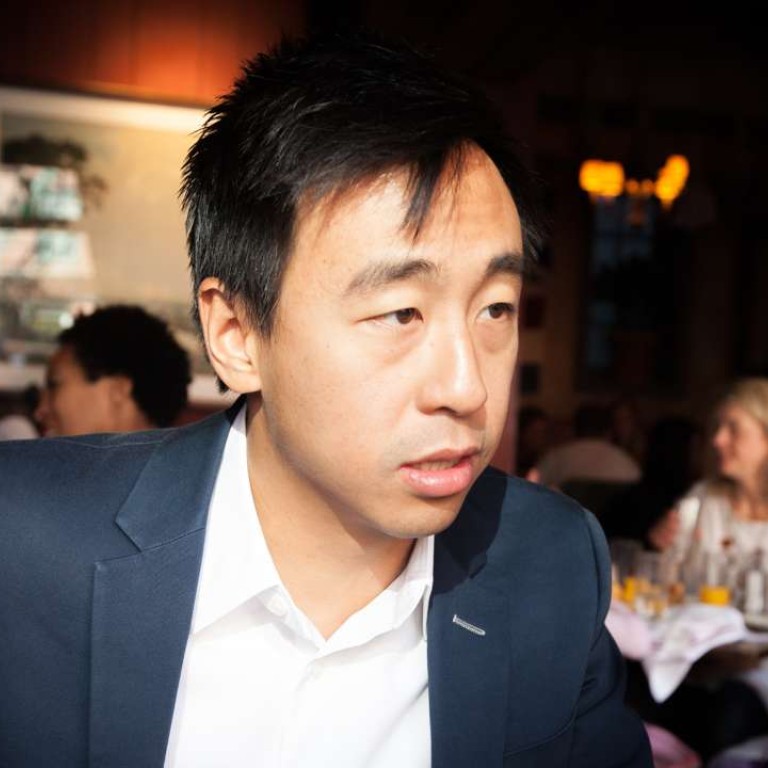 SCMP appoints technology leader Liu to spearhead 113-year-old publication's digital evolution
The South China Morning Post has appointed technology leader Gary Liu as its chief executive officer, with effect from January 3, 2017.
Liu is the former chief executive of New York-based news aggregator Digg, and previously led Spotify Labs at the Swedish music and streaming service provider.
"We are incredibly excited to welcome Gary as the next chief executive officer of the SCMP. Our readers expect SCMP to maintain its editorial excellence while staying relevant in the face of technology disruption," Joe Tsai, Chairman of the SCMP Board of Directors, said.
"As an influencer and innovator in digital media and someone with roots in Greater China, Gary is the perfect fit to take SCMP's vision – coverage of Greater China from an Asian perspective for a global audience – to the next level and show our readers the future of news in the age of mobile and social media."
Liu will take over from Robin Hu, who, as previously announced, is returning to his native Singapore after five years at the helm.
Tsai said: "Under Robin's leadership, SCMP has transformed itself from a legacy newspaper to a respected digital media company, always staying true to its core values of quality, integrity and trust. I want to thank Robin for his five years of stewardship and look forward to his continued counsel as a board member of SCMP."
Liu's appointment is part of the transformation of the SCMP since Alibaba Group Holdings bought it in April, aiming to make the 113-year-old newspaper the go-to source for political and business stories about Greater China from an Asian perspective.
Alibaba, operator of the world's largest online shopping portals and Asia's biggest cloud computing business, wants to take the newspaper further into the digital age.
One of the first innovations under Alibaba's ownership was the removal of the paywall on
scmp.com
, making all content on
scmp.com
and the SCMP mobile application free for worldwide readers.
Today,
scmp.com
and the SCMP app have as many overseas readers as those in Hong Kong, where the newspaper published its first edition in 1903.
"I'm delighted to hand over the baton to Gary, who brings world-class digital expertise, youthful energy and a grasp of the North American market, all of which are indispensable at this stage in SCMP's journey," said Hu, who is returning to Singapore to join Temasek International as Joint Head of the Sustainability & Stewardship Group but staying on as a member of the SCMP Board of Directors.
"As the company navigates the complexities of digital transformation, I am confident that under Gary's leadership, SCMP will become a global platform for serious debate on China, the biggest story of our lifetime."
Liu, 33, is a California native who has lived in New York for nearly two decades, having grown up in Taiwan and New Zealand. He speaks Putonghua and has a degree in economics from Harvard University.
In a blog post, Liu said that apart from the opportunity to take the SCMP global, "my decision to join the SCMP is also deeply personal".
"I'm an Asian-American who has grown up in the West, stuck in the tension of two cultures still learning to communicate with one another. There is a duality of understanding in our current media world; each culture interprets and reports the news through the filter of their own experience. What we need is a new plurality – a global news organisation that fights to bridge this gap of communication and bring a balanced and nuanced understanding of Greater China to the world. I believe the SCMP is that bridge, and I am excited to be part of defining how my children, who will be global citizens, will learn about China in the future."
Digg, founded in 2004, is a news aggregator with a curated front page that selects stories specifically for the internet audience, ranging from science and politics to online culture.
During Liu's tenure, Digg's new products and innovations established the company as an industry-leading content data and discovery platform. Digg's revenues tripled over the previous 12 months, while average monthly reach and traffic grew materially amid declines among competitors.
Prior to Digg, Liu was head of Spotify Labs, where he led emerging technologies, incubation, research and new business strategies for Spotify's global markets, including corporate development activities to accelerate machine-learning and big data adoption across the company.
Liu also led Ad Product Strategy, designing monetisation platforms that powered Spotify's free business across 58 countries.
This article appeared in the South China Morning Post print edition as: SCMP taps Digg chief as new CEO in digital push