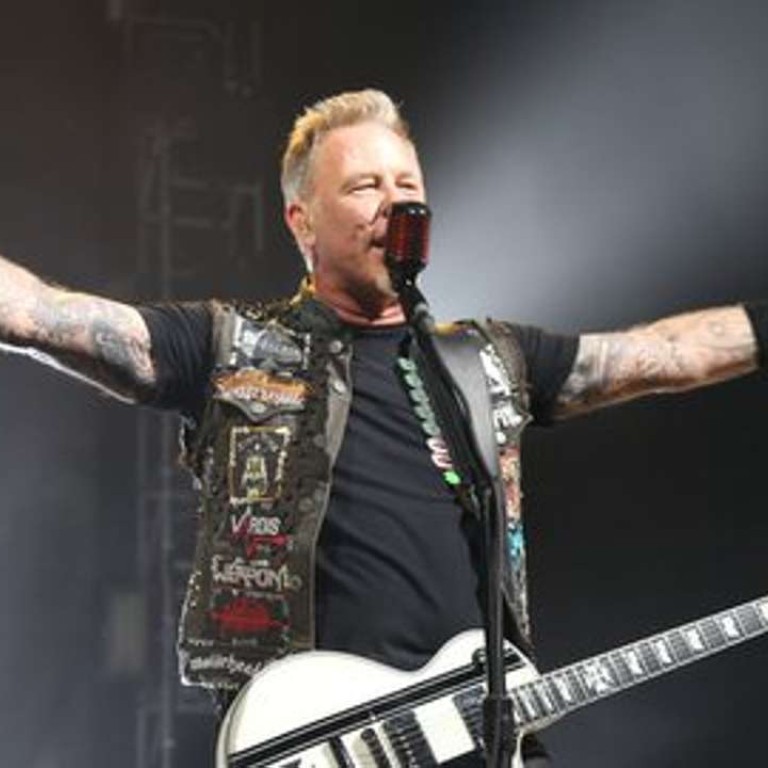 Metallica celebrate Hong Kong arrival with songs banned during China dates
Metal titans played a sold-out show at Hong Kong's AsiaWorld-Expo
Hong Kong metalheads showed up in their thousands to witness thrash titans Metallica's first ever show in the city on Friday. After greeting a sea of devil's horns with a hearty "lay ho!", the US rockers blew the roof off the sold-out AsiaWorld-Expo with a lengthy setlist of classics, as well as songs from new album Hardwired ... to Self Destruct.
"We're grateful to be here ... I can already tell this is the best show on the tour so far," lead singer and guitarist James Hetfield told the crowd. That was unsurprising considering that censoring had sliced China shows down to barely more than an hour and rinsed them of several key hits.
Master of Puppets, One and Hardwired – all notably absent from dates this week in Beijing and Shanghai ­– were blasted out loud and proud as the band celebrated an uncensored setlist. That's not to say the most provocative songs were vengefully spotlit, though; Hetfield emphasised his respect for mainland laws in an interview with the Post prior to the show.
The frontman stated he didn't resent the mainland government for its censorship, and it certainly didn't put him off playing in China. He said: "Why shouldn't you respect their culture when you're there as a guest and you've been invited to play? We want to be respectful, and just because we do things differently, it doesn't mean it should be forced upon [others]. But hopefully we'll keep coming back and they'll realise we're not a threat politically and we have no agenda except to cross boundaries with music and let people enjoy the songs. We're not trying to bring a secret message to anybody."
Instead, the metallers focused on giving Hongkongers the full experience of their legendary live show. Mayhem is guaranteed during the heaviest numbers, but even these seasoned stadium performers looked impressed when moshers tore at each other in an excited frenzy to the Master of Puppets intro's familiar blasts.
Rather than carting a huge lighting rig around Asia, the band had opted for a chain of laser cannons, which sent piercing beams of neon criss-crossing across the huge stadium during climactic moments. This was particularly effective during Moth Into Flame – a song "about the addiction to fame and how it gets to everyone at some point" – which combined razor-sharp white rays with a primordial thrash rhythm straight out of 1982, and a face-melting solo.
The Expo's sound, so often cavernous and muffled, had one of its best mixes in a long time. Hetfield's vocals boomed out gruff and throaty, drummer Lars Ulrich's snare snapped viciously, his bass drum sonorous, and Kirk Hammett's White Zombie sounded crisp and clean as his fingers fluttered over the fretwork, switching from fevered shredding to screaming melodies to chugging thrash riffs with the flick of a dial.
Bassist Robert Trujillo stomped the stage, while Hammett went hard on his beloved wah-wah on For Whom The Bell Tolls. A colossal roar greeted Creeping Death and the pit began to percolate with punters' perspiration as Hammett's shrieking solo section rang clear. A thousand fists thrusted skywards in unison to the sound of Trujillo's slap bass solo at the beginning of Halo On Fire, and theatrical metal anthems One, Battery and Sad But True were met with pure adulation.
But after 17 ear-smashing songs, everyone sensed what was to come next: the house lights went up and the steaming air filled with that unmistakeable tom thunk and sinister wah pedal intro of Enter Sandman before its iconic riff took hold. Security staff hauled out crowd-surfers while everybody chanted "We're off to never, Neverland" in a mass singalong that followed gig-goers onto the Airport Express.
Hong Kong may have seen flashier rock shows, but Metallica dedicated themselves to making up for lost time in a neglected city with a concert tipping the two-hour mark that had enough jaw-dropping musicianship and electric atmosphere to prove they were the inventors of arena-sized rock.